Did Volkanovski lose? or just not do enough?
I know the weekend will be dominated by the Super Bowl news but let's not forget that there was also a bizarrely timed UFC pay-per-view that was on this weekend. I wonder if that pisses off the Australians that they have to have their live events early in the morning in order to accommodate the North American audience? I know it would peeve me a bit if the shoe was on the other foot.
Let's stick to the point though: Volkanovski wasn't given much of a chance as far as the betting lines were concerned in his match against Islam Makhachev as he was a +300 or more underdog right up to the point that the match was started. As the rounds went by he was given a slight edge but was never favored to win the fight in the eyes of the betting world and I think there are multiple reasons why that is and unfortunately, one of them isn't related to what actually happens in the octagon.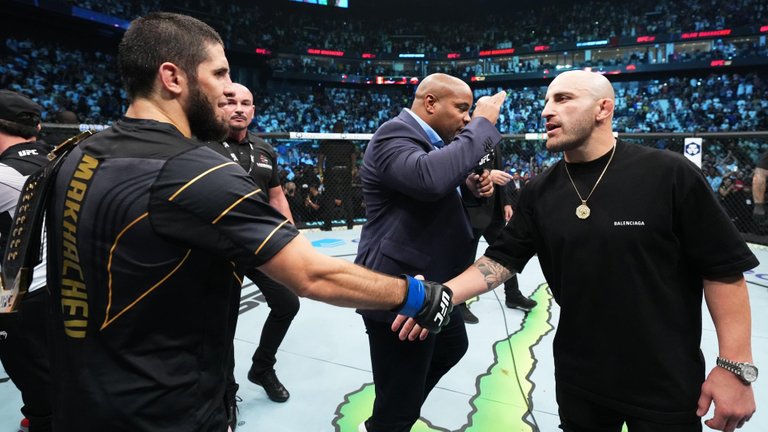 src
The lead up, the press conferences, and everything else associated with this fight was a pleasant and professional affair, which I like to see but the media and all the professionals didn't really think that Volk had what it took to actually walk away with this victorious and one of those reasons, the biggest reason probably is because of Makhachev's incredible ground game - which may people including me consider to be a quite boring, but effective path to victory in most of this fights.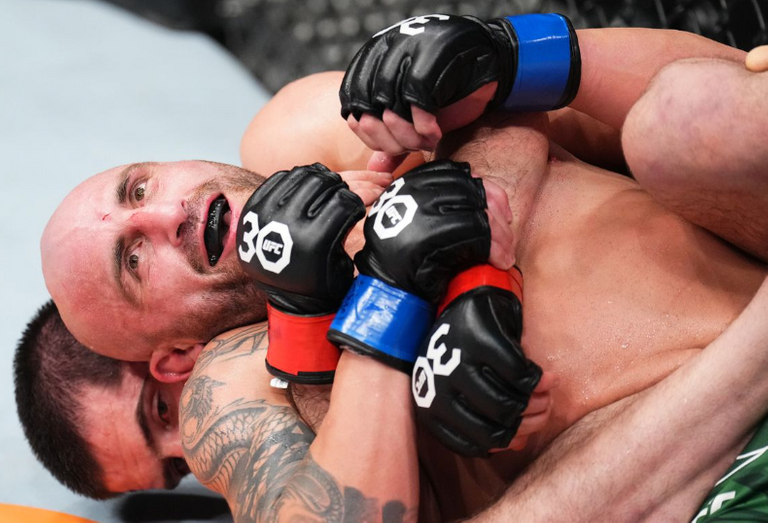 src
As predicted, a lot of the time, and most of the offense of Makhachev was spent focusing on a ground game while Volkanovski spent all of his time attempting to avoid being there. I have never been a big fan of "ground control" being a factor on the scorecards especially when the person who initiates the ground time doesn't actually do anything with it. I'm not saying that Islam didn't accomplish anything on the ground, but he didn't accomplish a great deal. At no point in time was Volk even close to being in a tapping out situation and he went 4 for 9 as far as takedown attempts were concerned. Many of the takedowns saw Alexander talking to Islam during the time on the ground and the Australian didn't seem like he was ever in trouble - he was just having trouble standing back up.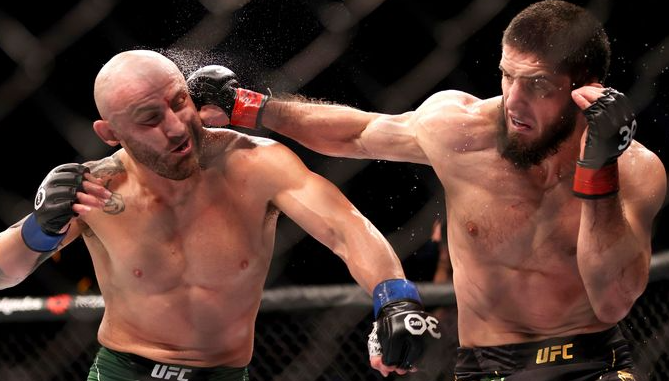 src
Now let's give credit where credit is due: Makhachev did much better with his stand up striking than most expected him to do and he even landed a couple of strong shots that staggered his opponent. This doesn't change the fact that Volk outstruck him nearly 2 to 1 and landed more hard shots as well.
Volkanovski also controlled the octagon pace a lot more frequently than the other way around and I find it annoying that the judges seem to consider this less of a factor in the scorecards than they do when the two fellas are on the ground. Makhachev was backing up almost the entire fight and seemed to be (wisely) avoiding standing face-to-face with the Australian.
Here's what the scorecards looked like at the end: I thought it was going to be a lot closer than this but I did NOT expect them to give the fight to Alexander, even though I thought he had done enough to win it.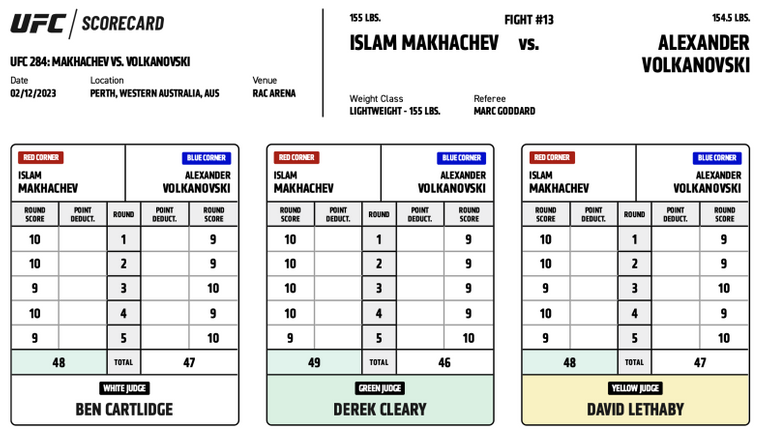 src
Nobody was going to give round 5 to Islam because there was no denying that he lost that one, it's the other rounds that I have a problem with. At no point in time outside of one hit that briefly staggered Volk did it appear as though Makhachev was controlling the match and even at that point Volk recovered in a couple of seconds and was back on the offensive as was the overall theme of the fight.
Here's why Volkanovski was never going to win this fight unless he KO'd Makhavhev and to anyone that follows the sport it should be obvious.
Alexander Volkanovski went up a weight class in order to face Islam Makhachev. Volk was and still is the champion at featherweight and this title wasn't up for grabs at all. This is why you saw Alexander do his walk-in to the octagon first despite being a champion himself and performing in front of a somewhat "hometown" crowd.
The UFC is never going to let an outsider in a division have a belt outside of their division unless it is an absolutely conclusive victory and the reason for this is the reason that most of what UFC does is: Money. If Volkanovski were to win that fight and become the champion in two weight classes at the same time, this severely limits the amount of PPV spots they can do across BOTH divisions. It's always a risky situation because even the best fighters cannot do more than say, 3 fights per year and even that would be pushing it.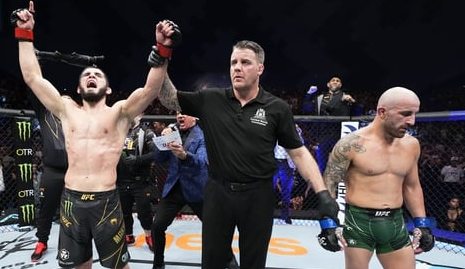 src
If you were just tuning in and didn't realize how UFC scoring works and the politics that inevitably end up taking part in the scoring process you would probably be confused and maybe a bit upset that the one guy had his hand raised in victory by unanimous decision at the end, but those of us that do know, kind of saw this coming.
It was a great fight but in the end I don't think we are EVER going to see UFC break from this tradition of never allowing someone to get given a belt by decision unless it is undeniable that they earned it. While Alexander did appear to win that fight, he also rarely had his opponent in a position where he looked like he was losing either because Makhachev is extremely good at avoiding precisely that. I don't think the scorecards were an accurate representation of what actually happened in the octagon but then again I will admit that my judgement pool is tainted because I hate that "ground control time" is a factor at all especially when it is just a multi-minute hugging contest in appearance.
My title says "Did Volkanovski just not do enough?" but honestly, I don't know what else he could have possibly done. Kudos to both men for putting on one of the most exciting fights thus far in 2023.
---
---