Edwards successfully defends his title, I am in shock
So all of my predictions and what I think I know about UFC was wrong this time around. I am normally pretty good at predicting these things but Leon Edwards looked like a real champion today in the octagon and his stock went up a LOT in mine and many other people's books today as he quite easily held off the onslaught of Kamaru Usman to remain champion.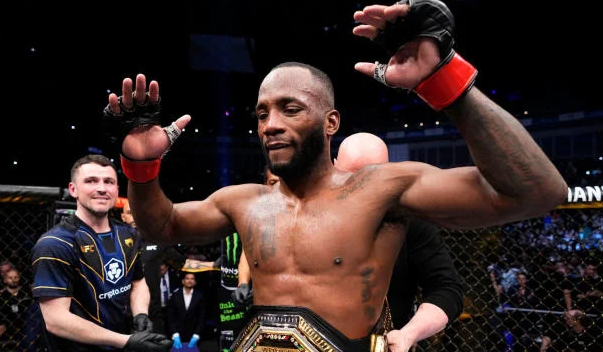 src
Before the official decision came in I already knew that Edwards was going to win for a couple of reasons. One, he looked a lot better this time around than the last time he faced Usman and 2, champions rarely have their belts taken away on points when matches are close. This one was "kind of close" but it was apparent that Usman was not dominating the fight the way that he did in their last matchup. My prediction of Usman getting a KO in the first 3 rounds was well off because not only did that not happen, but Edwards actually landed most of the harder shots in the fight as well.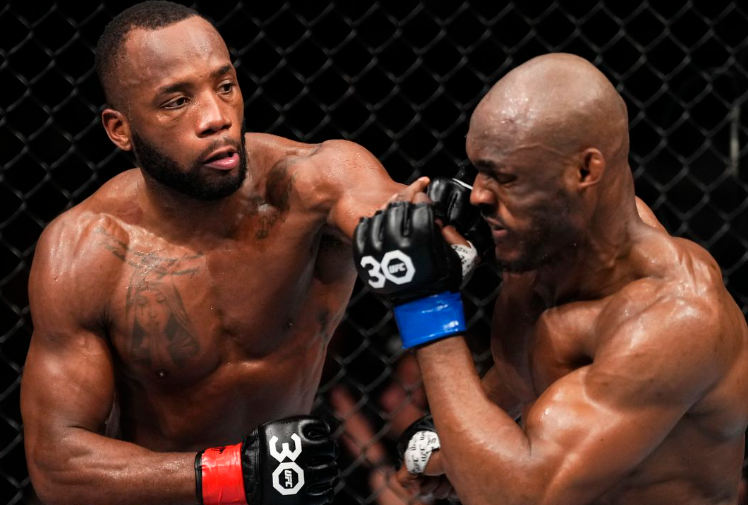 src
My other prediction about this fight, that it was going to be very boring because Edwards would be running away the entire time, was also incorrect. He stood his ground, engaged, and fought off multiple takedown attempts as well. The only blunder coming in I believe it was round 3 where he held onto the fence in order to prevent being taken down. This resulted in a point being taken away which rarely happens in UFC but it was certainly deserved: Everyone knows you cannot use the fence to prevent takedowns but he did it 3 times a row during the same rally.
When that happened, I think it kind of scared Edwards' corner, because it was anyone's guess who had won round 2 at that point. Losing a point in a round all but guarantees a loss of a round in a close fight, so perhaps it was this blunder that actually added more fire to his game and had him power through the last 2 rounds rather than doing what is all-too-common in UFC championship fights when the champion is up on points 3 rounds in. He didn't just run away for the last 2 rounds or waste time on the ground going for takedowns. In fact, it was the other way around and this strategy on the part of Usman is kind of baffling to me. During Usman's successful takedowns, he didn't manage to do much in the way of ground control time and virtually no damage at all - so why was he trying for this STILL in the late minutes of round 5? It just didn't make sense.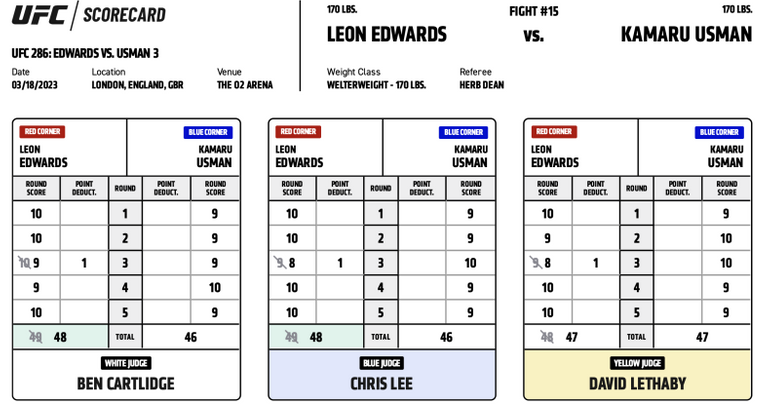 src
Even without the point deduction, he still would have won by majority decision and while I frequently disagree with the officials it was evident in this fight that this would end up being the case. Edwards was more effective with his striking, and his strategy of going after the legs of Usman early (or so it appeared) paid off wonderfully.
So I was as surprised as most of the world and the Vegas lines reflects this as well. All of last week the odds were all favoring Usman whose advantage varied from -220 all the way up to a massive -400 that was on Wednesday night.
There is no arguing that Edwards deserves this victory and I am really happy to see that happen. UFC needs changing of the guard every now and then and this also opens up the next fight which will almost certainly be against self-made hell bad-boy Colby Covington. That's going to be a huge event that will likely happen sometime later in the year.
So overall would say that this was one of the better, least controversy filled championship fights that I have seen in quite some time. I was really happy to have seen it and if you did see it, I hope you feel the same way.
---
---