Frankie Edgar retiring?
There are a few of the "old guard" remaining in the UFC right now and one of those guys is Frankie Edgar, who is a fighter that is someone that I have always rooted for in his fights because he is the perfect mixture of talent and class. He rarely participates in the trash-talking and could barely get goaded into doing so even when he was facing Conor McGregor a while back. He nearly won that fight as well. It all came down to one strike - as most fights can in this sport.
However, despite his fame and long-standing success in the UFC, hasn't been looking very good as of late and his last fight at UFC 268 may very well have been his last.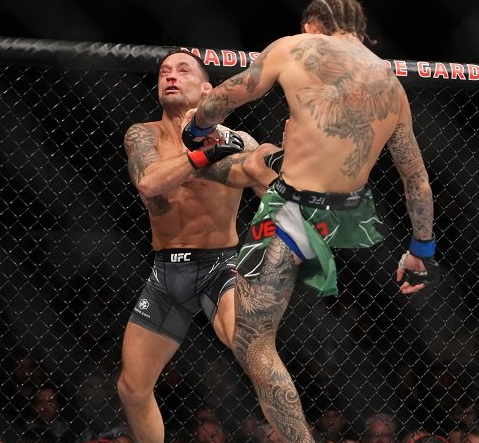 src
He faced Marlon Vera at UFC 268 and even though it looked pretty even in rounds one and two, I don't think that any objective MMA fan would say that it ever looked like things were going in Edgar's favor. One judge disagreed with this notion as they had Edgar winning two rounds to none when it was stopped but for me it looked as though Edgar was getting very little real offense through as he simply peppered Marlon Vera with punches that seemed to be largely ineffective.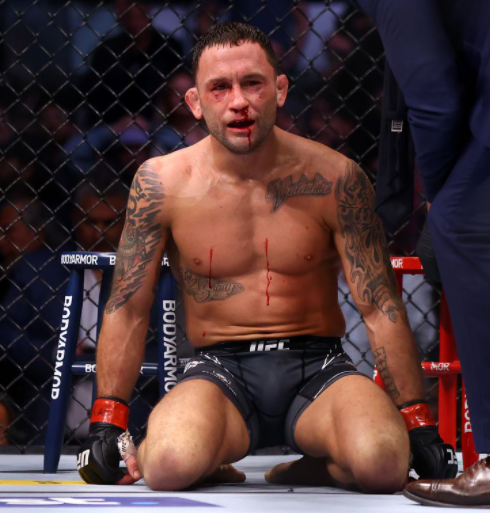 src
When the fight was stopped in round 3 for a TKO loss heading Edgar's way, he protested to the official and I thought the stoppage was a bit premature as well, but I don't think there was any denying that Frankie was headed to defeat anyway and maybe the official did him a favor. Given that Vera's defense had been phenomenal up to that point, it seemed very unlikely that Edgar was going to come back in the last few minutes.
At the post-fight interview Edgar didn't say he was retiring, but he did seem quite demoralized as "The Answer" and former champion is not used to losing on a regular basis and he was ranked number 2 in the division back in the end of 2019 when he was defeated by the "Korean Zombie" after being called up as a last minute replacement.
Since then he has gone 1 for 3 and has been knocked out in his last 2 fights the most embarrassing being the 28 second KO loss to Cory Sandhagen back in February.
Despite this Edgar remains a sort of crowd favorite possibly due to his longevity in the sport but at 40 years of age, the thoughts of retirement are always on the mind. I think in many MMA fighter's minds, they would prefer to retire on their own terms than be let go by the organization. I don't think that Dana White is considering this because despite his past 2 fights, Edgar remains a big draw and could certainly headline a Fight Night still although he may not be in Prime Time category anymore since seeing his ranking drop all the way down to number 12.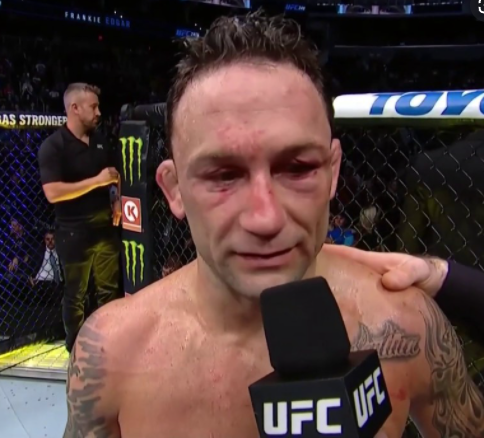 src
Losing in front of your "home" crowd hurts a bit more too
In post-fight interviews Edgar didn't want to talk about retirement and gets annoyed when people ask him about it but his words did indicate that the veteran fighter might not have his heart in the game fully anymore when he said "But this is probably the first time after a fight where I'm not thinking about my next fight. I'm not thinking about getting back in the gym."
Edgar is one of the longest-running active fighters in the UFC and has a record for the most time spent in the Octagon in professional fights at over 2 hours or something like that. It's a long time, just take my word on this.
Can he get his head back in the game? Should he really? If you ask me I think Frankie should take one more fight perhaps on a Fight Night and if he wins in stunning fashion then maybe consider another run. However, being out of the top 10 and being 40 years old makes a run at the belt one last time seem pretty unlikely. Get one more fight in and see what happens. Maybe then Frankie can go out on a high note.
In the meantime Edgar has made no definitive statement about his future and the UFC has given no indication as to who his next opponent is, if they even have one in mind. I think the worst case scenario here would be that the UFC starts to use Frankie as a "springboard" of sorts for up and comers. This is what they have done to a lot of their old horses in the past and it has always been kind of sad to see happen. The heroes of yesterday become the punching bags of today.
Will Frankie make the correct choice? We'll just have to wait and see.
---
---