Holly Holm's next fight could define her future with UFC
Holly Holm became a household name when she shocked the world by defeating the then "unbeatable" Ronda Rousey. In fact, she shook up the women's division so much that she was basically the catalyst that lead to the biggest star of UFC up to that point leaving MMA altogether to move over to WWE where the fighting is fake and the decisions are a lot more rigged than they are in UFC.
Unfortunately for Holly, things went very badly for her after that as she lost her first title defense and then went on to lose quite convincingly in her next 3 fights. Things were going so badly for her but she was still the UFC darling for being the only person to ever one-up "Rowdy" in the octagon.
Changing weight classes and being willing to take on just about anyone is probably part of the reason why Holly is still around despite her extremely lackluster performance in the past 8 years.
She's done quite well since losing to Nunes in the first round of a title fight that I would say she didn't deserve but was put there only because of name recognition and at that time there weren't very many women at Bantamweight.
Holm has won 3 of her last 4 fights but the interest in her is waning and she has been relegated to "Fight Night" events, which don't pay well and don't get anywhere near the viewership of PPV's.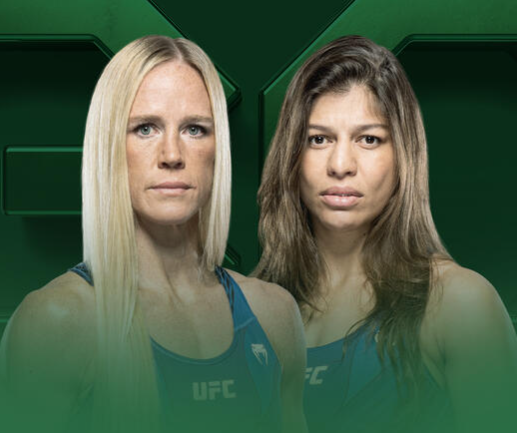 src
Her next fight is scheduled for July 15th against up-and-comer Mayra Bueno Silva and I fear that this could be what UFC normally does and that is to take their aging stars with a big name and put them in fights that the UFC actually wants them to lose.
Silva is also on a 3-fight win streak but unlike Holm, Silva specializes in submissions whereas Holm has never secured a submission victory.
Silva has 50% takedown accuracy vs Holm's 79% takedown defense. That sounds fair enough but the problem here is that if Silva does get Holm to the ground, things could go very badly for her. It doesn't help that Holm is 41 years old and any MMA fan already knows what the UFC tends to do with fighters in their 40's. They use them for all they are worth and then send them out to pasture with their legacy ruined.
Of course, all fighters are allowed to simply say "no" to fights but this too is a fast track to not getting your contract renewed.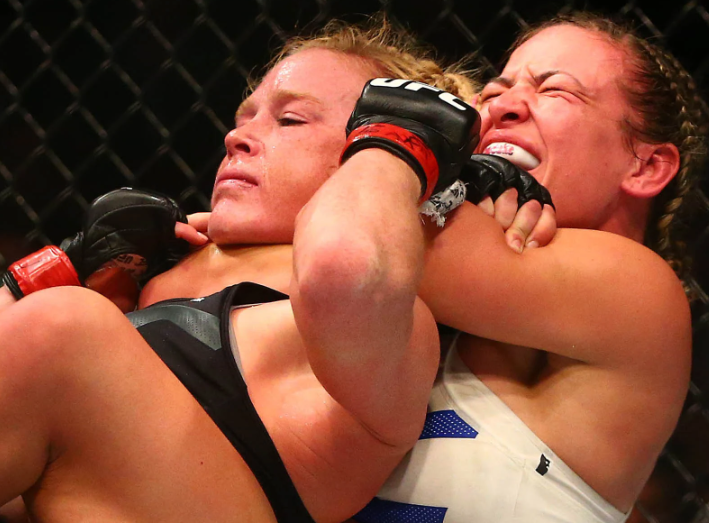 src
I fear for Holly Holm if this fight ends up on the ground which is exactly where Silva is going to be trying to take it right from the opening seconds. Holm has been part of submissions in the past, but only on the receiving end of them.
If Holm can win this fight, it could put her back into contention for the belt. If she loses and especially if she loses by submission, I think we will see her quickly fade away from the spotlight while Dana and co. use her name until it no longer means anything anymore.
I'll be rooting for Holm in this fight because she seems like a genuinely nice person and has put on some good shows in the past. I fear the worst though and that this is just another setup on the part of UFC so they can advance a younger up-and-comer to the front lines. Either way, it is going to be a fight worth watching because Holm is notorious for not tapping out, even when she loses consciousness in the process.
---
---