I want to talk about Peña vs. Nunes 1

The upcoming pay-per-view UFC 277 has a lot of people excited. This card is pretty decent and I know that I will be one of the people cheering in a bar that had to pay a ludicrous price to have the fights live in their establishment. This is kind of a bittersweet rematch in my mind though because even though I know it is just the conspiracy theorist in me talking, I have my suspicions about the first bout between these two.
For a very long time Nunes was knocking down anything that was put in her path including easily dispatching Rousey and also the long-promoted "Cyborg" in the early stages of the fight. Nunes just seemed to be on another level from all other talent in the division(s) she held the belt in and while this sounds great and all, it can actually be a problem for UFC.
People get bored when the same person has the belt for too long and when they run through the people in the top-5, there really isn't much else to pit them up against. We are seeing this exact situation with Israel Adesanya right now and how they are shooting people up the ladder to put a new face in front of him for the belt. Nunes was the same story.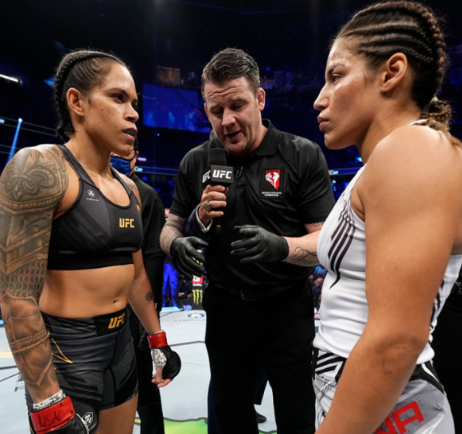 src
If you saw the first fight between these two you already know that there were some strong blows landed by both competitors and it was really surprising that it looked like it could have been anyone's fight, especially since Peña was such an extreme underdog going into the fight.
The problem I have with the bout is the way that it ended. The submission tapout on the part of Nunes seemed a bit fake.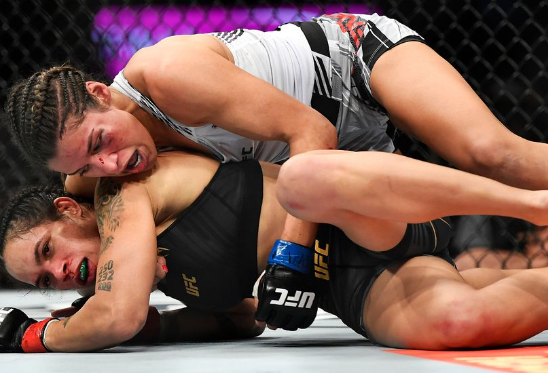 src
Now I did some amateur MMA fights when I was a lot younger and I have been on the giving and receiving end of a rear-naked choke on multiple occasions. They are not pleasant, that is for sure. But then again, I am not a top-tier fighter and didn't really even study a great deal of grappling.
This particular rear choke wasn't locked in very tight and also they were not in position for very long before Nunes surprisingly tapped out.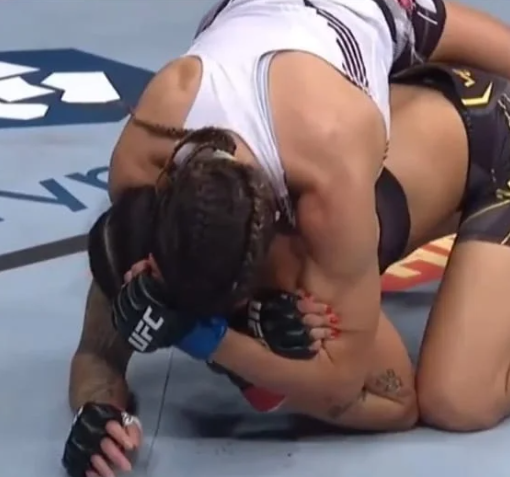 src
Her arm isn't and was never fully under Nunes' neck and if you watched the fight you'll know that they weren't even in that position for very long. Now I am not saying that this was definitely a fix and there would be no way to determine this but there are a lot of reasons why this loss could have been pre-arranged.
It gives UFC another 1 or 2 lucrative fights in a division that was stalling due to continued dominance by Nunes
If the fix was in and only a few insiders knew about it there could have been a wonderful opportunity for people, including Nunes to make many more times than the fight purse was going to be
Win or lose, Nunes was always going to get a rematch and remain in the top level of the division
I'd like to believe that fights are never rigged in UFC but this one just seemed like it was a really weak finish. When someone gets KO'd or TKO from strikes it is almost impossible to suggest that they threw the fight but in submission work, you get to quit whenever you feel like it.
Now if the fix definitely was in, it wouldn't even be necessary for Peña to be in on it. She is a grappler anyway so eventually she is going to go for something like this. It isn't unusual for her to try for this sort of finish. My suspicions come in when I look at how weak of a finish this actually was, especially when you consider that Nunes was one or two strikes away from dominance leading up to this point.
I believe the upcoming rematch is going to be a very one-sided affair that sees the belt go back around Nunes waist. Then guess what? UFC will get to have ANOTHER lucrative rematch again. When the business works this way, it is difficult for me to not be at least a little bit conspiracy-theory minded.
What do you think?
---
---