It's gonna be another long year for Pistons fans
Ah Detroit, this is a tough city to be a fan of just about anything as far as professional sports are concerned. This is at least true for all of the sports that I watch. The Lions' entire season was an exercise in frustration, even if you are not a fan. Every now and then there is some enthusiasm built up around how "this year will be better" and more often than not, this is just wishful thinking. The Lions do have one award that only 4 teams in the NFL can claim: They have never lost a Super Bowl but this is just because they have never made it that far. Two of those other teams in the four are expansion teams that have only been around for a few years (comparatively) but the Lions have been around since the very start. The only other team that has been around the entire time the NFL has existed and is also "undefeated" in the Super Bowl is the New York Jets - however, this is because the Jets won Super Bowl III.
This article isn't about the Lions though, it is about the almost certain continued depression that is going to exist for Detroit sports fans for many months as it appears as though the Pistons are bound to be one of the worst teams in the NBA this year.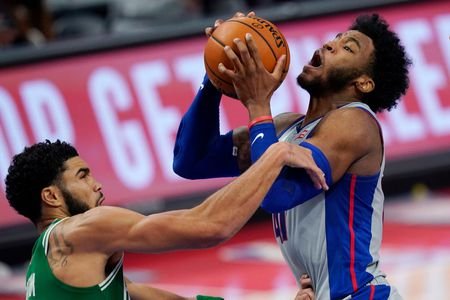 src
Photo selected because of silly expression only, they actually WON this game
The Pistons currently sit Dead last in the East and in all likelihood this is unlikely to change a great deal. They may change places with the Wizards, the Raptors, or maybe even the Bulls from time to time, but if there was a relegation system in the NBA (that would be interesting!) I would put money on their relegation right now.
Currently on a 2-game losing streak and an overall record of 3-11 and this is bound to get much worse as in the next week they will face the 76ers (1st in the East), the Cavaliers (6th in the East), the Lakers (1st in the West), and the Warriors (5th in the West.) Their only real prospect for a victory will be against the much maligned Houston Rockets tonight and honestly, I would put money on the Rockets in this matchup. The odds have not yet been released by Vegas and online sportsbooks and I don't have any idea why that is the case.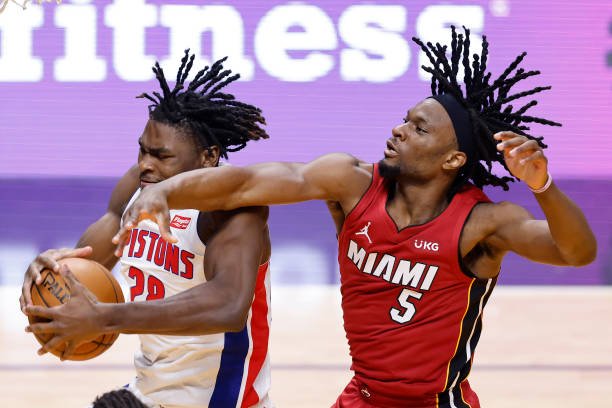 src
Despite this very gloomy outlook for the rest of the season there is one thing that is very strange about the Detroit Pistons. Of their 3 wins, 2 of them were against what I consider to be 2 of the best teams not just in their respective divisions, but in the NBA as a whole.
Back on Jan 1 the Pistons magically managed to defeat the Boston Celtics 96-93 after coming out of the gates screaming to lead 27-12 in the first quarter. A week later they would rally in overtime to defeat the Phoenix Suns 110-105. Other than a game against Miami, who is no slouch of a team that seems to be trying to find their legs in 2021 so far, they have lost every single other game they have played.
To be fair, many of their games against top-flight teams such as against Milwaukee and Utah (both in the top 3 in their divisions) have been close and if you had bet on the spread with Detroit, you would have won both of those.
There are a many reasons why Detroit is bound to continue this trend of suck. For one thing they are almost entirely dependent on Jerami Grant for points as Blake Griffin has been seriously underperforming in his job at forward.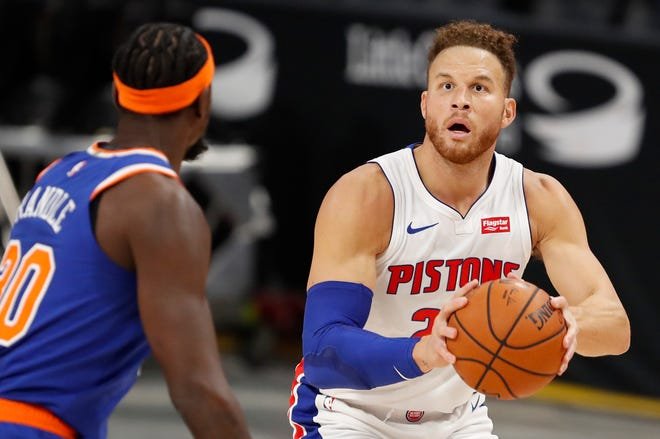 src
Griffin is clearly rattled so far in 2021 as he is shooting under 40% on FG's and 30% on 3's
When playing defense against Detroit, you can basically ignore everyone else on the court other than these two. This makes the Pistons very easy to defend against because it really isn't a question of IF one of these two is going to take the shot, it is a question of when.
If Jerami Grant suffers and injury - which is something that could happen to any overused star on any team - the situation in Detroit could get even worse.
I would love to see Detroit get an upset victory next week but honestly, I feel like next week along with all the weeks that come after it, are going to be an exercise in extreme frustration for any fan of the Pistons.
Sorry Detroit, it looks like it's gonna be another bad year for ya!
---
---