Jon Jones getting a title fight for his first heavyweight fight?
This is a real problem that I have with UFC just in a general sense. It has become more like WWE than a combat sport in that people with a lot of controversy surrounding them, or someone with good microphone skills, gets awarded fights that they have not yet proven they actually deserve. In doing this, the UFC puts non English speakers at a massive disadvantage because for example Brazilians, don't have the English language skills necessary to have a great comeback when someone is trash-talking them. This is why you don't really hear about people calling out Brazilians anymore these days IMO. There is no reason to when you can simply shout at someone way above your ranking, even the champion, and get a shot at a fight that there is not good reason statistically speaking to award you.
The UFC ranking system may as well not exist because we now find ourselves in a situation where a guy who has never fought at heavyweight is probably going to get a title shot in his very first fight when he returns to the octagon after a very long time away that was riddled with legal and personal problems. I'm of course talking about Jon Jones.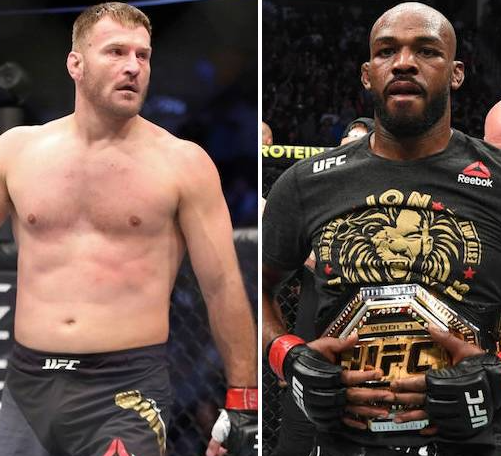 src
The actual champion, Francis Ngannou is unlikely to fight for the remainder of the year due to recent knee surgery. I don't have anything against the UFC having interim champions, they do it all the time and eventually it results in a pretty fantastic guaranteed unification fight at some point down the line. I do disagree with how they choose who these combatants for the belt should be.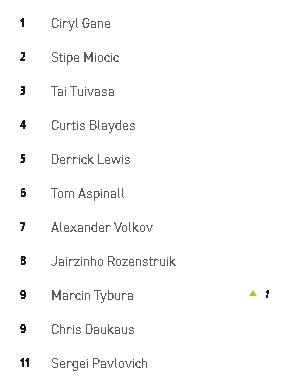 src
why is there no number 10?
Obviously we can't let Gane (thank god) have another shot at the belt because he just had one. It does in fact make sense to give Miocic a shot at it since he was the last one to hold it and lost it partially because of some crucial mistakes early in the fight vs Francis. What I don't understand is why the rest of the top 10 are being completely leap-frogged by a guy that has never fought in this weight division. Of course I know the real answer to this and it can be summed up in one word: Money.
Dana White is in the business of making money for himself and the UFC shareholders, not in being fair. Since there are no rules dictating who gets to face who when and where other than what he and the top brass at UFC decide, they can do whatever they want including put a guy in there that hasn't had a fight at all in years.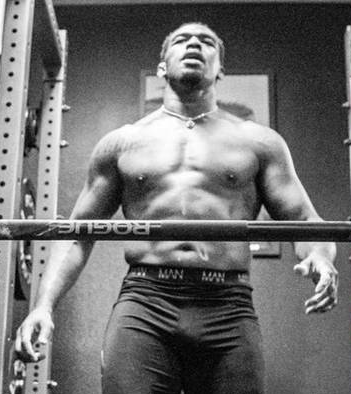 src
While I will admit that Jones is looking like a beast in his step up to heavyweight, we all know that it is his notoriety that is getting him there, not necessarily because he deserves it. How would you feel as one of the top 10, who worked your ass off in order to get there, only to get pushed to the side so that Dana White can make a big payday and it will certainly be that.
Jones hasn't fought anyone aside from his drug and alcohol problems since February of 2020 and in a fair and just world he would get his first fight against the likes of Curtis Blaydes at best, not a fight against Miocic for the belt in his very first fight at heavyweight.
Dana White, in a recent press interview with TMZ had this to say
"I'm hoping Jon Jones is going to be part of that lineup this summer ... Stipe makes sense,"
Miocic heard of the possible matchup and said "I'm down" meaning that he'd take the fight if it was offered to him, but also rightfully criticized White and the UFC for the decision to put Jones at the top without first proving himself at this weight. He went on to say this
" I know he's done well, he's probably one of the greatest of all time but you've got to wait your order. That's like me going to light heavyweight and being like, 'I want the shot.'
I completely agree with Miocic on this and I think that anyone who believes that the ranking system should actually mean something would agree. However, I know that UFC as well as almost any other sport is about money, not about the actual sport in question.
---
---