Jose Aldo moving to pro boxing. I think it is the best move for him
Jose Aldo is one of those fighters that if you don't like him, I have to wonder why that is. He has never been one for trash-talking, seems to be a fan favorite (at least in Brazil), and held the championship, although it was mostly during a time when not many were watching UFC, but he held it for over 10 years. Accomplishments like this don't just happen all the time and I find it a bit unfortunate that of all of his accomplishments he will probably most likely be remembered in his MMA career for this one moment.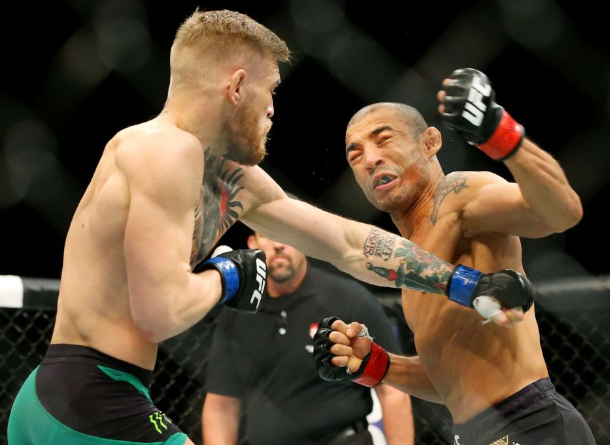 src
Go ahead and think about it? Can you remember any of Aldo's fights other than that one? The answer probably could be "yes" if it weren't for the fact that his fall from grace was so immediate and lasting directly after that fated day where after all the hype, he managed to last a mere 14 seconds against the Notorious One. I know it seems like yesterday but this was nearly 8 years ago.
Aldo would wait nearly a year before he would fight again and thankfully it was a win... A win vs a rather washed up Frankie Edgar though and since it was a rather boring decision victory, many people were thinking that Aldo had been rocked so badly by his embarrassing McGregor loss that he couldn't find glory again. Fast forward a little more than a year and UFC gave him a real fight, two of them actually, against Max Holloway where Aldo would suffer back to back KO losses.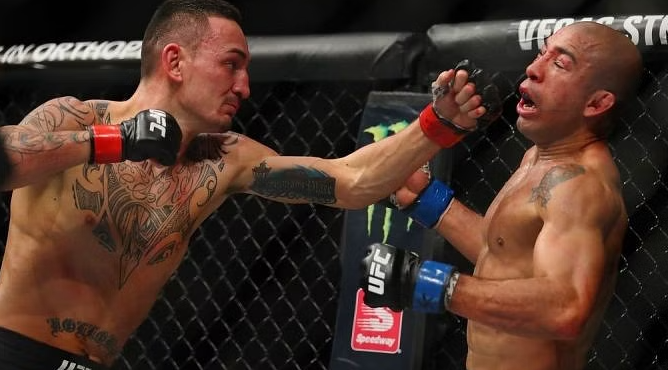 src
From that point forward Aldo seemed to be a punching bag for UFC and they would tee him up fights that he would continually lose in order to propel someone else into the spotlight. He had a win here and there in the following 5 years but they were normally against someone you have never heard of at a venue that nobody watched.
Even the fights that he did win were boring and always resulted in victories on points. The fights he lost tended to be KO's. His last fight, and it might be his LAST MMA fight ever, was a decision loss and again, it was quite boring.
Aldo doesn't look washed up... he looks afraid. Just like a lot of fighters who have suffered at the hands of taking a big chance and paying the price, he looks like he is not trying to win... he is desperately trying to NOT LOSE. This can be effective for some people but it certainly isn't going to get you big events and by extension, big payouts.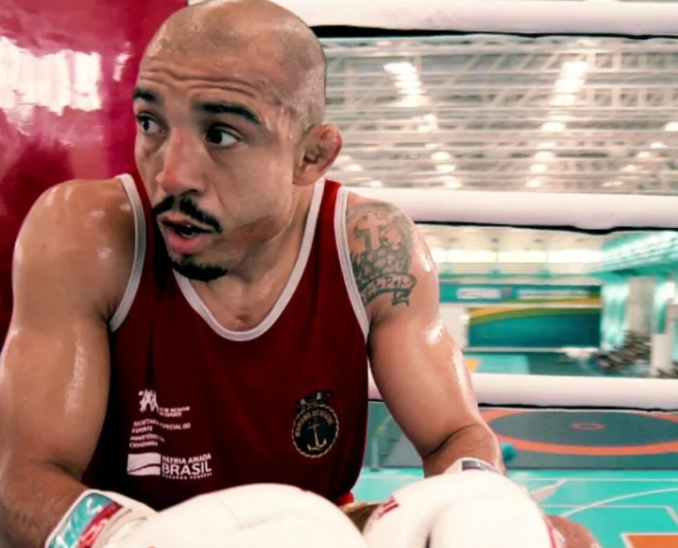 src
While he and his team have been rather tight-lipped about it and it was "just a rumor" for a very long time, it was announced recently that it is official. Jose Aldo will make his professional boxing debut in February in Rio de Janeiro. It's a rather minor event and I am just happy to see that it isn't some sort of Jake Paul fiasco that for the most part, seems to be designed to embarrass old MMA stars and tarnish what remains of their legacy.
Will Jose be any good at this? I think he could be seeing as how his MMA style over the past 7 years has been one that almost seems like a defensive boxing style. Of course he is starting off fighting unknowns, and he is relatively old. I hope he can find some enjoyment in this though because his fall from grace in MMA is unmatched. To go from everything to nothing in just a few years hasn't been accomplished very many times.
I reckon he'll do ok... but unless he is spectacular I can't really imagine very many people getting excited about this. I just hope it makes him some money and brings him some happiness.
In the title of this I said that "I think this is the best move for him." Just know that I say this because historically speaking UFC tends to use up fighters like him until they no longer have a purpose for them. Just like at what they did to Anderson SIlva. I'd prefer to not see that happen to many more legends of the sport.
---
---