Lakers are out and I don't think anyone really cares
Los Angeles made it pretty far in the tournament considering their number 7 ranking out of 8. I was a massive LA Lakers fan when I was a kid during the Magic days and I have been OK with them for the most part in the 2000's and 10' but I think that LeBron is the main reason why most of the NBA fandom in the United States is kind of glad to see them go.
LeBron has just kind of become unbearable to listen to and once he began the "flop" portion of his career he became even more annoying.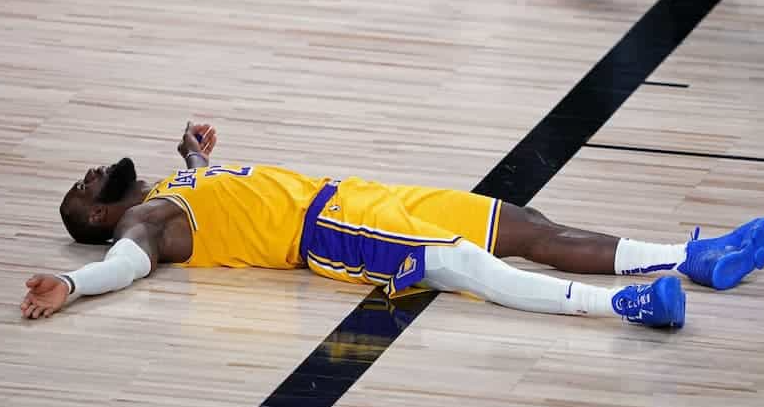 src
For me, I can't understand how someone who is already considered one of the greatest of all time resorts to these tactics. This isn't soccer and Bron Bron always gets called out for this. He has been warned by the NBA multiple times for this yet it still continues because James gets special treatment due to his celebrity.
I'm sure the LA die-hard fans were OK with him getting free throws for a while, but after a bit even LA fans started calling him out and asking him to stop. Los Angeles is one of those teams that we just expect to see in the tournament and I admire the way that they really dug in to get as far as they did in the tournament despite the fact that there was SO MUCH flopping on the part of James during the tournament as well. The refs continue to fall for it also, which is very frustrating as a fan.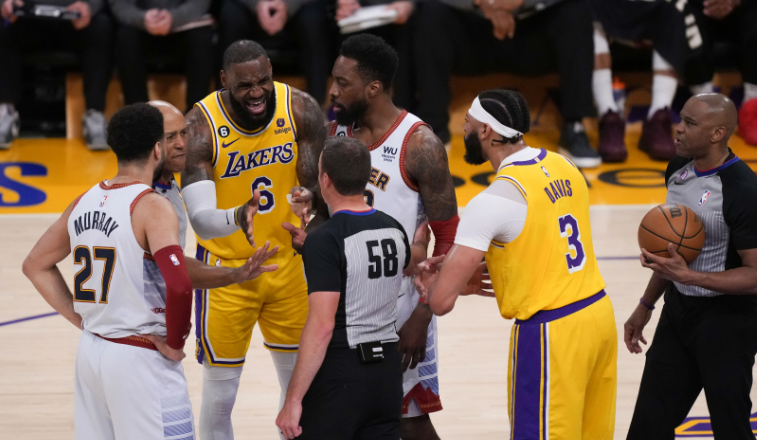 src
The Denver Nuggets are simply put, a superior team to the Lakers and the 4-0 sweep made a lot of people aware of this. No amount of LeBron arguing with officials or rolling all over the floor was going to change a lot about this.
The games were close, especially game 4 and I think that makes people happy. Only one of the games could really be considered a blowout and that was game 3 where the Nuggets bested the Lakers in LA by 12 points.
I have this theory about 90% of all NBA games in that they are decided in the final 3 minutes of most games. The Nuggets just have an extremely well-rounded team that can score from anywhere whereas I feel as though the Lakers depend too heavily on LeBron for points. This of course could have a lot to do with Bron himself not giving up the rock and that is something that the Lakers are going to have to discuss in the off-season.
The overall point here is that unless you are a lifelong Lakers fan, you are probably happy to see the Lakers get eliminated. I know a lot of NBA fans and I don't know any that are disappointed about seeing the Lakers eliminated. There were some people that really would have liked to see a Miami/Los Angeles final since neither team automatically qualified for the tournament at all and this would be the first time in history that this happened.
Personally, we can skip history and just get to the better games. There are no more prima-donnas left in the remaining teams so I think the games will be able to focus on overall great basketball instead of one person doing all that they can to keep the spotlight on himself, even if that spotlight is in a negative light.
In other extremely opinionated news I am very surprised to see that the Celtics managed to prevent a sweep by winning game 4 in Miami. The conspiracy theorist in me thinks that this game was thrown intentionally for money-making reasons. The NBA misses out on a huge amount of income if both semi-final matches only go 4 games and the chances of winning after going down 3-0 is near impossibly small. My prediction is that the Celtics "go fishing" after the next game in Boston.
---
---