Nate Diaz doesn't want a trilogy fight with McGregor: I applaud him
Nate Diaz has one of the most unusual relationships with his employers at UFC. He seems to belittle them any opportunity that he gets and even though he has quite a poor record at the moment, this notoriety results in him being a fan favorite. I know he is one of my favorite fighters because it doesn't seem to matter if he wins or loses, all of his fights are really exciting.
I can say for certain that nobody is managing Nate's social media for him because he goes on blast against anyone and normally his Tweets are filled with spelling and grammar mistakes. I don't have a problem with this, it shows that he is actually the ones saying the words, even if they are ill-advised as far as his paychecks are concerned.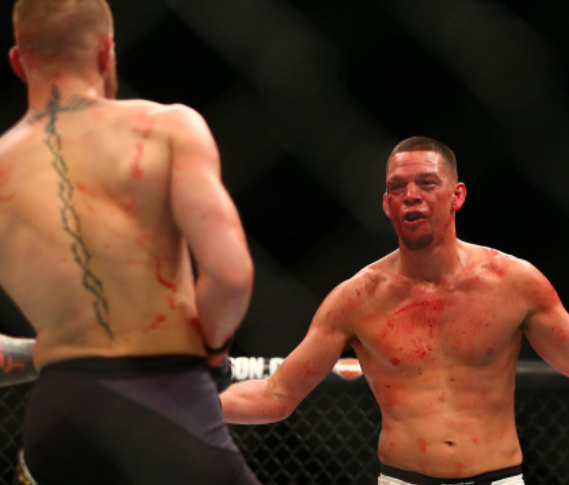 src
The first McGregor / Diaz fight is one of my favorites of all time. It was a while ago back when people didn't really pay much attention to the Stockton native but after that very convincing win of Conor in his prime (maybe) he shot straight to the top and silenced all of his critics including McGregor himself.
Recently, Nate took to the interwebs to express his complete disinterest in finishing the trilogy with Conor McGregor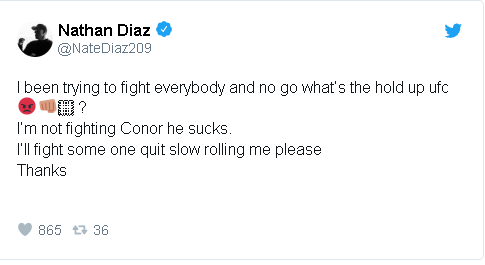 I really respect this and it goes to show what Nate has been saying for a long time in that he is "not in this for the money." While I doubt that very heavily since he is one of the highest-paid fighters in UFC, he has since moved on to make a very successful company with his brother and I think we can safely say that he doesn't really need the money.
A fight with McGregor, despite the fact that he has not been performing well, all but guarantees a huge payday and a headliner slot. This is true and makes huge money for the UFC despite the fact that many believe Conor is washed up and needs to retire rather than drag this out any longer.
It wasn't even offered officially to Nate yet here he is, publicly refusing the trilogy that I am certain a lot of people, including me, would really love to see.
Nate only has one fight remaining on his contract with UFC and it remains to be seen if he will be offered another one and if so, whether or not he would accept.
There is one thing that people might not be considering and that is the fact that all of this could be for show in order to drive more people to watch Nate's next fight whenever that ends up happening. Dana White doesn't talk about Nate very often and when he does he only speaks about it briefly. This could all be a ruse and Dana and Nate might be best buds simply fabricating a "we hate one another" narrative to drive more people to watch. Maybe this is too conspiratorial because Nate doesn't seem to really have the intelligence to pull something like that off but since UFC is basically the WWE of combat sports these days, it's not beyond the realm of possibility.
---
---