Nate Diaz finally getting his last bout with UFC?
The contracts have not been signed yet but everyone who matters in the equation has publicly and verbally confirmed that the final fight of Nate Diaz is scheduled to happen on September 10th at UFC 279.
I have said in the past that I believe Diaz is one of the most bankable fighters in the UFC and the fact that he is headlining a Pay Per View that features (as of yet) no title bouts kind of speaks to add credibility to what I say about his popularity. On a Diaz ticket, the rest of the deck doesn't even need to be very good, he pulls the crowd all on his own. The fact that this is his final fight for the promotion makes it even more appealing because the long-standing feud between him and his employers, as well as the disrespectful way in which Nate calls out the Big Boss Dana White on Twitter, all but guarantees that UFC will not extend an offer for a contract extension.
Unfortunately for Nate, he is pulling a fight against someone that I don't think he stands much chance at beating. This might have been the idea all along in the mind of White who wants the door to hit Nate in the ass on his way out.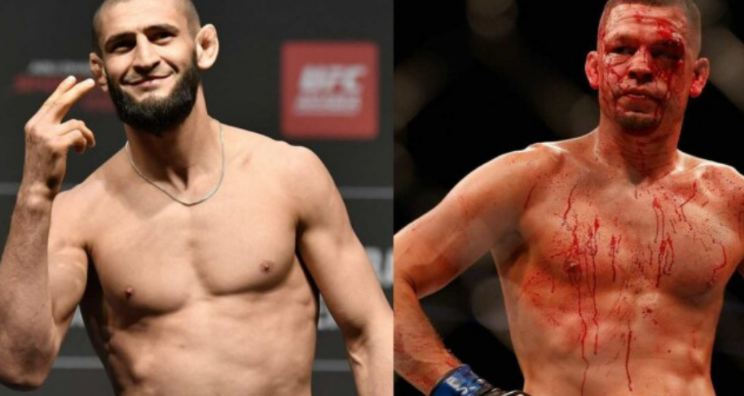 src
Nate at this point appears as though he will be fighting against Khamzat Chimaev in September and from my perspective Nate is just taking the money and running. KC is a very good grappler and wrestler and he doesn't waste much time getting to exactly that point by quickly wrapping up his opponents on the ground. Nate is by no means a slouch in this department and regularly submits opponents as well. However, his forte seems to be his stand-up boxing and I don't see Chimaev attempting to do this at all or if he does, not for very long.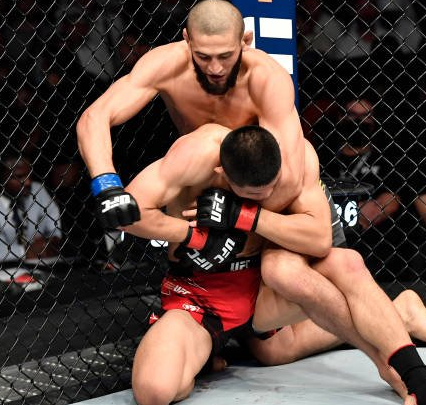 src
Just like all the fights I have seen KC in, I think we can expect him to try to get Nate on the ground as quickly as possible. While Nate is arrogant enough to believe that he can handle KC on the ground, I don't really think that is the case. Unfortunately for the fans, this could end up being a 5-round snooze-fest that leaves the audience in attendance and at home a bit bored and perhaps Dana even knows this and actually wants Nate's final fight to be a boring one in the hopes that it will tarnish Diaz' legacy in the sport.
I would have liked to see Nate fight almost anyone else if I am being honest, not because KC isn't good - he is very good and extremely effective at his fight strategy - but because Nate might not have the opportunity to make this a really interesting show like most of his fights in the past.
Either way, Nate finally got his wish and since he is headlining the event you can bet that he is going to get a hefty payday right before he leaves. I don't think Nate can win this fight since KC tends to avoid stand-up and this is where Diaz' game is the strongest. I hope it can be an entertaining fight but if I had to put money on it I would gamble that 80% of it is going to be a rather boring ground control game.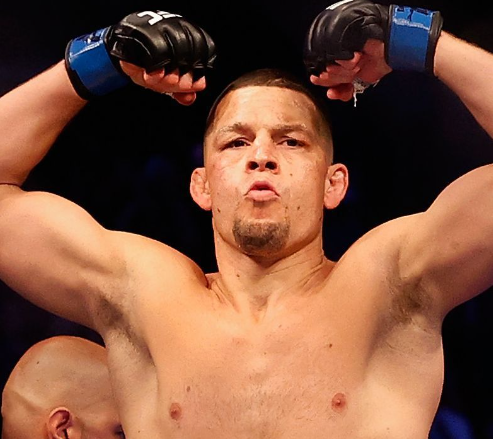 src
Personally I would love to see Nate Diaz emerge victorious and then kick the door shut on his way out, then move to a lucrative position in Bellator or something like that. At this point though, we don't really even know if Nate actually wants to fight anymore. He doesn't need the money as he has managed his cash extremely well during his fighting years.
I think the only real thing to watch here is to see how Khamzat Chimaev beats Nate. Nate is really good at not getting finished even though he does lose a lot. One thing is for sure, it will be entertaining if Nate can manage to control the pace at all.
---
---