Nick Diaz talking smack about getting a title shot in 2022
I normally write about the more vocal younger brother of the Diaz duo but this time I come talking about Nick, not Nate.
I will admit I was never exposed to much of Nick's fighting because when I was getting into the sport Nick was on a 5-year ban for testing positive for marijuana of all things and this was considered a PED or at the minimum, a banned substance. I'd like to think that this stance has been reviewed by the athletic commissions and that weed will not be considered a PED because honestly, that is a completely ridiculous stance to take. If anything, the Diaz brothers have definitely turned those lemons into lemonade since over the past 5 years they have launched a very successful CBD and edible marijuana company.
Let's stick to fighting for now though because that I what the focus here is, not weed.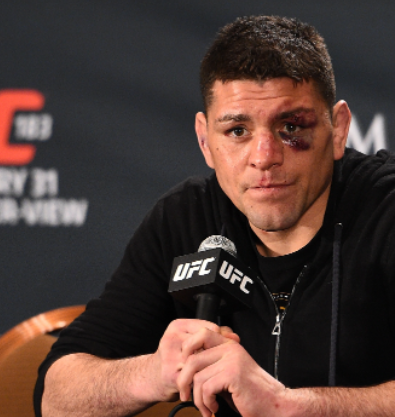 src
When you say the word "Diaz" in MMA most people probably think of the guy who has a loud mouth that called out and defeated Conor McGregor many years ago and then propelled himself into the limelight and a lot of money because of the result of the fight that nobody expected he would win the way that he did. But it was actually the older brother Nick that put the Diaz brothers on the map and first started fighting and forming Team Diaz.
He hasn't seen much action lately and the last fight I saw him in he looked out of shape and slow and his fight resulted in a loss against Robbie Lawler back in 2021 via TKO.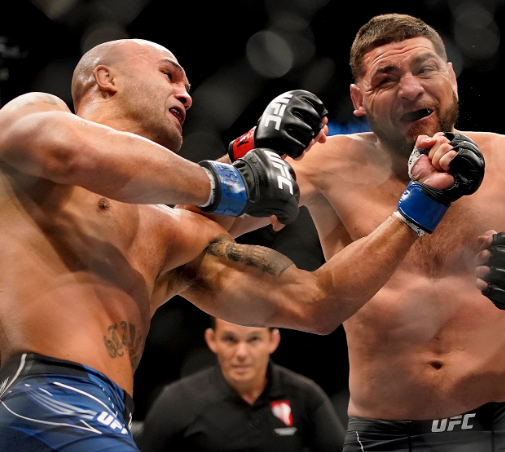 src
This middleweight fight was surprisingly boring and sluggish but that might just be the way that Nick is now. He hasn't seen much ring time since his ban and he hasn't actually won a UFC fight in over a decade. He was one of the pioneers of the UFC and had some crackers back in the day, but I wasn't watching the sport then and neither was most of the world.
His latest attempt to call out the MMA world and put himself back on the map might work because he is a Diaz, but in my mind this is only going to end badly for the 38 year old as I don't think he has the tools to get the job done anymore.
Unfortunately for Nick, the management at UFC isn't taking the call out very seriously and many, including Dana White and Daniel Cormier don't believe Nick Diaz should fight anyone anymore, let alone champion, Kamaru Usman.
Nick says that his team is working on getting a deal made before the end of the year and while I would like to see this happen, we need to keep in mind that Diaz is simply trying to ride the fame of his name here. He hasn't proven anything in the octagon in many many years. Had he dispatched Lawler back in 2021 instead of getting KO'd in the 3rd round, he might have something of a case but since his last several fights are all losses and span an entire decade, I'd say that the idea he is going to be offered a title shot is a bit laughable.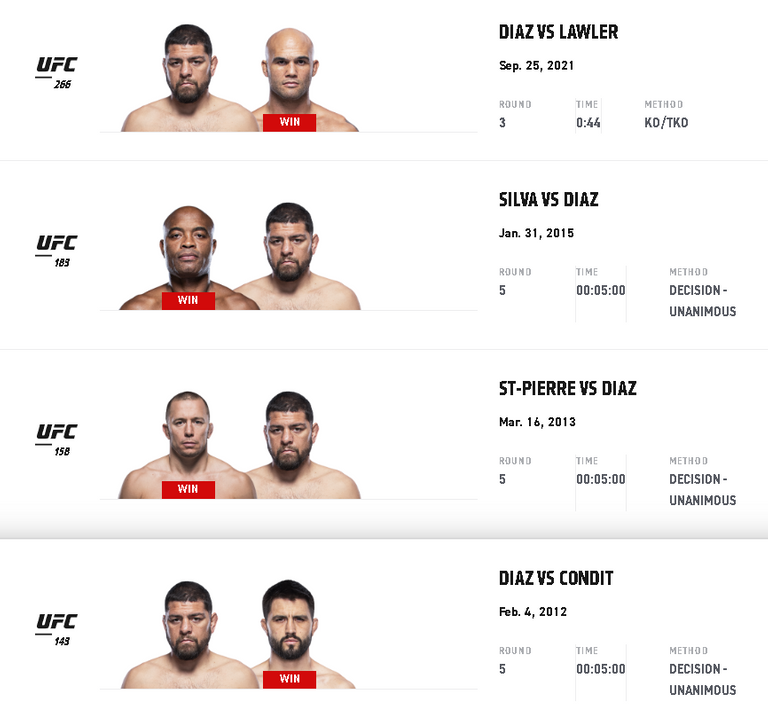 src
You have to go back quite a ways in his career path to get to a "W" and most of those are against guys that stopped fighting a long time ago.
I'm sure that he is simply trying to capitalize on the controversy that his brother constantly creates in the MMA world but even though I like the Diaz brothers, I agree with Dana White and DC when they say that he shouldn't fight anymore. In his last fight he looked like he had trained at Burger King and was just there to collect a check.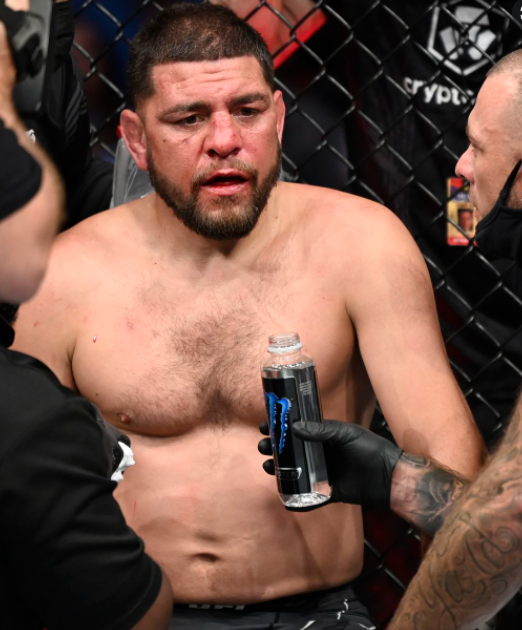 src
If Nick is to get another fight at all in UFC I would honestly be surprised but the idea that he is going to leapfrog the entire division where he is currently unranked and get a shot at gold is dismissible at best. His IG shows that he is in much better shape now but even if that is the case, he needs to work his way back up before getting a title shot. I think giving him a chance against anyone in the top-10 would be very generous on the part of the UFC organization and the MMA community.
Let's face it. If it weren't for his brother nobody would even be talking about this. I'd like to see him make a comeback of sorts but at 38 years old and not looking very impressive in his last fight, I think this is a long shot.
---
---