"Redeem Team" is a great sports' documentary for any basketball fan
This happened so long ago that I forgot how big of a deal it was when the USA went to the Olympics and didn't win gold but instead were eliminated by Argentina in the semi-finals. I guess I wasn't watching or had erased it from my memory.
This show may or may not be new but I was unaware that it existed until earlier this week. For any basketball fan - which by extension would probably make you an NBA fan as well, this will be a very entertaining ride to see how the USA national basketball team recovered from their shocking losses at both they Olympics and the FIBA championships in Japan 2 years later to emerge once again as a dominant force in basketball at the Beijing Olympics.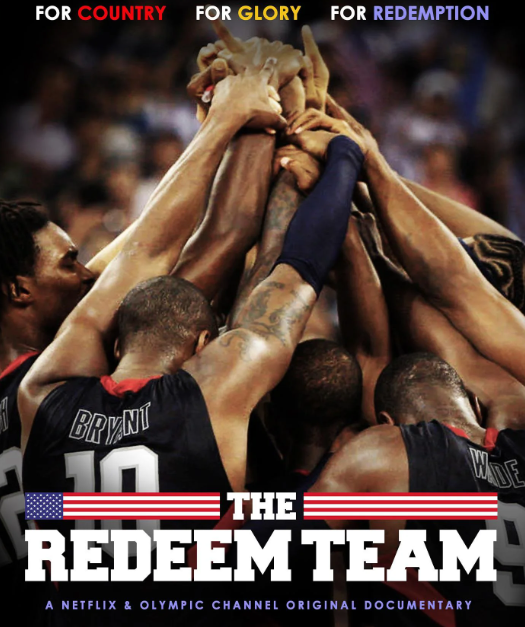 src
I think that for anything other than basketball it would be ridiculous to expect any country to effortlessly win at a team sport every time there is a global competition yet this is what was expected of USA every time they went to the events. It is easy to understand how this arrogance got into place because it wasn't long ago, and some would argue that it is the case now, that almost all of the world's best basketball players were American. It was quite rare for someone to be on any of the teams that wasn't from USA and even today a vast majority of the NBA players are, in fact, American.
When they Olympics started allowing pro athletes to play in basketball the USA would just give any nation's team a thrashing and they would win by an average of 30 points. In the documentary they actually talk about how they could have won most of those games by significantly more points but didn't want to embarrass other nations.
This attitude of not having any real competition probably lead Team USA to get into the situation that they did when the Dream Team met for a mere 2-weeks before traveling to Greece to compete in the Olympics. I had no idea that this was the case and it was a huge disadvantage for the USA side because the other teams had been playing with one another for YEARS leading up to the games. I don't care how good you are at something, if you have only been casually playing with your teammates for a couple of weeks and the opposition has been practicing regularly for years, you are not going to do as well as you think.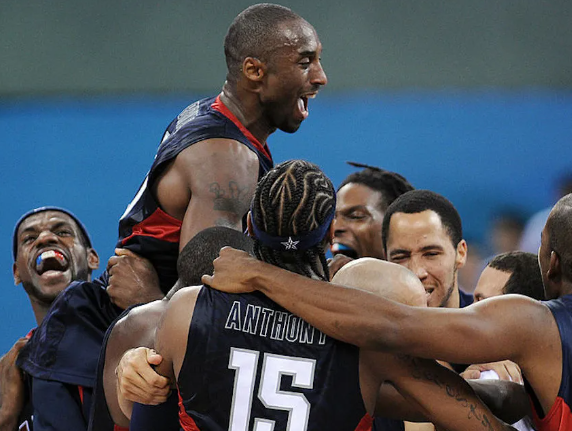 src
This documentary explains how Team USA changed all of that after the shock loss and started preparing the athletes for years before the next Olympic games. Coach K from Duke was able to convince all of the players to put their egos to the side and to focus no on individual glory but instead to focus on representing their country as a cohesive unit... to play as a team regardless of their attitudes towards one another in the NBA so to speak.
The show is also excellent because it focuses heavily on Kobe Bryant, who as you all know passed away in a helicopter crash in 2020. They showcase how Kobe came on to the team a bit late and immediately assumed a role of leadership, but not in a dominant way, it was more of a inspirational way. One of my favorite scenes is when the other stars are talking about how they had all been out clubbing in Vegas all night one night and when they came back to the hotel that team USA was staying at they encountered Kobe in the elevator and Kobe was headed to the gym in the hotel to train at 5am.... hours before the real basketball practice.
From that point forward the other team members started following suit and doing the same thing. Kobe lead by example, not by telling everyone else that they "had to do this." I would have expected a butting of heads between Kobe and LeBron, but this documentary explains in great detail that it was not like this at all between the two superstars.
Of course if you follow basketball you already know how this whole things ends but that doesn't make the journey any less exciting. It is a lot of fun to see the NBA stars excited about representing their country, especially given the anti-USA aspects of the NBA in the past couple of years. It's hard to imagine them being that way and there is even one scene where all the players are staring at the USA flag with near tears in their eyes and their hands over their hearts. Things sure changed since then but there was a time when attitudes were different I guess.
It is a wonderful 2 hours of learning about the history of failure followed by victory and I think that most people who are fans will really enjoy this. It's wonderfully edited and includes playtime clips as well as never-before-seen behind the scenes footage. I think it is definitely worth watching.
---
---