Sporting memories: Being attacked by a coach during a game I was officiating
Youth sports in the United States involved a lot of unpaid volunteers so I don't think that anyone actually expects excellence when this is the coaching staff. The only thing required of a volunteer coach is that they be an adult presumably without a criminal record. This lead to a lot of instances where my own coaches were completely clueless about the sport they were coaching, often to the point where they actually taught the kids on the team how to play the sport incorrectly.
I played a lot of sports when I was growing up and I was good at most of them (not baseball.) I was particularly good at soccer (football) and until I was a teenager, I was mostly a lot more knowledgeable about the game than any of my coaches were. This had a lot to do with the fact that sports were strongly encouraged in my family and if any family member showed some sort of excellence in the game, my parents would strive to get us into private leagues with real trainers. This helped me a lot in my understanding of the game since many American volunteer coaches teach the game as if it was American football but in a game where you can't use your hands.
When I was in high school I had an opportunity to referee games on the weekends to make around, I think it was $15 a game. The money was a nice touch but honestly, I would have done it for free because I loved the game and refereeing is actually great exercise.
It wasn't all sunshine and rainbows though and one day a particularly bad coach decided that he had enough of me penalizing his terribly misbehaved team and he rushed the field in the middle of play.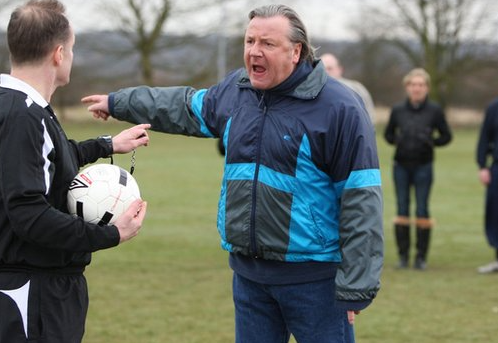 src
This is neither him nor me
I could tell right from the offset that this team of U-12 players were going to be a bit on the rough side as it wasn't even a full minute into the game where I had to reprimand one of the bigger kids on the team about how you can't just kick the legs out from under the person who has the ball. These were egregious fouls but we were not supposed to hand out yellow or red cards outside of extreme situations. I think we weren't even allowed to eject anyone but were meant to appeal to the coach to take the misbehaving kid out of the game until they calm down. I think this was a mistake to mollycoddle the kids like this and this particular game was a great case study for that.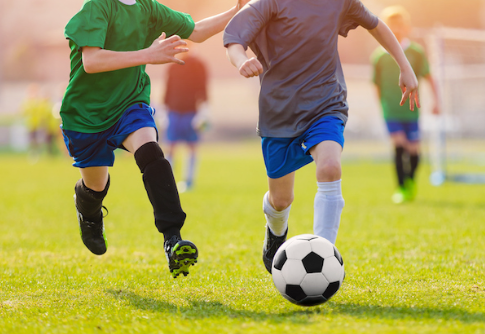 src
You expect kids under 12 to not have a full understanding of any sport and this is especially true of soccer in USA where everyone is raised watching full-contact American football and at least at that time, we didn't have much exposure to international football where even slight touches away from the ball can result in free kicks.
The contact that these kids on one team wasn't just more than slight, but it was deliberate as well. They weren't even going for the ball they were trying to hurt the opposing team's players. Time and time again I awarded free kicks to the team that was behaving, yet the punishing way that the other team played didn't change. They had apparently been taught that this is the way the game was played by their coach and they were angry and disrespectful and seemed to take some level of pride in their violence.
At one point I was trying to explain to one of the kids the rules of the game and how you cannot just kick the legs out from under anyone that has the ball and he defiantly turned his back on me and walked away when I was mid-sentence. I blew the whistle again to bring him back to tell him that you can't do that. I am the referee and you WILL respect what I say. You WILL respect me or you WILL NOT play.
I would later find out that this kid was actually the son of the team's coach and at that point the coach rushed the field to berate me for talking to his team that way. I tried to explain to him that his team was not playing soccer, they were playing American football and almost everything that they were doing is against the rules. This did not calm him down and he was getting closer and closer to my face.
I'd like to say that I stood my ground and was a tough guy but I was 15 or 16 years old at the time and this adult, who was at least 20 years older than me, had me a bit scared. I ended up telling the belligerent coach that if he didn't leave the field I was going to end the game. He didn't leave the field so I did and the game was over.
In a real officiating situation I would have ejected several of the players on his team and I would have ejected him the coach as well but looking back, I don't think that this particular coach would have left the field if I showed him the red. He probably would have tried to hit me. He was a fat fucker so I likely would have just run away and there would have been zero chance that he would have caught me.
There were rather serious consequences for that coach as there were plenty of witnesses including the coach of the other, well-behaved team that just happened to be a friend of my family and lived in the same neighborhood as I did. The coach of the violent team was reprimanded by being removed from his role and would never be allowed to be involved in youth sports programs in that city ever again. He was also encouraged to make a public apology that never ended up happening. He would later give some half-assed apology directly to me and I think that my own father might have kind of forced him to do so.
Here's the point here though: Those kids on that team, because of their horribly misguided coaching, were never going to go on to greatness and there was a few of them that were quite talented ball-handlers. However, since they were being coached to cheat on purpose, if they were ever in a real game with real coaches, they would be a liability on the field. When you are taught the game wrong at that age I feel that it is very unlikely that you are going to be able to turn it around and achieve excellence later.
I believe that this horrible level of youth coaching that exists all across the USA is a big part of the reason why one of the wealthiest countries in the world routinely isn't very good at the world's most popular sport. I get it ok? The coaches aren't being paid so our expectations of them can't be very high but it would be nice if someone in the administration would at least check in or have some sort of questionnaire to ensure that the potential coaches at least have a working knowledge of the sport before they become in charge of one.
I have a lot of sporting memories because I was involved in a wide-variety of sports from a very young age. Yet this one, that I wasn't even playing in is one of the ones that I remember most vividly. You always remember the best and the worst, right?
---
---