The AFC Championship game: I really hate it when officials determine the outcome of any sporting event
This happened in the AFC Championship game where we saw the Kansas City Chiefs play at home vs the Cincinnati Bengals. It was a really exciting game that went back and forth for the duration with no team really seeming like they had a clear advantage all the way until the final drive.
I realize that there were a lot of factors, such as a fumble and an interception in the 2nd half on the part of the Bengals that also lead to this result, but these are both player mistakes or even excellence on the part of the Chiefs defense. The play that decided the result was not a play at all, but a personal foul flag that the officials had to throw and they cannot be faulted for this.
src
This late hit on the already out of bounds Patrick Mahomes is, in fact, a personal foul that comes with an automatic 1st down and a 15 yard penalty. The problem here is that there didn't appear to be any malicious intent and Mahomes was just BARELY out of bounds. With so much on the line and realizing that Mahomes actually is the sort of QB that often is looking for extra yardage, what should the defense do? Just not touch him and pray he doesn't continue down the field?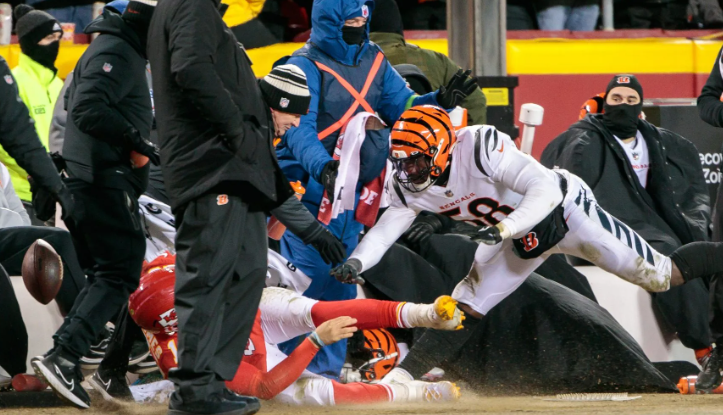 src
A lot of things changed in the past 20 years as far as late hits are concerned. The NFL needs to be safer or at least have the appearance of being safer. It is understandable why this penalty would happen because in the past some of these late hits that DID have malicious intent were potentially career-ending hits that completely blindsided the person with the ball or potentially receiving the ball. For the most part malicious fouls are extremely rare and this slight hit was far from malicious.
I'm not disagreeing with the rule and no, I don't think that the rules should be changed in the waning moments of a game. Rules are rules and that's the way that it should be. However, I don't think anyone, even Chiefs fans, are happy to get within relatively easy field-goal range because of the guys in zebra outfits on the field.
I would like to see some certain degree of personal fouls where 15 yards are awarded for blatant offenses and perhaps a 5-yard penalty for something like this which let's be honest, was just a slightly mistimed push and not really a hit. Mahomes hit the people on the sidelines harder than Joseph Ossai hit him.
These days when we are reviewing plays so much more frequently than we have been doing in the past, I wouldn't mind seeing a lessor penalty like a 5 yard penalty with no automatic first down be the default and then if there is any question about the degree of the infraction the officials can go to a review to see if the foul was egregious enough to warrant an additional 10-yards and an automatic first down. Yes, I realize that this will introduce subjectivity and this needs to be avoided at all costs, but the alternative is what we saw in this very game.
Don't get the wrong idea here, I would actually prefer to see KC in the Super Bowl where they will almost certainly lose to the Eagles. What I am saying here is that I don't think anyone likes the outcome to be determined by a single penalty. Had that push not happened, or had it been recognized for being the very soft foul that it was, the Chiefs would have been beyond normal field-goal range and the game would have been a lot more exciting when Kansas City would have to make a choice to get more yardage or go for a low-percentage long-distance field-goal attempt. Chief fans would have felt a lot better about a victory that very well may have been exactly the same with one more play mixed in, and Cincy fans wouldn't have to leave with such a sour taste in their mouths.
What do you think?
---
---