The Blankovich v Ankalaev fight isn't as controversial as people think
After yesterday's pay-per-view do I even need to say that there is a serious problem with the judging at UFC events? In the past I have tried to maintain the same attitude that Dana White and the rest of the UFC does and that is that they don't have any control over who the judges are and that the athletic commissions decide who that is going to be. The commissions themselves make the rules regarding judging and they are meant to be apart from any sort of coercing by the UFC or outside forces.
This is what people have such a bad idea about boxing because of. Boxing over the years has been regarded as a very corrupt sport as far as the judges are concerned and many people that I know wont watch it because of it. Instead, they have become UFC fans where until recently, they thought the judging was less corrupt.
Yesterday's card was pretty weak for a pay-per-view and I almost didn't watch it. I'm glad I did watch it, but for kind of the wrong reasons.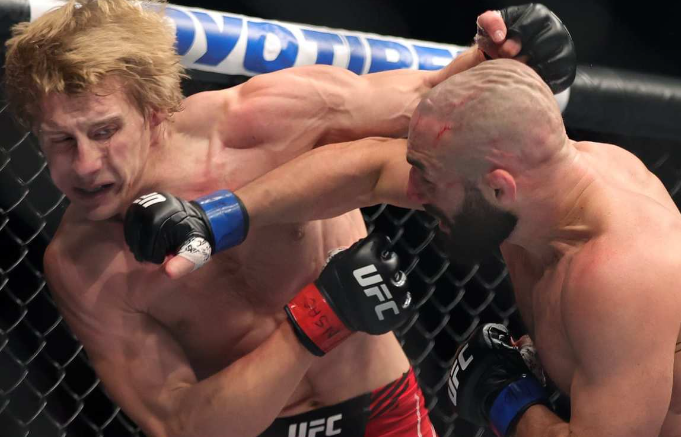 src
I've liked Paddy Pimplett ever since he first started fighting and especially once he started talking. The guy is funny, and for the most part he seems sincere and kind of a nice guy. It's quite evident that he is a fan favorite and someone that UFC would like to propel to the top in order to sell more tickets. While I do believe that he isn't tried and tested enough to warrant a co-main-event, the crowd was pumped for it as he faced his first top-10 opponent in Jared Gordon.
In the first two round the two exchanged blows with Jared getting more of the hard hits in, Paddy seemed to be quite unable to stop a lot of the punches and it would be a real stretch for anyone to say that he won both the 1st and 2nd round, let alone both of them.
The 3rd round was one of very little action and this is when Jared did something that I hate about this sport. Believing he was up on points (which almost everyone else thought he was as well) he changed up his game to a smothering hug and waste time approach that is called "control time."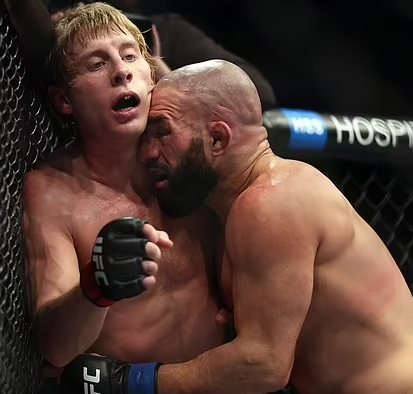 src
This is boring, the crowd rightfully booed him because of it, but it is nothing new. Because of not really allowing the fight to take place in round 3 Jared should have had all he needed in order to secure a victory.
He did not achieve victory and the consensus with most people, including Joe Rogan whose eye-rolling reaction to the announcement by Bruce Buffer kind of says it all.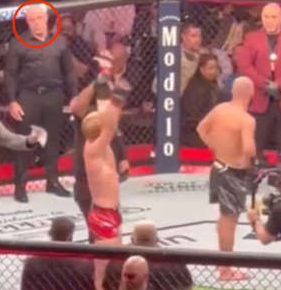 src
There's still a lot of people that will argue for Paddy in this one including especially Paddy... but I challenge anyone to watch that fight and tell me that Paddy convincingly deserved a unanimous decision without their bias sneaking in there. I like Paddy as well, but I do NOT think he won that fight.
I believe the result of the Paddy fight was rigged from the start. The fact that Paddy is even in this caliber of fight has everything to do with out of the octagon persona that he has built on social media. It is in UFC's best interest that he continue to rise and even though they claim they do not have anything to do with the judging, seeing this result makes me think that the fix was in before the fight even started. UFC stands to make a lot of money with a Pimblett win but it has no vested interest in Jared Gordon.
The attention is on the main event for the most part and it really shouldn't be
In Jan Blachowicz and Magomed Ankalaev's true main event for the vacated light-heavyweight belt, the action was a little slow in getting started but then started to ramp up by the middle of round 2. This is where it became pretty evident that a victory for Jan was going to happen because the Polish superstar had truly worn down his opponents legs. They were both landing shots but Jan was doing a much better job of ensuring that the guy across from him was going to have trouble finishing the next 10 minutes.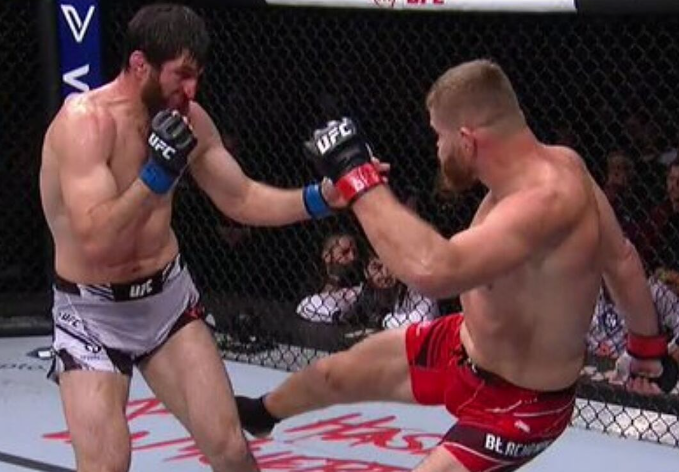 src
I think at the end of round 3 it could have been a tossup on one of the rounds but most people would agree that Jan took a majority of them. Magomed's corner likely encouraged him to take the fight to the ground because after 3 rounds of trying the stand-up game, it seemed to be favoring Jan and this is what coaches are supposed to do, right?
Now here is the difference between Magomed's decision to take it to the ground and what happened between Pimblett and Gordon. Magomed actually did something while he was hugging and smothering Jan B.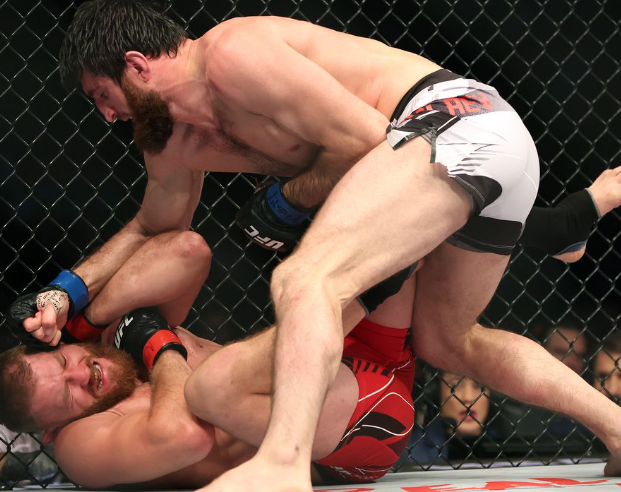 src
There were times where it really appeared as though the ref (I think it was Mark Goddard) was just moments away from calling off the match because Jan wasn't doing very much to defend himself or get up off the ground.
In Jared Gordon's case it seemed as though he was merely attempting to maintain control for 5 minutes in order to eek out a 10-9 round victory. The Russian light-heavyweight was actually GOING for the kill and working the entire time. How anyone could look at those last two rounds and award either of them to Jan is beyond me. None of the judges awarded the rounds to Jan and two of them gave him only an 8 in round 3.

src
Look closely at those cards and tell me that this isn't exactly how that fight should have been called. One judge awarded round three to the Russian and as it turns out that is exactly what resulted in the split decision draw. With all the people booing and upset that Ankalaev wasn't awarded the belt I think that they were simply overtook with emotion about what they witnessed in the last 2 rounds and forgot that for the most part Jan controlled the first 3.
Judges can't go back after they have already filled in a round's score, the sport doesn't work that way. So if someone completely dominates one round to the point of nearly KO'ing their opponent but fails to get the job all the way done, that round doesn't hold any more weight than rounds where almost nothing happened but one guy got a few more significant strikes in.
All 3 judges gave Anakalaev rounds 4 and 5 and two of them reduced Jan's score to an 8 because all he really did was cover up on the ground and refuse to be knocked out.
The main event got more coverage as far as judges being concerned goes but I think this attention is misguided. The judges did exactly what they are supposed to do in that fight.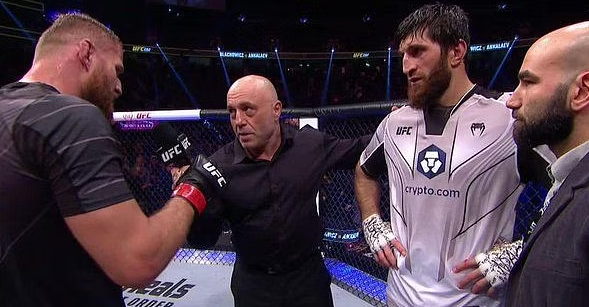 src
I think the main reason why this fight is getting more attention than the Pimblett fight is because of the post fight in-ring interviews where Jan actually interrupted Rogan's interview with Anakalaev to tell them that the Russian should have the belt... "give the belt to him" he said. Anakalaev also responded by saying that he doesn't know if he has a future in this organization anymore indicating that he feels as though he was robbed of the belt.
I hope that the media and the people can look at the scorecards and realize that nobody was robbed in this last fight, people are just shocked because draws are so rare in this sport and of course, nobody likes them. The Paddy fight on the other hand was pure robbery if you ask me and if you feel otherwise please tell me how i am wrong.
---
---