The World Cup final from the perspective of someone that doesn't like watching football
I got together with a few friends at a very rare early hour in order for us to watch the World Cup final. It was at a bar that opened early specifically for this event and there was surprisingly quite a few people there. I wasn't very enthusiastic about it all but some friends of mine really were. I believe that you should share in your pals' interests so there I was even though it was the weekend and I was drinking beer before noon, which is something I rarely do.
I went into this game really hopeful that we wouldn't end up with some boring 1-0 finish that i often expect to be the case in these matches and thus, this is a big part of the reason why I am sometimes less than enthusiastic about the prospect of watching the sport at all.
Needless to say, this was not that sort of game.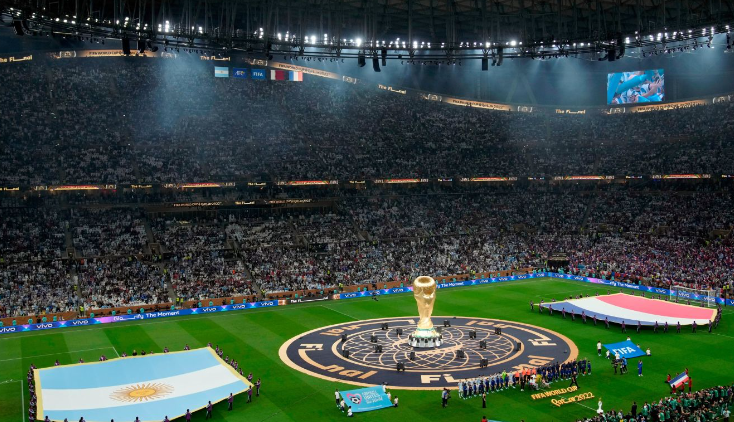 src
The atmosphere was electric in the stands as you would expect. I can't imagine how amazing it must be to be in the crowd for this thing as the emotions of the people in the stands were already running high before the opening whistle was even blown.
Unlike other games I have watched, it wasn't a game of one side being dominant over the other and the teams seemed very evenly matched... which is something I suppose we should expect, it being the two best teams in the world and all.
While it didn't happen quickly, Argentina went up 2-0 in the first half but unlike other games even with what many would consider a "comfortable lead" the boys in baby blue didn't seem like the were relaxing at all with this advantage, if anything it started to look like they were a bit scared and as it turns out they should be because France wasn't done yet now, were they?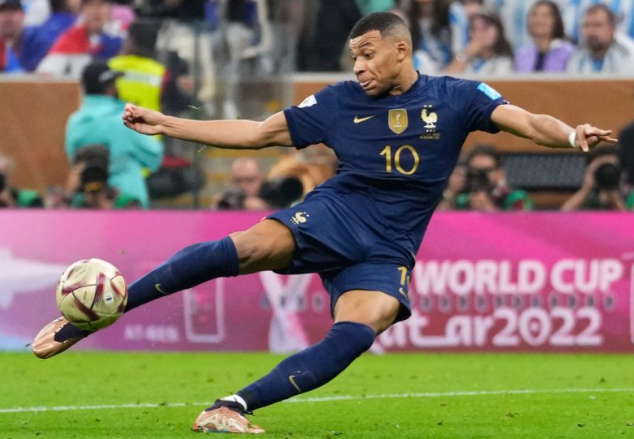 src
I went upstairs during halftime and was playing a video game with another friend who enjoys watching the sport even less than I do, only to return to the viewing area at the bar to discover that France had scored twice and the game was now tied. That's just my luck I guess.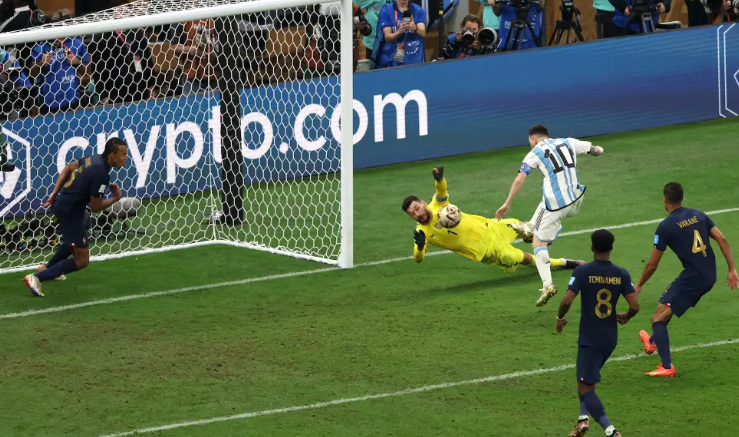 src
The way the latter parts of the 2nd half panned out as well as the two added periods, was really tense and not something that I really ever expect out of this sport. I was nervous even though I didn't really have a horse in this game. I didn't really care who won although I would prefer that France not repeat and simply because of Messi and his legacy, I kind of wanted Argentina to get the "W."
Well it took a while, but they did get it. The penalty kicks, which my far-more-informed friend told me are extremely rare in a WC final, were the apex of pressure and I can't even imagine how mentally tough that must be on the players.
When France had one of their shots blocked and the next one either get blocked or fly off target, it appeared as though it was almost impossible for France to win at this point. They would have needed to make all of the rest of their shots and prevent all the rest of Argentina's. It was on the very next ball that the outcome of the very long game would be determined.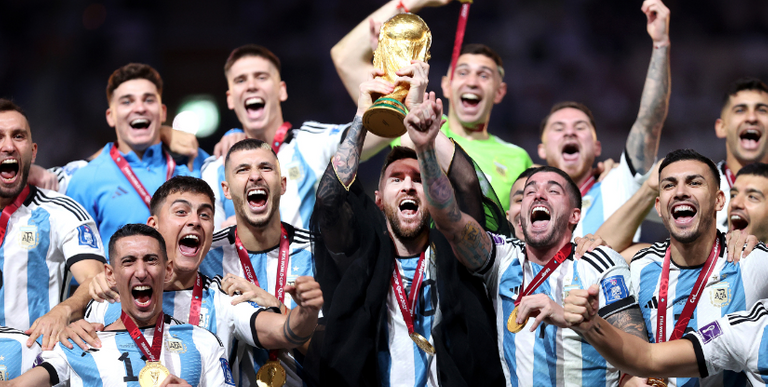 src
I think it was kind of nice to see a legend like Messi perhaps play his final World Cup in style like that. He wasn't just at the game, he was a critical part of why his side won. They didn't put him in the game just to honor him, he was the playmaker, the hero, the star....
I think I probably enjoyed the last hour of that game more than any other game in the sport that I have ever watched and for a brief moment I, a person who generally NEVER even makes an attempt to watch this sport, kind of understood what it is that make the whole world so excited about this event. I was drinking at an inappropriate hour on a Saturday morning and I was really glad I had done so.
Will I look forward to the next World Cup? Probably not. But I am extremely happy that I got to see this epic game, that's for sure.
---
---