"Thug" Rose vs Esparza is the most boring fight I have ever seen
I was really looking forward to this fight and thought it was going to be one of, if not THE MOST exciting fight of the evening. I can't believe what we ended up getting and the crowd in attendance, the online mob, and I presume the millions watching around the world agree that this wasn't a fight so much as it was a dancing contest.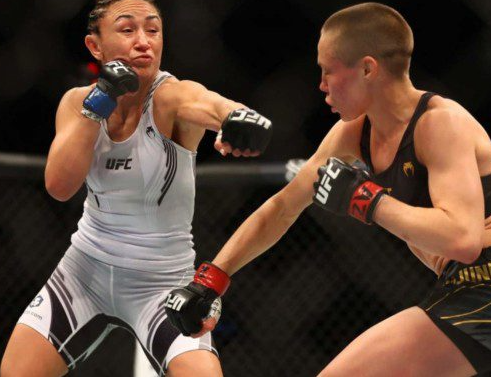 src
If you didn't see the fight let me go ahead and tell you that you do not need to seek it out since almost nothing happened. A highlight reel of the events of the fight wouldn't even be possible since they barely even touched one another. For the entire first round only 2 strikes landed and these we very weak and "searching" blows. Now I am very aware that in the first rounds of a 5-round fight that fighters commonly try to "feel out" their opponent rather than finish them quickly, especially if they feel as though their opponent has a weak spot or if they, themselves, have a weakness that the other excels in.
For Rose this might have been what she was initially trying to do because Rose is not very good on her back and wrestling is something that Esparza normally excels in. This is, i'm guessing, the reason that Rose threw very few kicks at all during the entire match out of fear that Carla would grab the leg and take her down.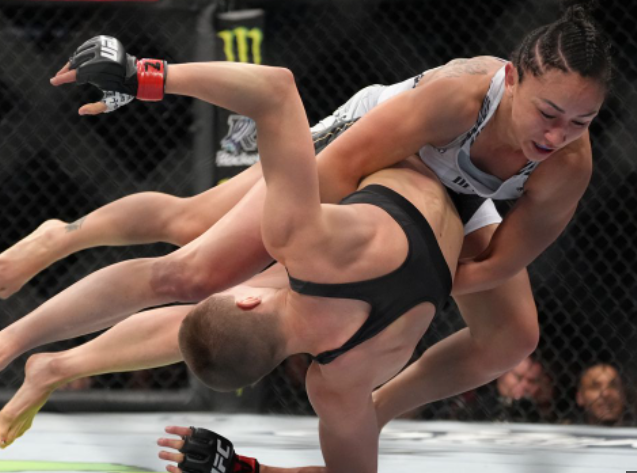 There were a couple of takedowns in the fight even though nothing happened while they were there and Rose quickly stood back up and put herself at distance. I think that these 2 takedowns (it might have been 3) are the only reason why this fight wasn't declared a draw and why Esparza now wears the title belt.
They basically just circled the octagon for 25 minutes and even when they did throw punches they were very far away from making actual contact. The crowd was booing after the 2nd round of this being almost exclusively what was going on and I suspect that the sound engineers actually lowered the volume on the crowd noise to drown out the displeasure of the audience.
It's difficult to hate on Rose because she is one of the nicest fighters of all time, to the point where I don't think she has ever talked trash about any of her opponents before or after their fights. There was a lot of criticism from the masses though and even Dana White called the fight "weird."
People were hilariously responding in real time during the fight as everyone felt as though there was literally nothing happening in the fight as neither fighter seemed to be even trying to inflict any damage on their opponent.

I don't know who this person is but he isn't wrong. In each of the 5 rounds at least 4 and a half minutes was spent with the two of them well out of reach of the other with neither of them even trying to close the gap.
There actually is a rule of sorts in UFC where the ref can warn fighters that they have to work although this is normally directed at fighters that are on the ground and not fighting so they can have a rest. I have no idea what the ref could possibly do when both fighters are still standing.

The commentary team of Rogan, DC, and whoever the other person is are rarely critical of fighters who are currently in the octagon but all of them were calling this is real time and expressed their confusion as to why nobody was going for anything.
After 5 rounds only 66 strikes were landed and if you didn't see the fight, trust me when I say that I think whoever is counting these "strikes" is being very generous with this number. For 90% of the fight the swings both Esparza and Rose were throwing were nowhere near making contact.
In the end Esparza was declared the new champion and I don't think anyone actually cared. Both of these women lost a lot of street cred and almost certainly a great deal of their future earning potential by totally failing to put on a show that can be considered even remotely entertaining.
One boxing coach stated this: "I've seen shadow boxing more entertaining than this!" and he is not wrong at all. This was a truly embarrassing performance on the part of both women and they should accept the criticism and hopefully learn from it, because it is entirely deserved.
---
---