UFC 283: Let's talk about how Glover Teixeira can take a punch or 200
I wasn't really expecting much from this light heavyweight title bout and really felt like UFC were making it something that they really thought Glover could easily win in front of his hometown crowd. Glover has lived in USA for a long time but is from Brazil, so that is the best they could do seeing as how there are considerably less Brazilian competitors in the higher levels of UFC than their used to be. I mean, at least in the lightweight division.
We found ourselves with an opponent that I had never heard of nor have I ever seen him fight Jamahal Hill. While they were telling the story about Hill I was thinking that they had perhaps selected one of the few guys that Glover could defeat as is so often the case with fights in Brazil as they tend to select opponents that are likely to lose against the home boys and girls. It keeps the punters happy, so to speak.
Anyway, this fight didn't turn out the way that the home crowd might have hoped and I am truly impressed that Glover made it all the way through this fight.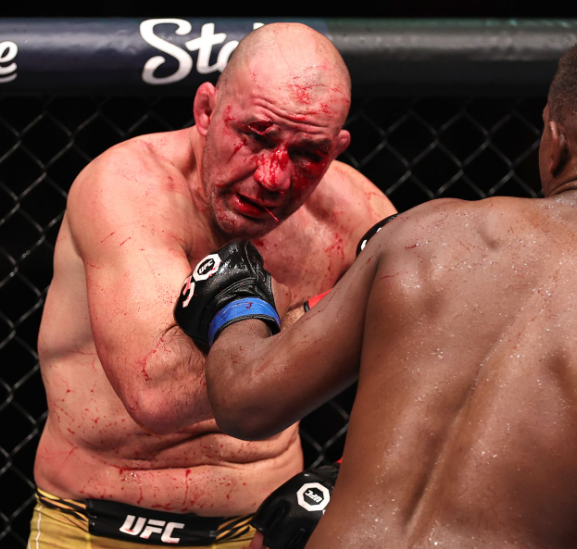 src
Glover is no spring chicken. He is, I think, the oldest champion of all time in UFC and he earned it too. I don't think many people expected him to win the belt, including Teixeira, who was very humble about winning it in his after-fight speech.
Now as for the bloodbath that this fight was: It was no surprise that Glover was going to take some hard hits seeing as how he always does this. The guy perseveres because it seems to be almost impossible to knock him out. That was fully on display in this 5 round fight that was never boring.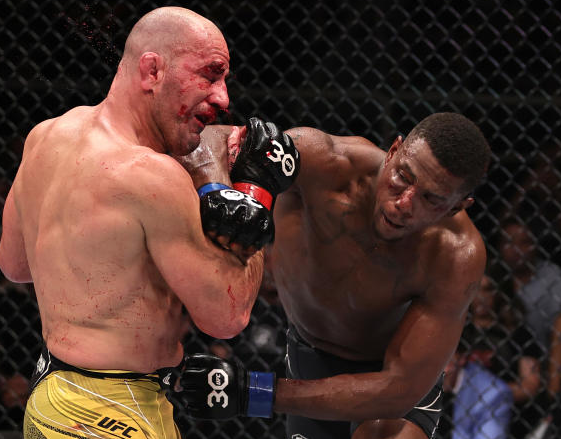 src
Glover was taking very stiff punches on a regular basis for the first 2.5 rounds and many of these punches would have made it "lights out" for most of the rest of the fighters in the world but not for Glover. It was only once Hill discovered that Glover is not doing a very good job defending against head kicks that things really started to swing in Hill's favor.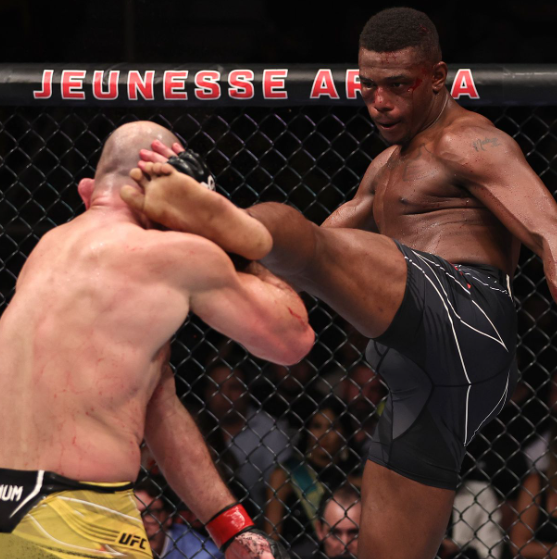 src
This happened multiple times and even though Glover got an arm up that doesn't do as much as you might think since the leg just goes straight through that as well and heads to the noggin. Mostly when people want to block head kicks they need to move away with them and perhaps block with both arms.
So this laid Glover out a couple of times and Hill even got on top and put down some serious ground and pound including huge elbows that really opened Glover's head up. I was surprised that the ref didn't stop the fight but since the octagon was already covered in blood from the previous lady-fight I think we already established that these fights were not going to be called off by referee decision.
I've always liked Teixeira as he has always seemed humble in victory or defeat and that's exactly how he handed this. He had no complaints and thanked the crowd for supporting him right before he announced his retirement. I think it is time and it is better to go out like this than to allow Dana White to use you as a stepping-stone whipping-boy to advance younger talent.
The problem for the new champion is that I really don't think he is going to stay that way for very long. Hill was composed and handled Teixeira well but the other younger guys in the division, I think they are going to tear him apart. I didn't give him much of a shot in this fight though so maybe Hill can prove us all wrong.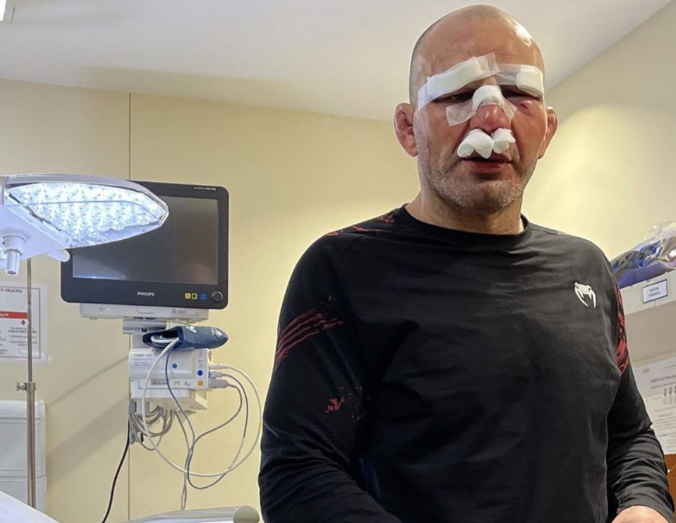 src
I will say this though, there are very few people that can take a beating like that and not get knocked out. You have my respect Glover, that is for sure.
---
---