Usman vs Edwards 3: My prediction - Usman will win
This is an easy one for me to predict. Usman is going to destroy Edwards and Edwards is only the champion because Usman didn't take Edwards seriously and he also made the critical mistake that many champions before him have made: They didn't try to win the fight, they tried to not lose the fight.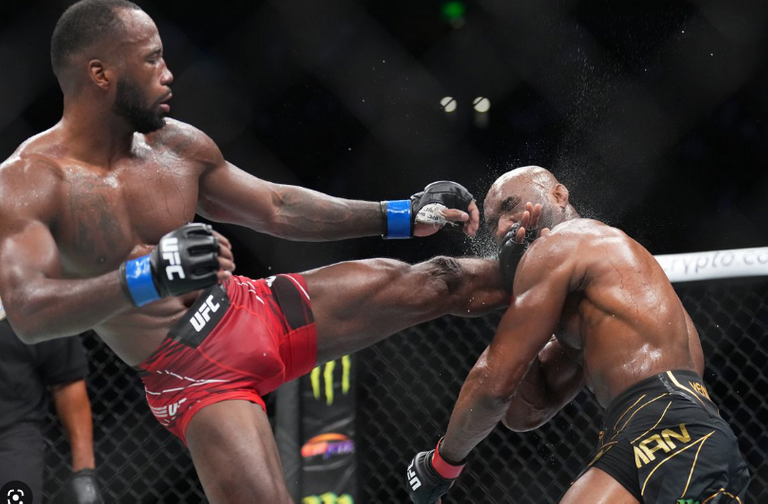 src
WhenLeon Edwards got a very late KO on Kamaru Usman in the 5th round the last time they fought, I wouldn't say that it was entirely lucky, but it kind of was. Usman was looking a bit more vulnerable in the 5th but the fact of the matter is that there isn't anyone out there that can take a shin to the skull from a trained fighter and still remain on their feet.
Usman was dominating most of the fight up to that point and unanimous decision loss seemed certain for Leon Edwards. The scorecards back up what I am thinking.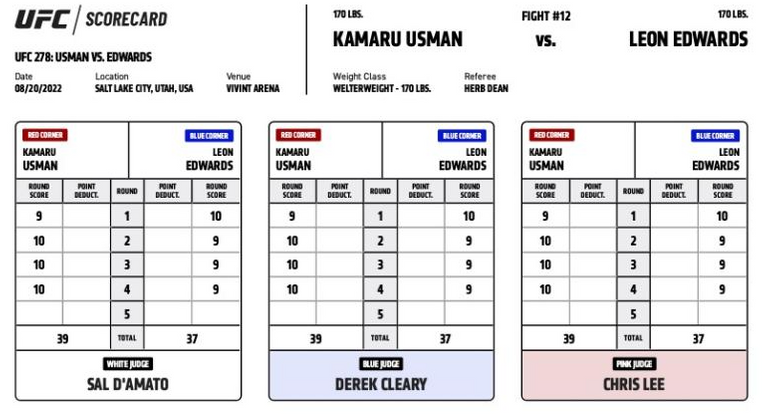 src
With less than 1 minute left in the fight Usman was playing the usual "run away!" tactic that all too many champions do when they know they are up on points and I was actually quite thrilled to see Edwards KO him because of it. However, this does not mean that I think Leon Edwards is a better fighter, he just needed that round a lot more than Usman did. If anything I hope that this is a lesson to other champs out there that they gotta stop bullshitting in the final rounds just because they got up on points early. The crowd hates it, the other fighters hate it, the at home audience hates it and we love it when it backfires on the person trying to do it.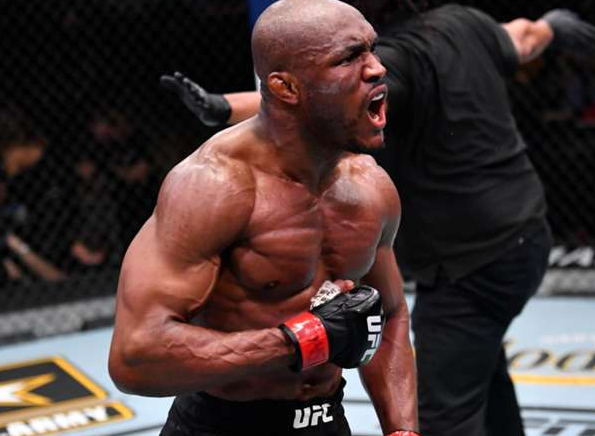 src
I'm not suggesting that Leon Edwards is a bad fighter - he certainly isn't that. I'm suggesting that Usman lost that fight a lot more than Edwards won it and when Kamaru comes back with a fury wanting to clear his name that he isn't going to be playing this cat and mouse bullshit that he was playing the last time they met. He is going to be going for the kill, not the points.
I can't really imagine how Edwards' camp will prepare for this onslaught and as an armchair quarterback I don't think there is really anything they can do to prepare for it.
My prediction is a KO by Usman over Edwards in the first 3 rounds.
Let's look at past performances for an eagle eye as to why I think I am right. Of Kamaru Usman's past 6 fights, 3 of them have been KO victories. Of Leon Edward's last 6 fights, only one of them - the one vs Usman - has been a KO victory. All the rest of Edwards' wins have been by decision. He didn't even KO Donald Cerrone and everyone KO's Cowboy.
I think the fight also has a very good chance to be very boring because Edwards clearly excels at avoiding damage and staying out of range. This means that the fight has a very good chance of turning into a dancing contest unless Usman can wrap him up or get him on the ground.
We'll have to wait and see but I don't think there is much chance that Edwards is walking away with that belt still around his waist. What do you think?
---
---