Was Nick Diaz even trying at UFC 266?
For me, the fight between Diaz and Lawler was a massive addition to the card. I would say that I was likely more excited for this than either of the co-main-events. I do not understand or like the fact that UFC is making exceptions for the 3-round fights being extended to 5 rounds just because they feel like it but that was the case with this fight.
My buddy called it the "old man fight of the night" and in many ways it was. I don't really know what I expected from Nick out of this because he doesn't really seem all that fussed about fighting at all anymore and well, that was sort of exactly what was put on display over the weekend.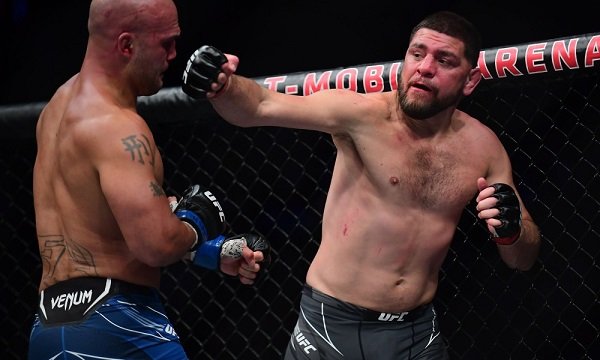 src
If you watched the fight, it kind of seemed like it was happening in slow motion. Nick's punches seemed telegraphed and I was honestly kind of surprised that he landed as many of them as he did. I don't think he threw a single leg kick nor did he go for any takedowns at all. The website says that he went for one takedown, but it must have been a really weak one or an accident because I don't remember seeing it.
They also kept talking about how incredible Diaz' cardio is and this is based on how everyone talks about how the Diaz brothers do triathlons and marathons for fun when they aren't training for MMA. I have no idea if this is true but I wouldn't say that Nick's physique is that of someone that runs, swims, and runs great distances for fun.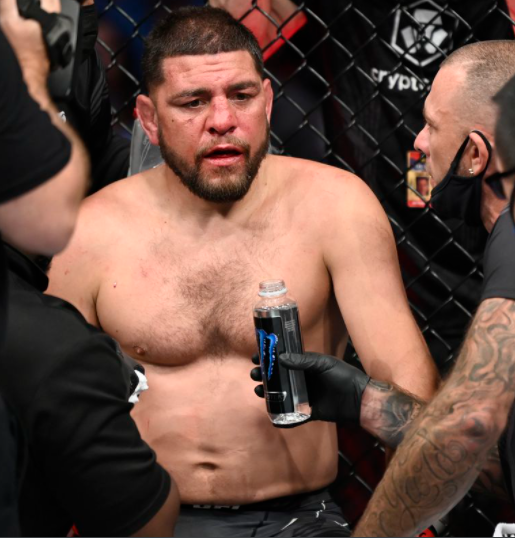 src
When Nick sits down, he kind of looks like I do when I sit down with his little gut bubbling out. He also seemed to be kind of lacking in muscle definition, which is a stark contrast to Robby Lawler, who is in phenomenal shape for a nearly 40 year old man.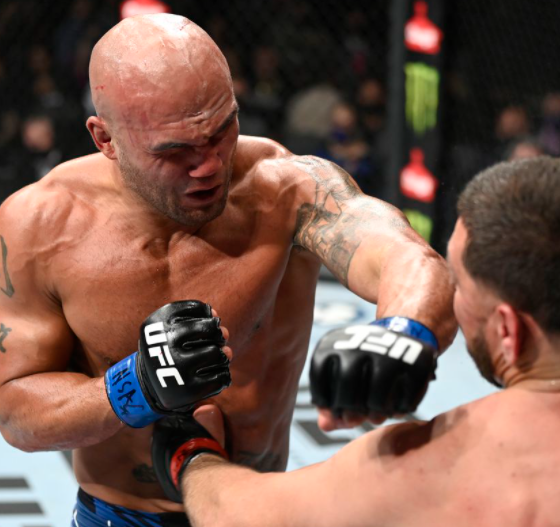 src
The fight was a slugfest, with plenty of significant strikes, but especially for Diaz, there just didn't seem to be a lot of "umph" behind the strikes. I don't really know how to say this any other way but it looked like Nick didn't really want to be there. Actually, we KNOW that he didn't want to be there as this very interesting interview shows in great detail.
Unlike a lot of other fighters who cut promos talking about how they are the best and deserve the belt and how they are faster, stronger, and more prepared than their opponents, Diaz almost seemed as though he was going there to lose
"Do I feel confident? I never do. I never have. I always feel like I'm going to get trashed out there. Every fight I've ever done."
His comments in the week leading up to the fight seemed like he actually didn't even have control over whether or not the fight would happen. I don't know if he needs money and did it for that reason but his heart was definitely not in this matchup against Lawler
"I don't know why I'm doing this. ... This should not happen. Whoever set this up is an idiot."
These are not the words of a man who is trying to make a triumphant return after a near 6 year hiatus from the sport, much of which was brought on by an absolutely ridiculous 5-year ban for testing positive for marijuana.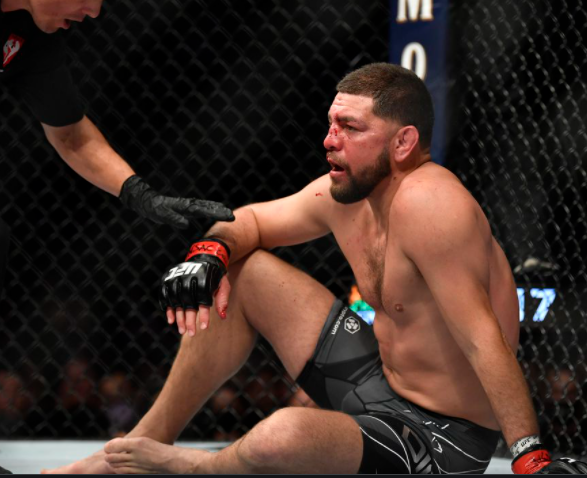 src
When Nick got knocked down by a medium strength punch in the 3rd round, he was not swarmed by Lawler. At one point it looked like Robbie was trying to help him back to his feet but instead, he just sat on the ground and quit. I can't say for certain but it almost looked like the official was giving him a boxing 10 count... which as you know is not a thing in MMA.
It was a bizarre fight for sure and I can't help but wonder if he and Lawler got together before the fight and agreed to not ground and pound or cause any tremendous damage to one-another.
In the post fight interview which I guess the fighters are obligated to participate in, Diaz didn't really have a lot to say but you can just read it in his words and tone of voice that his heart is not in this anymore. I would be very surprised if we see him in the octagon again and well, if he really doesn't want to do it anymore, this would be for the best.
Perhaps he could just carry on training his little brother and stay out of the octagon as a fighter. After this weekend, I think that everyone, including and especially Nick, can probably agree this would be best.
---
---