Indonesia beat Singapore with a score (4-2)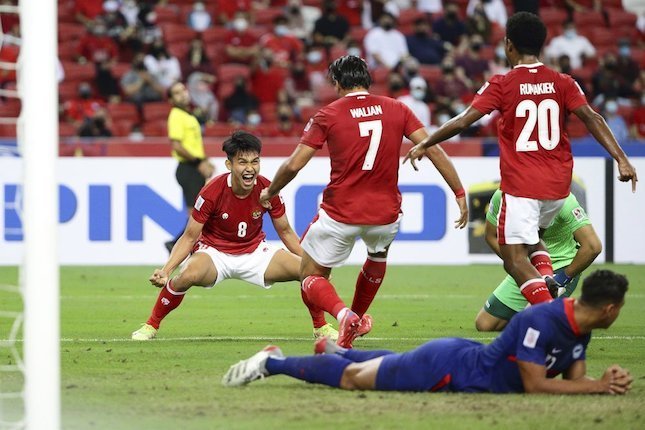 Source Pic
Indonesia advanced to the final after beating Singapore in the second leg of the 2020 AFF Cup semifinals at the National Stadium, Saturday (12/25/2021) night WIB. Had played a 2-2 draw in 90 minutes, the Garuda squad won 4-2 in extra time.
The Indonesian national team won first through Ezra Walian. However, Singapore had turned ahead through Song Ui-young and Shahdan Sulaiman.
The Red and White Team were finally able to force a draw thanks to Arhan's Pratama goal changing the score to 2-2 until 90 minutes. The game was continued into extra rounds.
In the first half of extra time, Indonesia scored two goals through the suicides of Shawal Anuar and Eggy Maulana Vikri. The 4-2 score lasted until the long whistle of the second extra round and Indonesia had the right to advance to the final with a 5-3 aggregate.
Furthermore, Indonesia will face the winner between Thailand vs Vietman in the AFF 2020 final which will be held at the National Stadium on December 29 and January 1, 2022.
Singapura (4-1-4-1):Hassan Sunny; Zulqarnaen Suzliman (Muhammad Nazrul 93'), Irfan Fandi, Safuwan Baharudin, Nur Adam Abdullah (Tajeli Salamat 106'); Harris Harun, Song Ui-young (Muhammad Amirul 70'), Shahdan Sulaiman, Hami Syahin (Ikhsan Fandi 60'), Amy Recha (Shawal Anuar 60'); Hafiz Nor (Faris Ramli 64').
**Indonesia (4-5-1): **Nadeo Argawinata; Asnawi Mangkualam, Fachruddin Aryanto, Rizky Ridho (Elkan Baggott 65'), Rachmat Irianto (Evan Dimas 94'), Pratama Arhan; Witan Sulaeman, Ricky Kambuaya (Egy Maulana Vikri 66'), Alfeandra Dewangga (I Kadek Agung Widnyana 107'), Ramai Rumakiek; Ezra Walian (Hanis Saghara 54').
---
---