Hivechess Tournament Round 1: @eniolw won impressively!

Dear Chess fans,
the first round of Season 9 was a 5+1 Blitz arena with 23 players - a new record! It is great to see that our tournaments in combination attract more and more players! The average rating was 1882, slightly lower than in the superstrong S8! Two players, @zincheck and @kharrazi, showed up for the very first time in the Hivechess arena - welcome!
This time @vjap55 and @samostically streamed the tournament. Check out their great posts about it here and here!
@eniolw started this season like he ended the previous one: with a superior performance! Congratulations!
He won all games but one! Runner up was @tungphong (blackswan21), followed by @kintokris (jonbellionfan). "Only" on rank 4 and 5 were our season winners @jaki01 and @sawko. But after the 6 points lead of @eniolw, the 2nd and the 4th places players were only separated by a sinlge point. So I have the feeling that the fight for the top ranks will be tough!
By the way, this was my worst result ever in Hivechess 😟. E.g. I was crushed in 18 moves by @samostically (instead of winning a pawn), blundered against @pereu4ivatel and also unnecessaryly lost to @vjap55 in the endgame. It can go only better from here.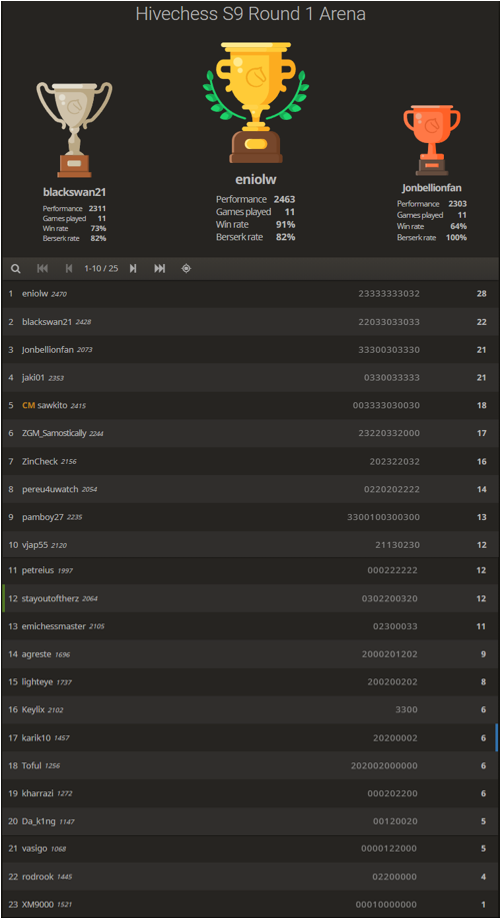 The games of this round can be found here.
Season 9: 29 Oct to 17 Dec 2021 / Ranking after first round:
The rules you can look up in the announcement post.
Will we see this time finally a new champion? In any case, due to the new way of point distribution, it will be key to not miss out a round, because one can´t know how many points will be given out in the next round(s).
See you all next week!

---
---