Hivechess Tournament Round 4: @sawko was unstoppable!
Dear Chess fans,
the fourth round of mini season 8 was a 3+1 arena tournament with 20 players and an average rating of 1965 - again a record! @tony1294 unfortunately had connection problems which prevented him from playing at all, also @pereu4ivatel couldn´t play at least 3 games and thus was not counted, and @eniolw seemed to have also problems. In the middle of the tournament Lichess announced it would restart, so some games were apparently interrupted, I was lucky and had no loss due to this but some had. Very unfortunate.
This time @sawko showed us impressively why he is leading the season so far! He especially likes the arena mode (where berserking is allowed), it is the 7th victory in this mode in a row on Fridays! 6 points behind was the second, @kintokris (jonbellionfan) with his best result so far! @tungphong (blackswan21) ended up as third. Congrats to All!
New this season were @rosmarly with a 7th place and @petreius with rank 11 - welcome (back)!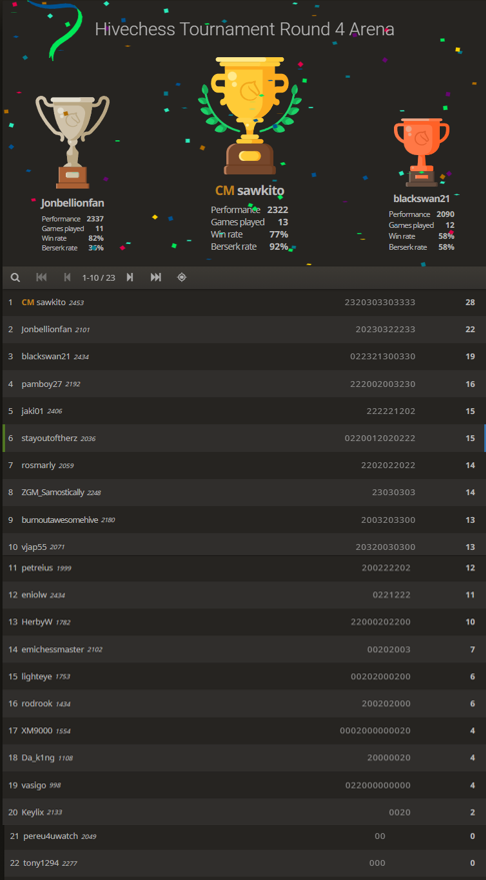 The games of this round can be found here, in case you want to replay some of them. @samostically streamed the tournament.
Season 8: 17 Sep to 15 Oct 2021 / Ranking after 4 rounds:
The rules you can look up in the announcement post.
@sawko could extend his lead today and is now 4 points ahead of the runner up @tungphong (blackswan21). Will it be enough to get the title back from @jaki01? We will find out next Friday at the final round!
Until then, keep practicing!

---
---