Small steps to big goals. Hive savings. Thoughts. My Actifit Report Card: May 14 2022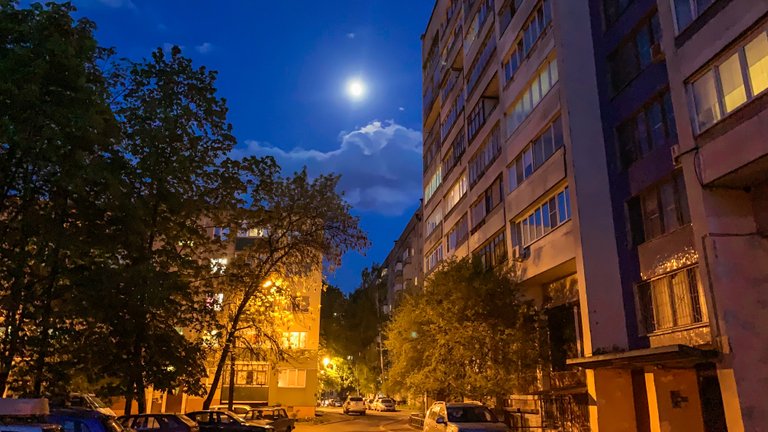 The moon through the eyes of the yard

Hi there!
Tonight was a magical moonlit walk. The sky was talking to the earth with colors, a warm breeze, and airy clouds. These are the kind of evenings and nights I look forward to in summer, so I always look forward to summer. When you go outside, your feet take you to places where interesting things are happening. Really. On every walk, I always see or hear some thing that makes my day special. Yesterday it was the clouds and the moon in the dark blue sky. It's also the clouds that are never the same. It's a living picture that's different every day. Isn't that enough to get up in the morning? I am alive!
RU: Сегодня ночью была волшебная прогулка при луне. Небо разговаривало с землёй красками, тёплым ветерком и воздушными облаками. Именно такие вечера и ночи я жду от лета, поэтому всегда жду лета с нетерпением. Когда выходишь на улицу, то ноги сами несут тебя в места, где происходят интересные события. Правда. На каждой прогулке я всегда вижу или слышу какие-то вещи, которые делают мой день особенным. Вчера это были облака и луна на тёмно-голубом небе. А ещё облака, которые никогда не бывают одинаковыми. Это живая картина, которая каждый день разная. Разве этого не достаточно, чтобы вставать по утрам? Я живой!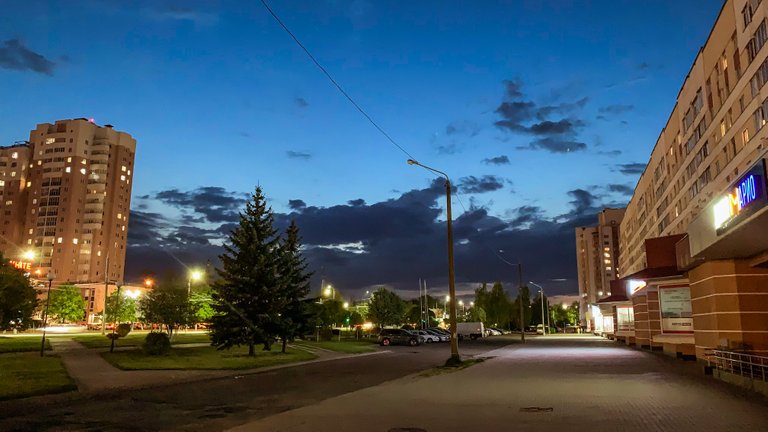 Hive savings report
I will continue to play the game in the numbers of my achievements on Hive. Below is a table of my daily accumulation of Hive, HP, and Level 2 tokens:
RU: Продолжу игру в числа моих достижений на Hive. Ниже таблица моих ежедневных накоплений Hive, HP и токенов второго уровня: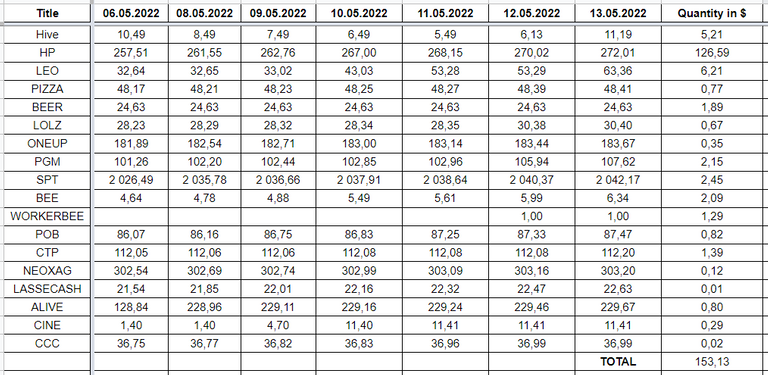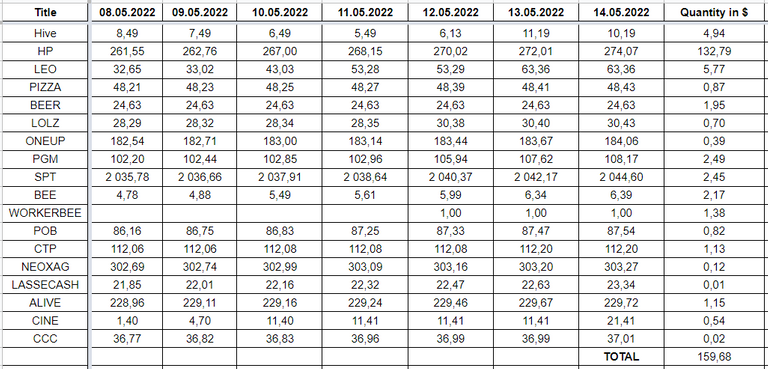 I've been watching the report for almost 2 weeks now, buying a little bit of tier 2 tokens from the market. I think I'll soon be ready to make a choice of a few assets that I'll be actively buying more. The idea is to focus on the full return of a few assets. Then expand my portfolio with those assets. In the meantime, my 10 CINE order from yesterday was bought out, so there are 10 more tokens in today's report. But I'm not happy with the zero gain on this asset. Maybe I just have too little of it yet. Over the day my savings went from $153 to $159, which is about +4%. The market is recovering little by little, which can't help but make me happy!
RU: Я уже почти 2 недели наблюдаю за отчётом, докупая по чуть-чуть с рынка токены второго уровня. Думаю скоро я буду готов сделать выбор в пользу нескольких активов, которые буду докупать активнее. Мысль состоит в том, чтобы сосредоточится на полной отдаче от нескольких активов. Далее расширять портфель за счёт этих активов. Ну а пока, мой вчерашний ордер на 10 CINE выкупили, поэтому в сегодняшнем отчёте на 10 токенов больше. Но меня не радует нулевой прирос по этому активу. Возможно просто у меня его слишком мало пока. За день мои сбережения увеличились с 153$ до 159$, что примерно +4%. Рынок понемногу восстанавливается, что не может не радовать!
That's all for now, the next reports will be more and more voluminous and interesting thoughts and plans, I'm already doing it).
RU: На этом пока всё, следующие отчёты будут всё объёмнее и интереснее по мыслям и планам, я уже это делаю.)

Photo: Belarus, Gomel, May 2022



This report was published via Actifit app (Android | iOS). Check out the original version here on actifit.io




14/05/2022

21262

---
---