Small steps to big goals. Self-reflection. Hive savings. Thoughts. My Actifit Report Card: May 24 2022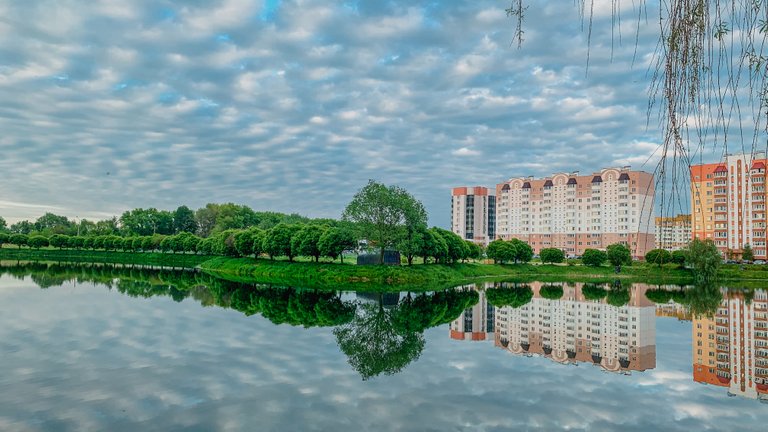 The reflection is magical!

Hi there!
Self-reflection and reflection in water have the same word in English. That's probably why I've been looking at these photos for the past few days and can't get away from thinking about life. Looking at the reflection of myself is not just looking in the mirror. It's seeing yourself from the inside out. There's a reason so many scenes in music videos and movies play up this moment with the mirror and its smashing in the end. It's very hard to honestly look inside and admit to yourself who you really are. To accept yourself with all of this and take a step toward change. After all, it's a step into an abyss. An abyss that is far away before you approach it. It's very scary to approach the abyss, even if you're being held by your hand. It is very scary because there is uncertainty and great depth. Likewise, it often seems to us to be the depths of an abyss. An abyss into which we will fall. Few people think that it could be the depth of possibility that lifts you to the top. There is no logic to it. Perhaps that's why few people are at the top right now. They just haven't really reflected!
RU: Рефлексия себя и отражение в воде имеют одно и тоже слово в английском языке. Наверное поэтому я в последние дни смотрю на эти фото и не могу оторваться от мыслей о жизни. Смотреть в отражение себя - это не просто смотреться в зеркало. Это видеть себя изнутри. Недаром множество сцен в клипах и фильмах обыгрывают этот момент с зеркалом и его разбиванием в итоге. Очень сложно честно посмотреть внутрь и признаться себе в том, какой ты есть на самом деле. Принять себя со всем этим и сделать шаг к изменениям. Ведь это шаг в пропасть. Пропасть, которая далеко, пока ты к ней не подошёл. Очень страшно подходить к пропасти, даже если тебя держат за руку. Очень страшно, потому что там неопределённость и огромная глубина. Нам часто кажется, что это глубина бездны. Бездны, в которую мы упадём. Мало кто задумывается, что это может быть глубина возможностей, которая поднимет тебя на вершину. В этом нет логики. Возможно поэтому немногие сейчас на вершине. Они просто не рефлексировали по настоящему!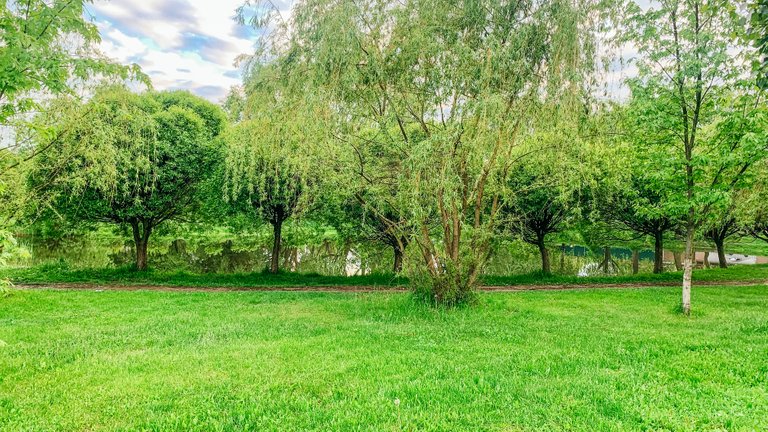 Hive savings report
I will continue to play the game in the numbers of my achievements on Hive. Below is a table of my daily accumulation of Hive, HP, and layer 2 tokens:
RU: Продолжу игру в числа моих достижений на Hive. Ниже таблица моих ежедневных накоплений Hive, HP и токенов второго уровня: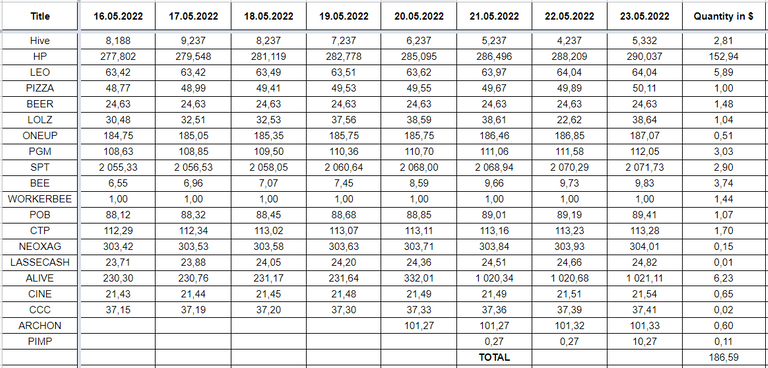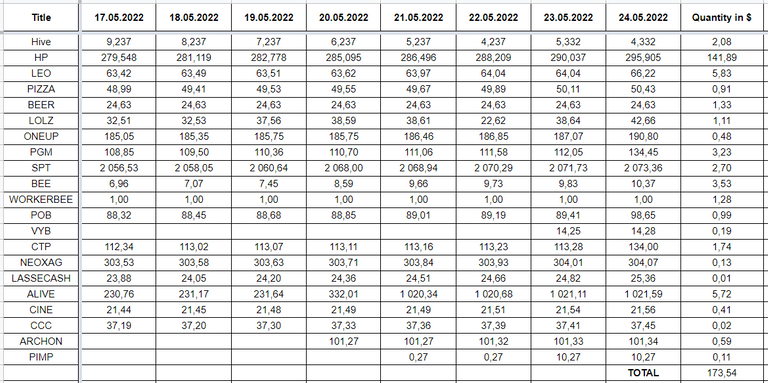 As promised, today I added VYB to my list, which I will keep a close eye on and add to if possible. In the meantime, I've added 10 LEOs. At this price, LEO will never be superfluous. It's not like we're going to be at the bottom all the time. Or am I the only one who believes in Hive to the moon?). In any case, LEO is already profitable for me as long as I put it up and delegate it to ONEUP curators. Yes, it's pennies so far, but I'm in for the long haul here, and no one has done away with compound interest!
Today my savings went down again following the market. I went from $186 to $173, which was - 7%. Time to start making money on these waves...) But so far I haven't figured out how.
RU: Как и обещал, сегодня я добавил в свой список VYB, за которым буду пристально наблюдать и докупать по возможности. А пока я докупил 10 LEO. По такой цене LEO никогда не будет лишним. Мы же не будем постоянно на дне. Или только я один верю в Hive to the moon?). В любом случае LEO уже мне приносит прибыль, пока я его ставлю и делегирую ONEUP кураторам. Да, пока это копейки, но я же тут вдолгую, а сложные проценты никто не отменял!
Сегодня мои сбережения снова пошли вниз вслед за рынком. С 186$ я упал до 173$, что составило - 7%. Пора начать зарабатывать на этих волнах...) Но пока я не придумал как.
That's all for now, the next reports will be more and more voluminous and interesting thoughts and plans, I'm already doing it).
RU: На этом пока всё, следующие отчёты будут всё объёмнее и интереснее по мыслям и планам, я уже это делаю.)

Photo: Belarus, Gomel, May 2022



This report was published via Actifit app (Android | iOS). Check out the original version here on actifit.io




24/05/2022

18321

Daily Activity,Walking,Photowalking
---
---