Pareto Principle. Small steps to big goals. Hive savings. My Actifit Report Card: June 24 2022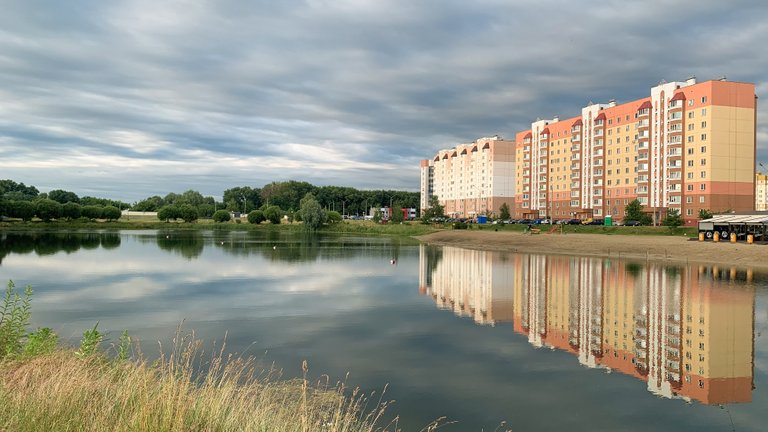 Clouds. Processed by 20%

Hey there!
The pareto principle states that 20% of the effort yields 80% of the result. And vice versa: 80% of the remaining effort yields only 20% of the result. I have known this for a long time, but I have never applied it in practice. On the contrary, I always spend maximum effort to get the minimum result. It's even funny. I always feel that I can do better, so I spend more time to do a little better. And in the end it takes a lot of time to get perfect. But perfect by and large doesn't exist. Every perfect thing must have a flaw, an aberration. Only then will it not seem artificial or plastic, as I like to say. So where is the line between pareto and ideal?
RU: Принцип парето гласит, что 20% усилий дают 80% результата. И наоборот: 80% оставшихся усилий приносят всего 20% результата. Я знаю давно это, но на деле не применял никогда. Скорее наоборот, я всегда трачу максимум усилий, чтобы получить минимум результата. Это даже забавно. Мне всегда кажется, что можно сделать лучше и я трачу ещё время, чтобы сделать чуть-чуть лучше. И по итогу уходит много времени, чтобы добиться идеала. Но идеала по большому счёту не существует. В каждой идеальной вещи должен быть изъян, отклонение. Только тогда она не будет казаться искусственной или пластмассовой, как я люблю говорить. Так где эта грань между парето и идеалом?
Hive savings report
I will continue to play the game in the numbers of my achievements on Hive. Below is a table of my daily accumulation of Hive, HP, and layer 2 tokens:
RU: Продолжу игру в числа моих достижений на Hive. Ниже таблица моих ежедневных накоплений Hive, HP и токенов второго уровня: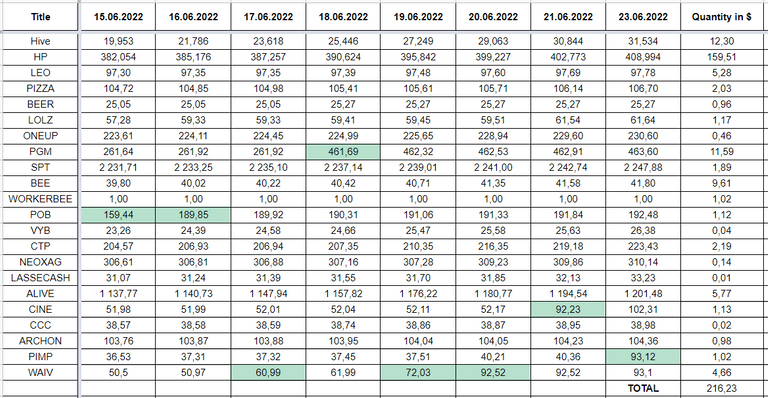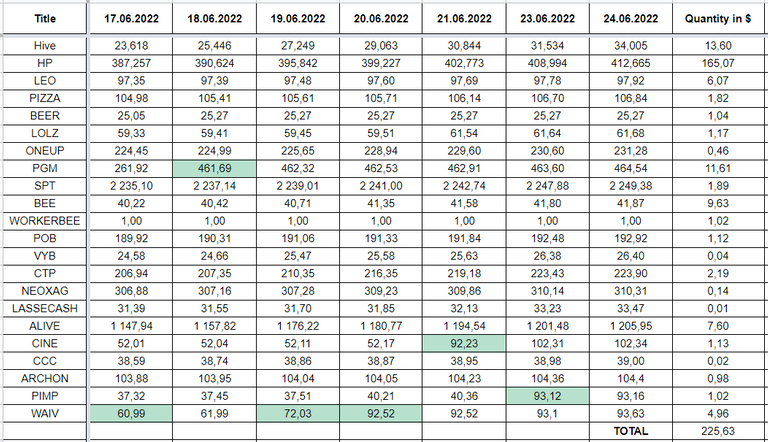 Every day Hive goes up by a cent, regardless of the bitcoin price. I think this has happened in the past. I think this is the proper behavior of any coin that has some use or in other words brings some value to its community. Hive second layer tokens behave similarly. Those tokens that had some value to their community didn't drop as much as the others. I decided to monitor such assets and add them to my portfolio next month.
In the meantime, my savings again showed an increase from $216 to $225, which was + 4%.
RU: С каждым днём Hive подрастает на цент, независимо от цены биткоина. По моему это уже происходило в прошлом. Думаю это правильное поведение любой монеты, которая имеет какое-либо применение или другими словами несёт некоторую ценность своему сообществу. Примерно так же ведут себя и токены второго слоя Hive. Те токены, которые имели какую-то ценность для своего сообщества не так сильно просели, как остальные. Я решил мониторить такие активы и докупить себе в портфель их в следующем месяце.
А тем временем мои сбережения снова показали рост с 216$ до 225$, что составило + 4%.
That's all for now, the next reports will be more and more voluminous and interesting thoughts and plans, I'm already doing it).
RU: На этом пока всё, следующие отчёты будут всё объёмнее и интереснее по мыслям и планам, я уже это делаю.)

Photo: Belarus, Gomel, June 2022



This report was published via Actifit app (Android | iOS). Check out the original version here on actifit.io




24/06/2022

14610

---
---