Bangladesh wins over New Zealand.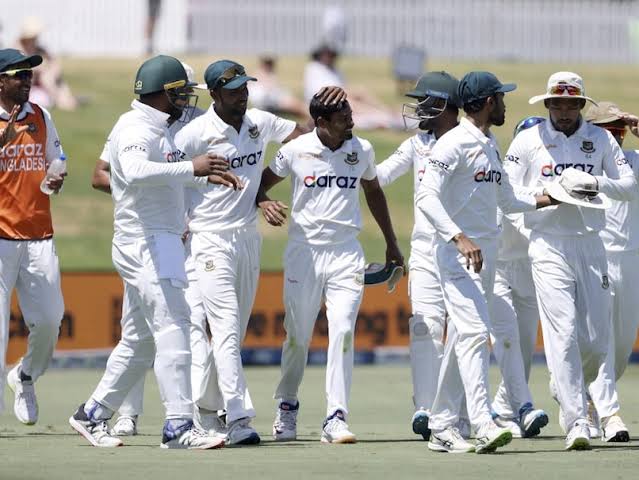 Wow! That's a historic moment not only for Bangladesh cricket but also for whole Bangladesh. Today we have beaten New Zealand a cricket match in their home venue for the first time ever in our cricket history. Also it is a first test win against a team in top five in world test cricket ranking. You will be surprised to know that New Zealand is now world test champion. And we beat them this test match dominating them all the moment. I never saw such dominating test match from Bangladesh national cricket team ever at abroad. And now you will be more surprised to know that in this tour of Bangladesh in New Zealand, three Bangladeshi senior players are absent. They are Tamim Iqbal, Sakib Al Hasan and Mahmudullah Riyad.
Anyway New Zealand was able to collect 328 runs in their first innings after loosing all of their 10 wickets. Then Bangladesh collected 458 runs in their first innings after loosing their all wickets. Thet lead by 130 runs after first innings. But New Zealand didn't do well in their second innings. They were really suffering to fave Bangladeshi seamers, more particularly, to face Ebadat and Taskin. They just collected 169 runs in their second innings and lost all of their 10 wickets. As a result Bangladesh need 40 runs to win this match and make a historic moment for all of us. And they easily did this small task and won the match.
I have to really appreciate some players though all 11 players were so much dedicated. I have to say about Ebadat, Mahmudul Hasan Joy, Mehidy Taskin Ahmed. They were just unbelievable. Ebadat was more than a player in this match. He is man of the match. Just amazing.
Congratulations! Bangladesh National Cricket Team.
Thanks for visiting me. Stay tuned. I love to interact with you.
---
---