Sunday Run: Splish Splash
I heard a lot of rain during the night, so I was wondering what it would be like if I wanted to run this morning. I thought it had stopped, but when I opened the door I could see it splashing in puddles. It was not actually that bad, so I set off and it stopped at some point.
It has been a busy weekend. Thursday and Friday were extra holidays for the Queen's jubilee. My band Swing 42 has had two gigs at events. On Friday we played at The Chequers in Wrestlingworth and yesterday we were at The Cricketers in Ickleford. The weather was good for both of those and the audiences seemed to enjoy the music. Playing music for an hour or two can be quite tiring. I think it is largely due to the concentration needed.
Also yesterday I was timekeeping at parkrun. People are away this weekend, so they needed volunteers. The other guy doing that job is a keen dancer who may be at some events we play. He is dancing in the big London parade today, but that could be wet.
As for my run, I did my usual big loop, but I was avoiding most of the muddy bits. There were lots of flags on various houses for the jubilee.
I stopped for a photo by the new housing on the other side of Fairfield. They have built a big wall there. You can see I am a bit wet.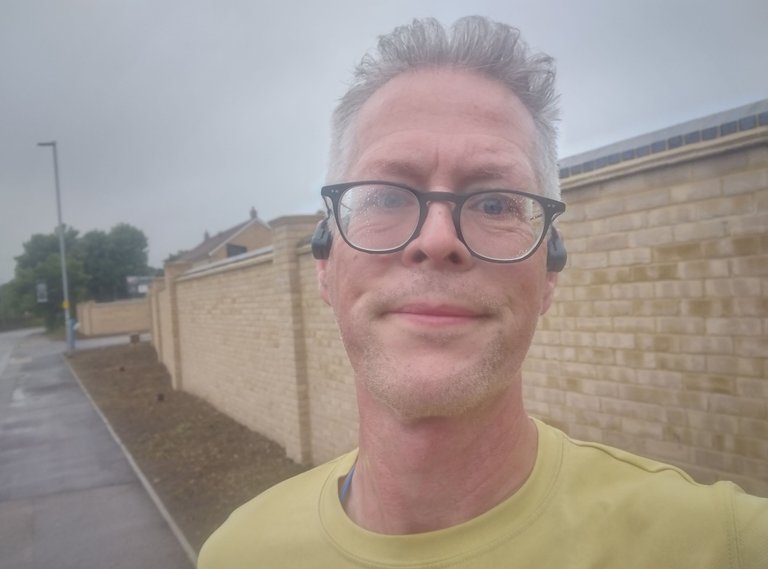 I continued on to Stotfold and went around a fair bit of the village. Down one road there was a red kite flying over and then I saw a Trabant parked on a drive. I saw lots of those when I was in Germany and the East Germans were allowed to come over to the west.
There were some places where trees were hanging low over the path and I got wet from those, so I was pretty damp when I got home. I was feeling pretty strong in my running in the later stages after 13km. I really think that going to the office more contributes to my fitness as it involves a lot of walking and climbing stairs.
I have not been mentioning what podcasts I have been listening to on my runs lately. Today I had Richard Herring talking to Ardal O'Hanlon, the Chasing Tone guys talking about guitars and the Cryptomaniacs talking about Hive.
I had some breakfast that included strawberries from the garden. We have a good crop this year.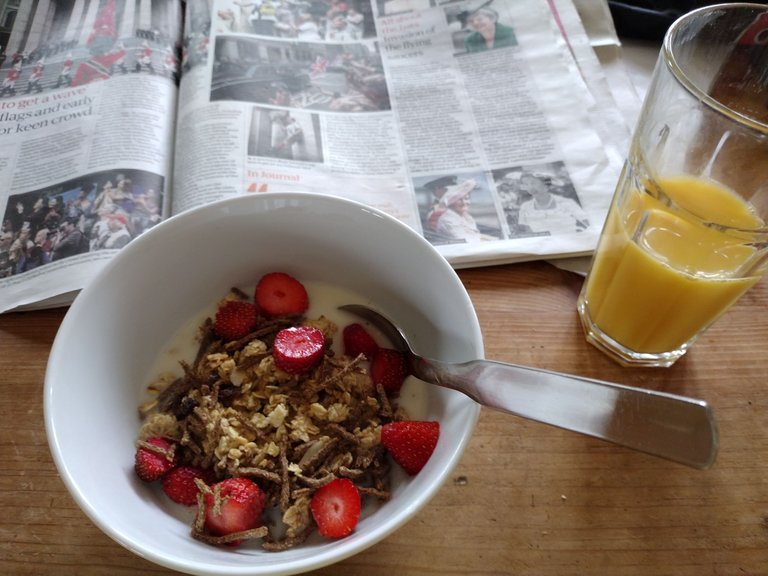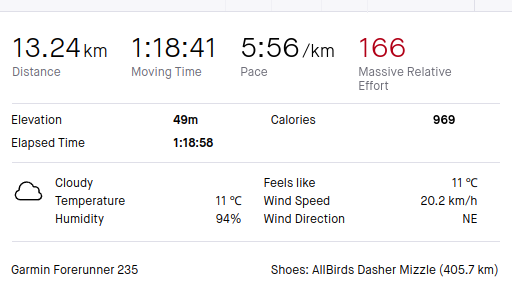 Enjoy the rest of your weekend.
Run free!
---
---