Baseball - SF Giants Run-Line -21st June

Hello all,
Strategy Summary
So to recap on what I'm doing with this betting strategy:
Using the run-line market to back the SF Giants to win a game.
This will generally mean a -1.5 run-line bet meaning the Giants will need to win by at least 2 runs to give a successful bet.
Occassionally, and usually dependent on a) the opposition, and/or b) odds offered by my bookie I'll flip it to a +1.5 run-line bet, meaning the Giants can either lose by 1 run, or win the game to give a winning bet.
Initially, at least, amount staked will be a modest £0.10 GBP - so this is not a strategy to rake in huge amounts, but hopefully will bring us a profit by the end of the season.
Yesterday's Summary - 20th June.
The Game
A close game ended with a 2-1 walk off victory for the Braves, although it took to until the 8th inning for the Giants to get on the scoreboard, thanks to Austin Slater's belt up centre field to score Luiz Gozanlez, and even have the potential of a small sniff of victory, snuffed out in the bottom of the ninth by the Braves though.
Logan Webb performed well in 7 innings, with 1 run (albeit a homer) from 6 hits, striking out 7, and giving up no walks, leaving him with 6-2, 3.26 ERA record . Dominic Leone, and Camilo Doval struck out 1 each in 1.2 innings of relief, with 3 hits, and that winning run in the ninth, landing Doval with his 3rd loss of the season.
Our Bet
No win in the game means a losing bet this time round.
| Opponent | Game Result | Odds | Bet Result | P/L | Team Record | Comments |
| --- | --- | --- | --- | --- | --- | --- |
| @ Braves | L 1-2 | 2-1 | L £0.00 | (£0.10) | 37-29 | |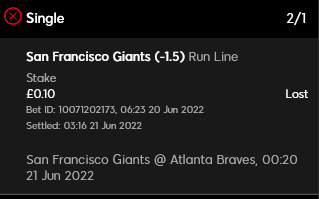 Today's Bet - 21st June
Game 2 against Atlanta today, Anthony DeSclafani (0-1, 6.08 ERA) taking the mound.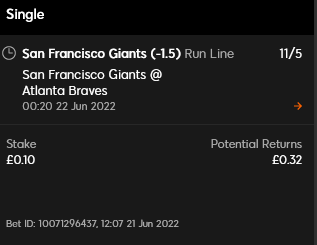 As usual we're going for the Giants to win by 2 or more runs (-1.5 RL).
That's it for today! Go Giants!! Have a great day, and thanks for reading. 1
---
---