Betting The Run Line - SF Giants - 25th June
Hello all,
Strategy Summary
So to recap on what I'm doing with this betting strategy:
Using the run-line market to back the SF Giants to win a game.
This will generally mean a -1.5 run-line bet meaning the Giants will need to win by at least 2 runs to give a successful bet.
Occassionally, and usually dependent on a) the opposition, and/or b) odds offered by my bookie I'll flip it to a +1.5 run-line bet, meaning the Giants can either lose by 1 run, or win the game to give a winning bet.3rd
Initially, at least, amount staked will be a modest £0.10 GBP - so this is not a strategy to rake in huge amounts, but hopefully will bring us a profit by the end of the season.
The Game
Yesterday's Summary - 24th June

Following a three game losing streak, things clicked both offensively and defensively in the second game of this Reds series with an impressive 9-2 victory.
Logan Webb pitched six fantastic innings, giving up just 1 run from 2 hits with 2 walks, nabbing 6 K's into the bargain, as he moved his record to 7-2 with a 3.04 ERA. The bullpen consisting off Tyler Rogers and Sam Long cleaned up the remaining 3 innnings efficiently conceding the other Reds run and a mere 3 hits between them.
The Giants offense managed to buck their recent low scoring trend, and scored regularly from the second to the 6th inning totting up 9 circuits of the bases, with the highlight probably being Wilmer Flores 9th home run of the year, with runners at 1st and 2nd, and 2 outs, one of four homers for the Giants in the game. In total the Giants runs came from 7 of the 10 batters used in this game.
Our Bet
A return to winning ways with a big 7 run victory, means success for strategy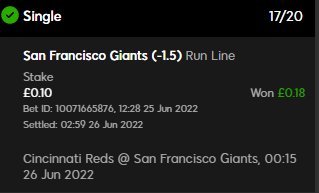 | Opponent | Game Result | Odds | Bet Result | P/L | Team Record | Comments |
| --- | --- | --- | --- | --- | --- | --- |
| v Reds | W 9-2 | 17-20 | W £0.18 | £0.08 | 39-32 | |
Today's Bet - 25th June
it's Anthony DeSclafani's, 0-1, 7.71 ERA, turn to face the Reds in the final game of the series, in his second start since being reactivated from the IL.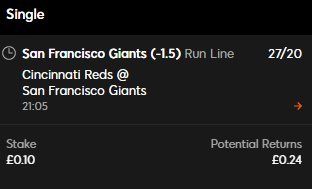 It's only a single win, but confidence in the boys has returned, and it's the Giants for the win again (-1.5 RL) as usual 🤞.
That's it for today! Go Giants!! Have a great day, and thanks for reading.
Resources
Box Summary sourced from USAToday HERE
---
---