Betting The World Cup 2022 #1
World Cup 2022 Betting Match 1
The start of the World Cup 2022, in Qatar, is just a few hourts away, and as mentioned a couple of days I'm starting my betting on matches with the opening game.
Since Germany in 2006 the tournament's first game has featured the host nation, thus on this occassion Qatar, appearing in their first ever World Cup Finals Tournament, open the competition facing Ecuador, appearing for the 11th time, with a record of W4-D1-L5. Their best result was in reaching the round of 16 in 2006.
These two teams have so far met three times, and the match-up is perfectly poised with a win for each team and a draw. The most recent result was a 4-3 win for Qatar, with both teams scoring 6 goals across the three games.
Qatar are currently ranked at 51 on the FIFA rankings page , whilst Ecuador are just a few places ahead of them in 46th place.
The recent form and current rankings suggest a close, probably tense opening game, with both teams, as many teams in their opening games, will see not losing as somewhat of a success, particularly with highly fancied Netherlands in the same group.
The Betting Challenge
Inspired by @fullcoverbetting's post a couple of days ago, which you can read here, I have decided to follow a similar challenge.
The aim : To build my betting balance/winning run using a modest starting bet - £0.50, and rolling any winnings over onto the next match until I hit a losing bet, whereby i will revert to initial bet and start again. Where there two games played at the same time (i.e the last group games) then any winnings will be split 50:50 between both matches.
The bet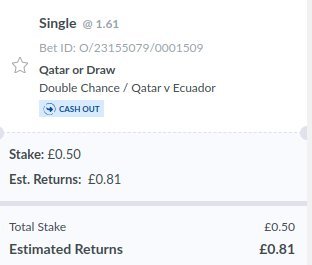 So for my first bet of the tournament, I've decide to start with the Double Chance market opting to take Qatar or Draw at odds of 1.61 with an initial stake of £0.50, for a potential return to roll over onto the next match of £0.81.

There we have it, the first bet is placed, and it's now a waiting game till the kick-off. But... as an aside, an interesting market I like to back occassionally is the Match Corners. I usually look for 10+ corners, and for this match my bookies are offering 3.40, for 10-12 corners. Not bad odds for a cheeky extra punt. (e.g the same stake as above would yield a £1.70 return)
That's it for today, watch out for a recap and new bet(s) before the next matches - Group B England v Iran, and Group A Senegal v Netherlands.
Happy Betting and Good Luck.
---
---