Betting The World Cup 2022 #3
Match Day 2 - Recap
England v Iran
England's campaign got off to a flyer with a fabulous 6-2 win over Iran, with goals from Bellingham, Saka (2), Sterling, Rashford and Grealish. They will be disappointed with giving up 2 goals, however, including a penalty in extra time, slightly tarnishing an otherwise excellent team performance.
Senegal v Netherlands
Netherlands also got off to a winning start in Group A, with a 2-0 victory over a potentially dangerous opponent in Senegal, both goals coming late in the game.
USA v Wales
Wales looked severely outclassed in this match, particularly in the first half, but managed to restrict USA to just the one goal at the break. They showed more fighting spirit in the second half and were able to snatch a welcome 1-1 draw thanks to Gareth Bale penalty on 82 minutes.
The bets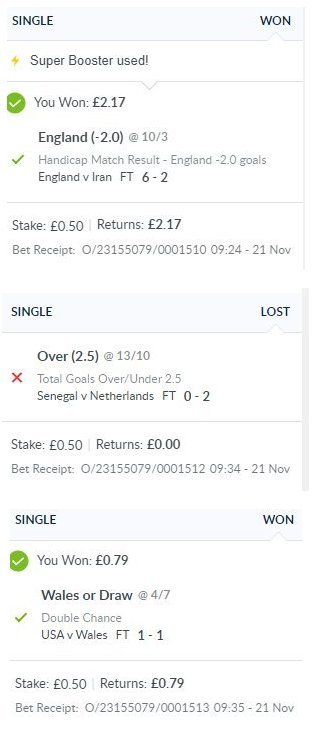 Three bets yesterday, with two coming to fruition, resulting in a profit for the day of £1.46, and a running total profit for the tournament so far of £0.96.
My confidence in England was totally justified, thankfully, winning the game by a net 2 goals after giving the Iranians a 2 goal advantage for the bet . Very Happy with that outcome.
I'm certain had The Netherlands not left there scoring to the last quarter of the game the third bet would also have come up trumps, but that's the nature of sports betting for you.
The third game had me sweating for a good portion of the match, with The USA dominating and looking like they would score a bucketful. Then came the relief of the Bale penalty to tie the game and Wales ultimately hanging on snatch the draw and turn my bet into a winner.

Match Day 3
Four games today, starting the campaigns for teams in Goup C and D
First up is Argentina v Saudi Arabia
This game is well into the second half as I write, with The Saudi's leading 2-1. As such, and with not much in the way of decent odds on the in-play markets, I'll leave this game to play out without making a bet. In addition, I will now do the same with all the 10 o'clock (UK time) kick off's in the group stages, as i cant guarantee to get a bet on in time for the match.
Next we have Denmark V Tunisia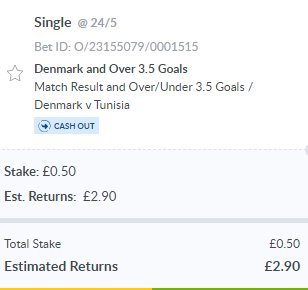 This will be the first meeting between these two teams in a competive match, with their only meeting being a friendly in 2002, Denmark emerging as victors with a 2-1 result. They have never lost to an an african nation in this tournament (winning 2 and drawing 2), whilst Tunisia have never beaten a team from Europe (D3 L7)
For this match I'm going for the Match Result and Goals (over/under) market selecting Denmark and over 3.5 goals, as I can only see Denmark prevailing in this one, although Tunisia might snatch a goal, which would benefit the bet outcome.


The third game today is Mexico v Poland
A tricky game for both teams, likely to detemine who finishes second in the group and progresses to the knockout stages. Mexico are in their 8th consecutive tournament, and have made it to the round of 16 on all 7 previous occassions. Poland on the other hand haven't got past the group stages since the '86 World Cup.
I'm going bold with this bet, taking the Match Result and Both Teams To Score market opting for Mexico to come out on top, although Poland in this same market were tempting as well at odds of 6/1.
The final game features France v Australia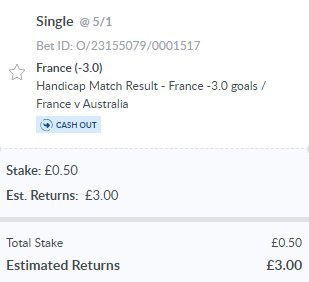 France are the reigning champions, and will obiously start this match as firm favourites to emerge victorious. Australia have only won 2 of their previous 16 World Cup Finals matches, and only qualified as a result of penalty shootout victory in a play-off game against Peru.
Again I'm going bold with this bet, taking the Handicap market and France to win at -3.0 goals, as I can only see the Aussies being totally outclassed by the French, even without star player Karim Benezema
There we have it, my three bets for today. I'll be back tomorrow with a recap of today's games and bets. Also tomorrow, Groups E and F get underway, so I'll have more bets for those games.
Happy Betting and Good Luck.
---
---