Horse racing - Follow the Tipster - Winter - 17th October
Yesterday's Recap - 16th October, 2022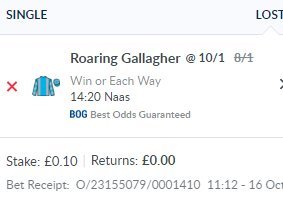 A losing start to the winter Follow The Tipsters competition with Roaring Gallagher coming home with more a whimper than a roar, finishing 9th of the 14 runners. Slow away from the stalls, and raced towards the rear on the inside rail. Found no room up the inside from over 2f out when urged to pick the pace, and made no impression, running on 1 paced.

Tipster's Stats - Expert Eye (since start of competition) source

The top 3 after day 1 are actually a top four, since they all chose the same runner, which came home in front at 8-1. As such I'm putting bets on all of their choices for Day 2 (two of them have gone for the same horse again today so it's only 3 bets involved). For some reason my usual source for this table hasn't been correctly updated, so I'm showing the table from the Racing Post site itself.

Daily Summary
Date
Selection
Odds
Taken
Result
SP
Odds
Winnings
Win/
Loss/NR
Strike
Rate
Profit/
(Loss)
Brought Forward
27-98-6
21.6%
£0.65
16th Oct
Roaring Gallagher
8-1
9th
10-1
£0.00
0-1
0.00%
(£0.10)
Best Odds in BOLD


Monthly Summary
| | Total Staked | Total Returns | Total Profit/(Loss) | Running Total | W-L | Strike Rate | NR | W/L Streak |
| --- | --- | --- | --- | --- | --- | --- | --- | --- |
| Oct 2022 | £0.10 | £0.00 | (£0.10) | (£0.10) | 0-1 | 0.00% | | L - 1 |

Today's Bets - 17th October, 2022
With 4 tipsters tied for 1st place i've decided to place 3 bets today on those selections (Sirona is shared by two tipsters)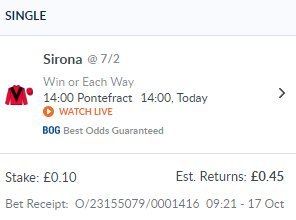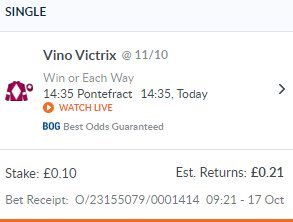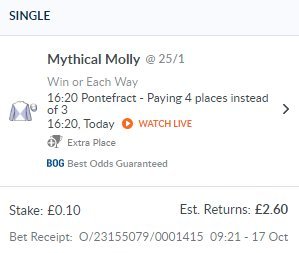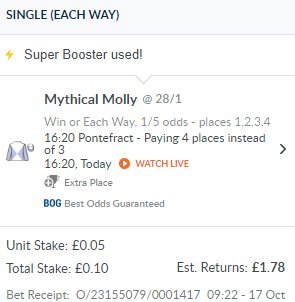 In addition, with the odds on Mythical Molly being pretty high, combined with my bookie paying 4 places on that race and them giving me an odds booster, I've slipped in a cheeky extra 0.5 pts (£0.05) each-way bet for a total stake of £0.10 on that selection as well.

If you are following the strategy let me know how you're doing overall, what odds you got on this race?, were they better/worse than I took?. Do you have a strategy of your own? I'll send 100 SPORTS tokens if you leave a relevant comment.

Programs I Endorse
Get your content seen, and get rewarded for reading, sending and verifying mails, join me on Listnerds

Resources
Dividers courtesy of @eve66
---
---