The Weekly Stoken #21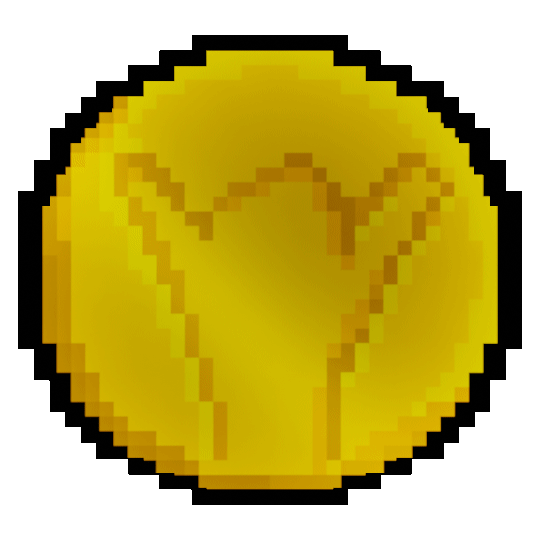 Hello, everyone!
This is a compilation post that will serve as a summary of the best weekly content posted on SkateHive. Our curatorship program aims to bring more skaters to the SkateHive community and retain these users through a curation of the best posts. Anyone who is active in the community can be selected. Please see the details that make us look at your post and love it!
Always use the hashtag #skatehive.

Posts on Fire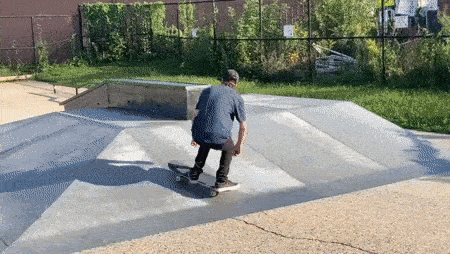 GNARIP heirloom session at CARY skatepark 2022
gnar team was the name we chose when we couldn't decide on a crew name in high school.
paul stacey, jon tokarz, and zack goulet were the gnar team.
since jon and i are working on a video game we decided to skate.
since paul stacey loves to golf we actually golfed earlier in the day before the session.
this edit took 3 sessions of skating actually.
the first session i forgot my board so i had to use jons.
Cary is the town we grew up in.
the skatepark you see us skating was not built until we moved away.
the blind guy smoking on the thumbnail is @minedovermatter, he actually petitioned the city to build the park.
the plans he submitted for the skatepark were not honored by the city and instead a bunhc of pre-fab ramps were installed.
the ground is shit but we made it happen. the ledges are actually pretty sick here i just wish it had new ground.
---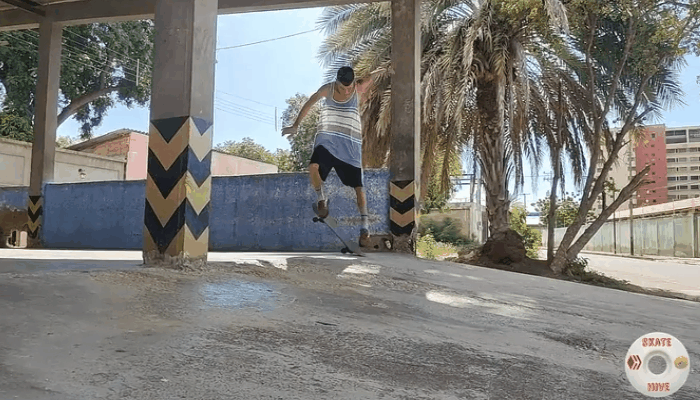 Attempting Nollie Heelflips on Juan Griego's spot before breaking the board. 🛹 [Eng/Esp]
🛹Hola, Comunidad de Hive🛹
A few days ago I shared with you some of the tricks you can do in this fun spot, before I left I had to try nollie heelflip because it's a trick I master well.
---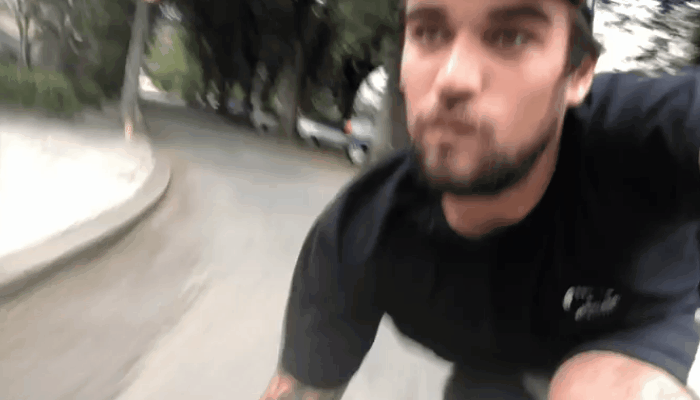 Returning from the dentist
[EN ] Hello guys. I'm very happy. Today I come to tell you what's going on in my life. First on the video, it's a drop on the julio furtado slope. I was coming back from the dentist and was with anesthesia in the mouth haha. Well, the last few days are fast-paced. Yesterday I did an interview for ReservaX, and the day before yesterday I did one in English. I am actively looking for a job on chain. I guess that's all I'm missing to get my financial freedom. I'm also able to take care of myself, take care of the family, the dogs and the house. I'm at my best phase of contacts, and personal evolution. I thank God so much for that.
---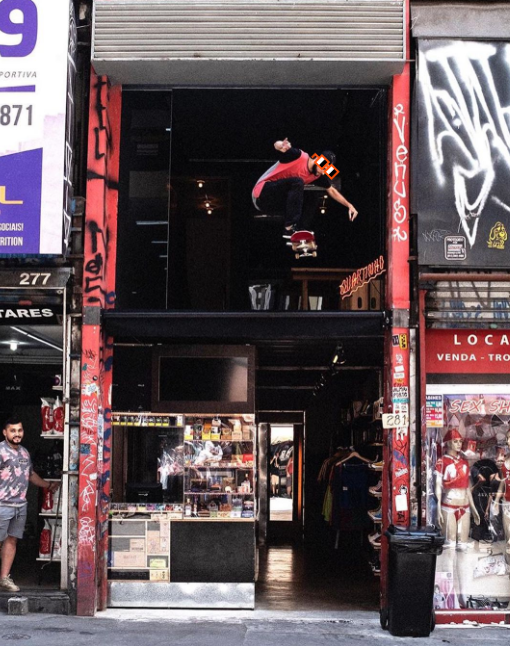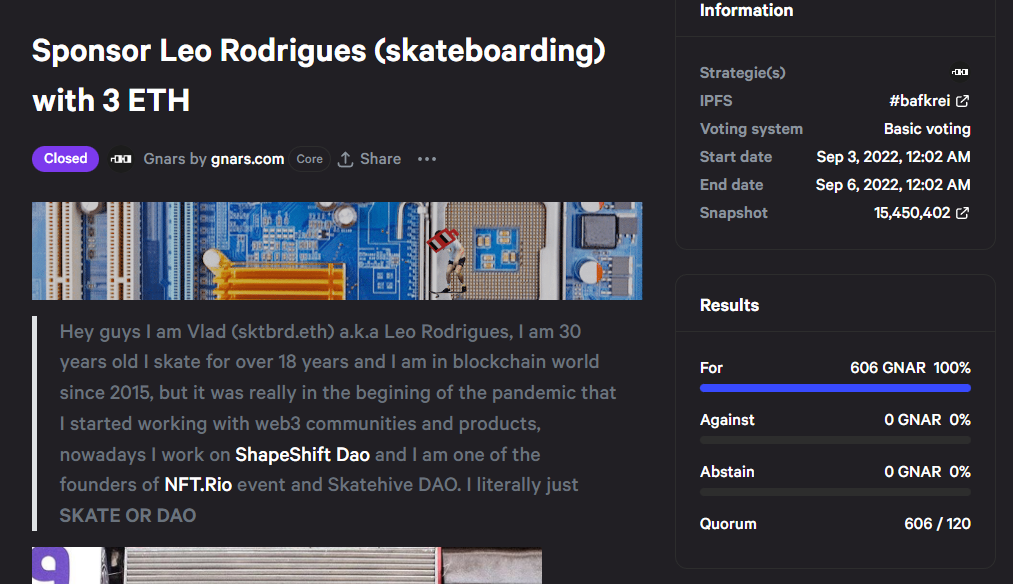 I got sponsored by a Gnars DAO !!!
DAOS are Decentralized Autonomous Organizations, basically the blockchain power reinventing how to work and organize people with similar goals throught its community in a horizontal structure. If its the first time you hear about DAOS read here.
I ve been working in ShapeShift DAO for some months now, and I can assure that the experience has been amazing. Personally I like this video to talk about ShapeShift.
In Daos, everything happens through proposals made and voted by the community. Recently I got involved in NOUNS NFT project, and there I got to know Gnars Dao a Nouns subDao created by Noun 189 that is focused in support extreme athletes and its culture, very similar with our stoken mindset.
I found that perfect, and I believe once Skatehive has its DAO structure ready we will be able to do lots of things together between our communities, the 2 groups have the same goals and both SKATEHIVE and GNARS are doing great jobs on bringing web3 solutions to extreme sports/art world and vice-versa.
Gnars Daos is sponsoring guys like Dave Bachisky, sending ETH to Uganda Skateboarding Society, supporting artist which is amazing.
I didn`t lose much time, I knew that as a Skater and a Web3 builder I got a shot making a proposal there, but not just to get sponsored and shit, but also to set and example to all my friends that are getting closer to web3 but still beginning to understand what we do.
The prososal got approved with 5x the quorum needed and of course I am so Stoked !
---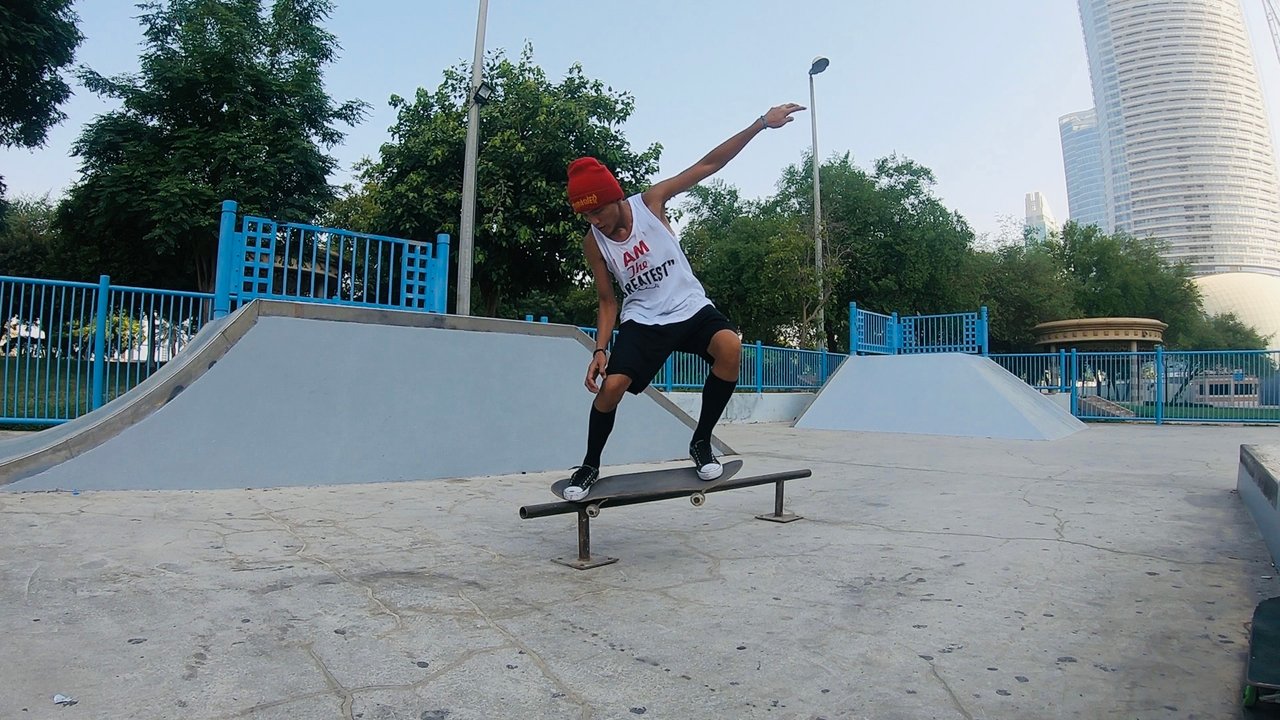 Skate Photography #7: My Mini Flatbar, finally made!
Frontside boardslide on the street set up...
Good day Skatehive!
I would like to share with you the skate photos of my new flatbar. I had these built by the Blacksmith given all my specifications and it turned out great. It is 5 feet long and 1 foot in height. Basically, just enough to fit in the back of my car and for me to skate with ease, hahaha. Since it fits in my car, I practically can bring it anywhere. My sole purpose is to make this flatbar something like a portable one and can be carried by a single person.
TJ had a flatbar, a square one, I might have shared it here before. It has an adjustable height, and the length is somewhere around 7 feet. It was a good flat bar and from him I knew that some welding shop can make it for us. I have been here for a long time and never in my mind I needed to make my own flatbar. Since the skateparks had one, I just never had the thought of making my own.
One session TJ's flatbar broke. The welds on the feet are coming off and needed to be rewelded again. With this we do not have anything to use if we wanted a quick session. We already planned to fix it but many times the plans just did not happen. All considerations were addressed like will it fit my car when we bring it to the shop, the cost, and the date we plan to bring it to the shop. Major factor was the date and schedule, our schedules does not match, and we cannot come together and bring it to the shop. The plans remained plans and nothing happened, and it is unfortunate.
Me feeling out the flatbar...
---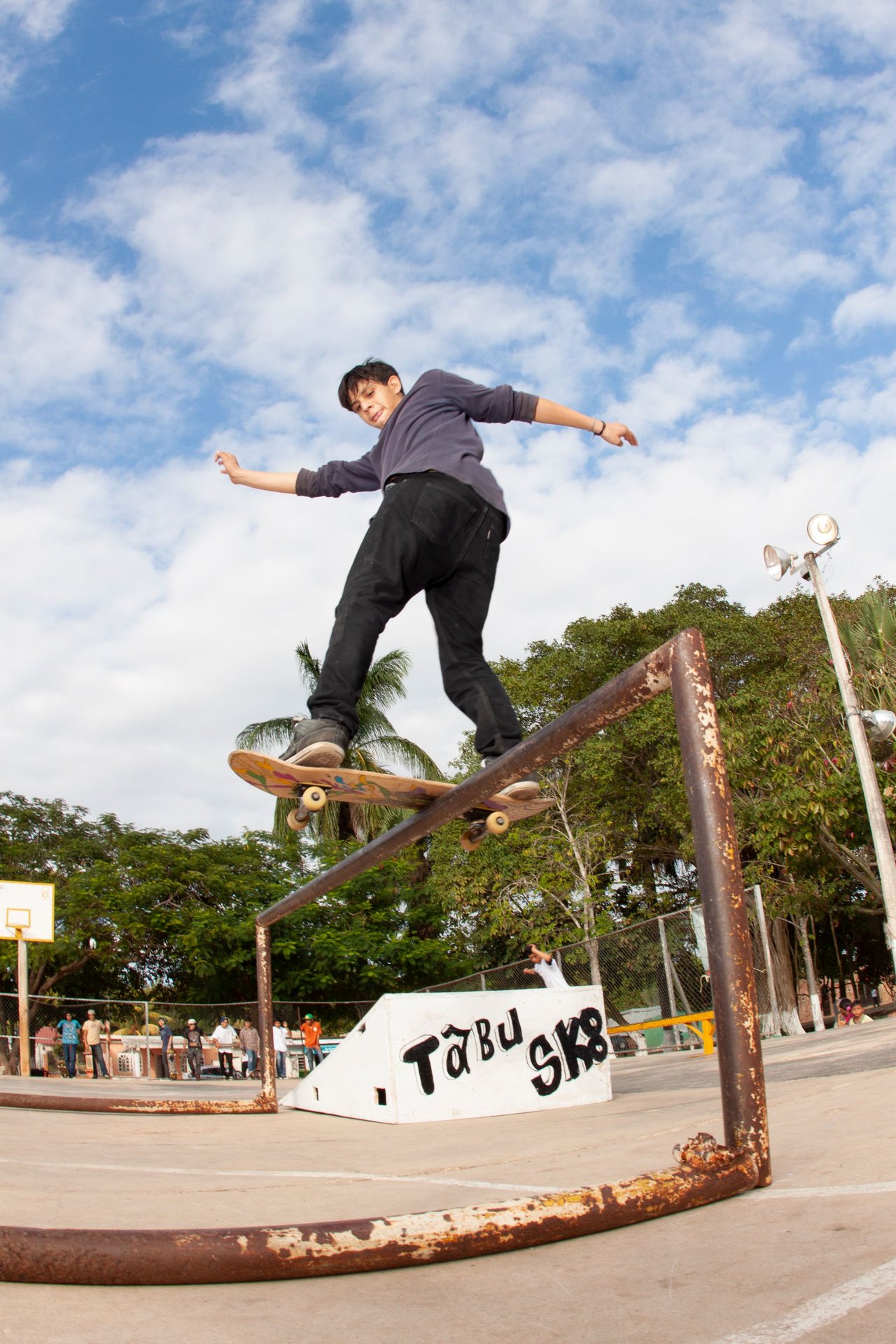 a good weekend
We went to spend the weekend with the friends we have in a town, we took some ramps and organized a contest for them.
---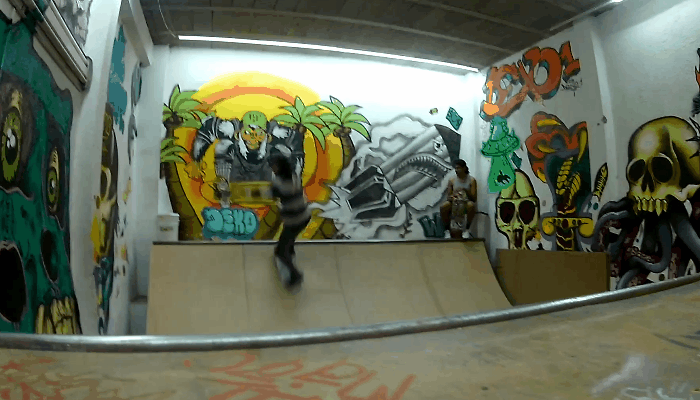 Erik Diaz - Rookie for ever.
[EN]
Novato for ever is a local brand here in our city, Novato in English means beginner, so the full translation is beginner for ever. Novato has its own skate shop in down town called "Spot shop", in the shop you can find anything you need for your skateboard, as well as clothing and many other accessories. Behind the premises they made this mini wooden ramp with the perfect measurements to learn new tricks and practice. As Novato is the first brand to be 100% focused on transition skateboarding, we often go to this place to have fun and learn more moves on the ramps. Now they even have a skate school for young children who are very enthusiastic about skateboarding. Bowleros lokos is proudly good friends with the Novato team, so we hope we can design something to bring them to web 3.0. and the #SkateHive tribe can see more of what these skaters are up to, but until then, here's a little bit of what this amazing mini-ramp all over covered in graffiti is. Erik is a guy who came from another city called Puebla to study digital design and got a job there in the spot shop, so he is feeling very comfortable on the ramp since he skates it almost daily. #BowlerosLokosForLife #Novato4ever
---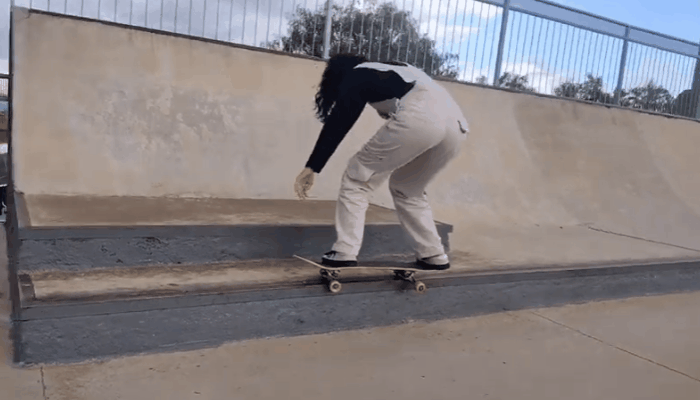 Hi
Fun skate from the weekend.
Everything is better with love ♥️
---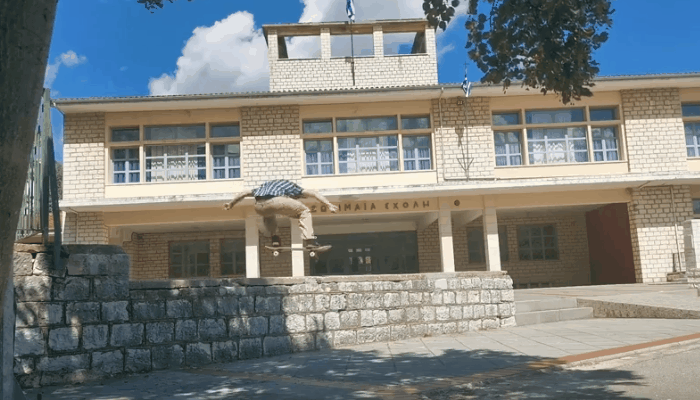 1 Hour Session At My Favourite Spot
Moving, military stuff, grandpa in hospital and Greek bureaucracy for buying a car are just some of the things that keep me super-busy this week and damn, it's the busiest week in a good while!
Luckily earlier today I managed to "steal" 1 hour in between all these stuff and went to legendary "Zosa", my favourite spot in Ioannina city and skated like a maniac to get all that shit out of my head haha!
Filmed a bunch of clips, had a ton of fun and returned home with a big smile! Skateboarding is the best medicine for stress, for REAL!
Filming/Editing : Haris Housos (@knowhow92)
Music : Incredible Bongo Band - Apache
Enjoy watching & #Skatehive4Life
---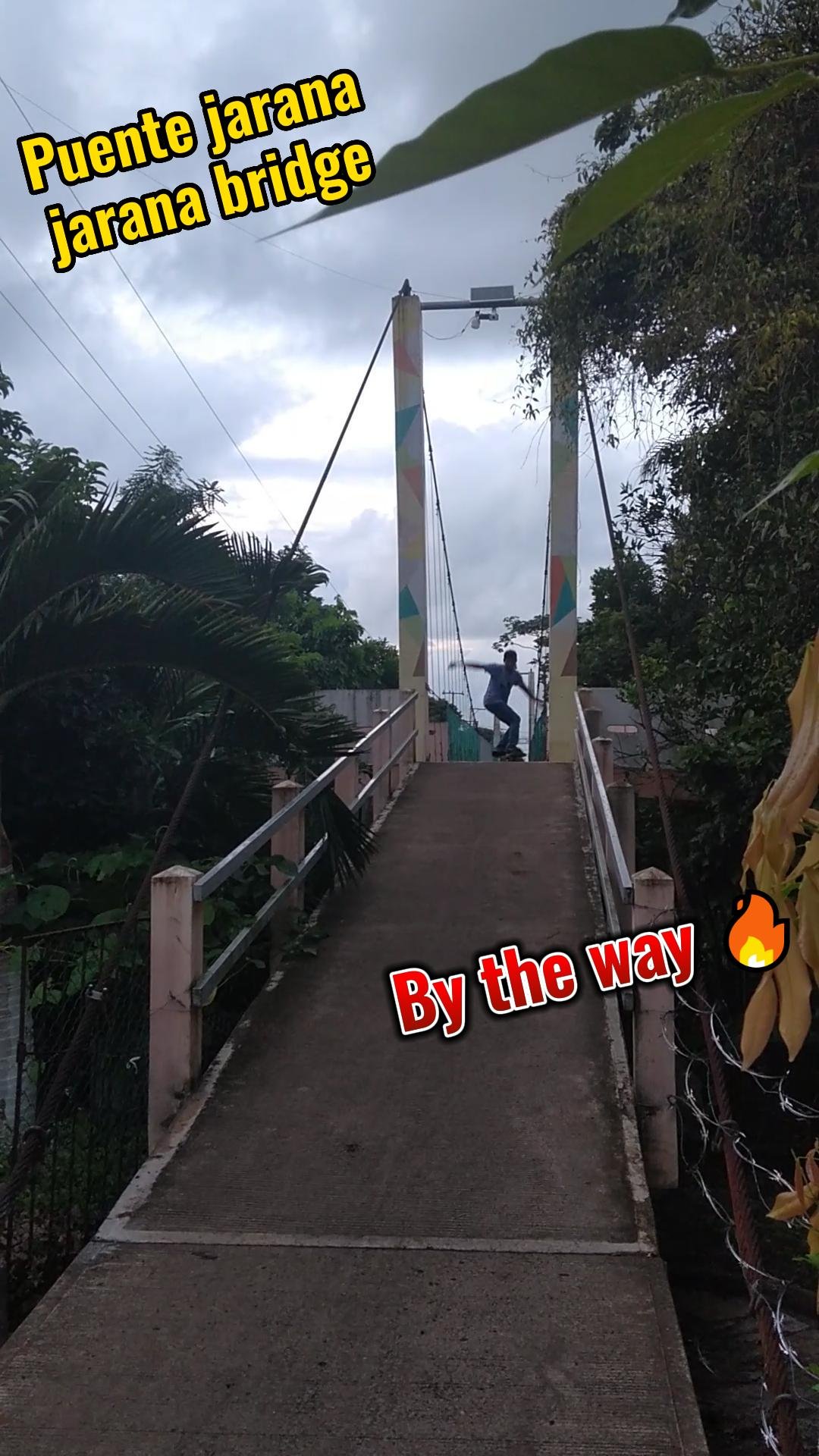 Doing a trick down a bridge - Haciendo unos trucos bajando un puente[Ing][Esp]
[Ing]
Greetings skaters here a skate with the friend @santos, on this occasion we visited the city of Angel R Cabada
With the motivation of skating on a new floor in the park, but for the worst it was still under construction.
so we decided to look for spor and we saw this descent of a bridge.
A lot of people passed by but everyone was very friendly.
---
Ian Streets Edit
Small Ian Waelder edit with a few unused 2010 footage.
---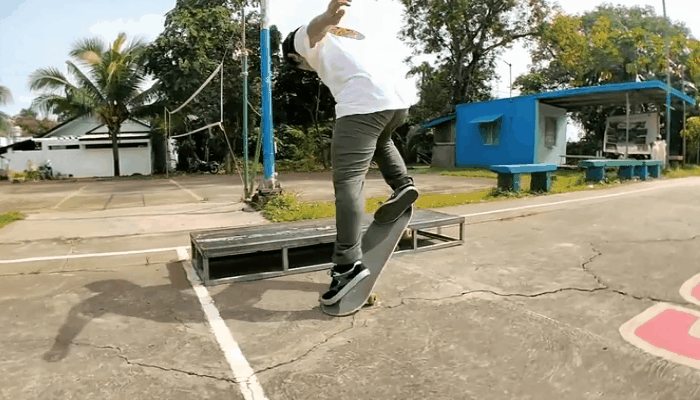 TWS SKATECREW Part #49: Life is Better When You Stay On Board

Life is Better When You Stay On Board
Hey guys! Welcome to TWS Skatecrew Skateboarding Sesh Part #49. Every time when I ride with my board I felt really good and still young. Last Tuesday is our first skateboarding sesh of this month and the member of our crew who is still able to skate are lesser and lesser because some of our crew got a job. But I'm still hanger to skate even if we are out of numbers because this is the only hobby that I still got. The last sesh has full I skated with my buddy named Joshua Bragais I'm still just because Joshua is free every Tuesday morning so we can still skate once a week.
I tried to retrieve some of the tricks that I almost forgot to do I tried to pull out my Backside Nosegrind on the ledge just because I can do this before. After a couple of tries, I failed to pull out my BS Nosegrind maybe next time I just need a couple of times to think what is the technique to perfect that trick. My buddy Joshua wanted to pull out his Frontside 5050 Grind on the rail some of those tries he almost got it but he also failed to land that trick. These days it's really hard to pull out a trick when you stop to skate for almost half of a month that's why we have to try multiple times before we perfect a trick. But sometimes the trick that we wanted to pull out we failed to pull out even we stopped to play. I hope for our future of skateboarding sesh I retrieve some of my technical tricks.

Curator's look
Here are the details our curators are looking for in SkateHive's posts:
1 - Hive Spirit:
Community-engaged members who comment, offer upvotes, offer reblogs, offer good tips and ideas. They are better viewed than those who post every day and do not interact and are only eyeing rewards.
2 - Quality/effort:
You don't need to have the best lenses but it's important to make your post look awesome so readers and viewers can enjoy it the most!
3 - Original content:
The contents must be original. If it is detected that you are using 3rd party footage and claiming it's your own your content will not be selected and will not receiving rewards from our partners. Also your account might get muted from Skatehive.
4 - Evolution:
It's normal not to start in the best way and evolve over time. People who are looking for innovation, new designs, new proposals, new ideas, and who improve their work over the years are more recognized than those who do not present any kind of evolution.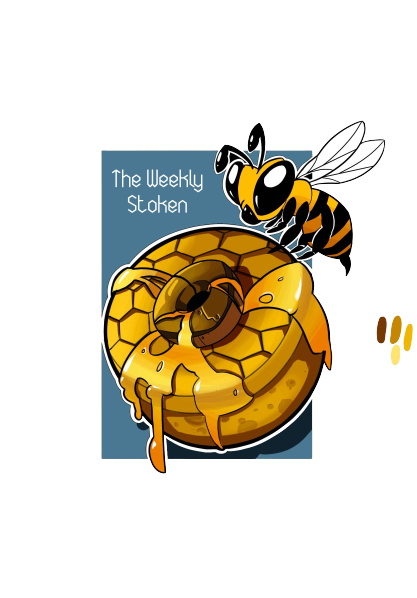 ㅤㅤㅤㅤㅤㅤㅤㅤㅤContent curated by @steemskate, @skatehive's official curation account
You can delegate to @steemskate or follow @steemskate's curation trail on Hive.vote to support the skateboarding scene on Hive.
---
Join the Skatehive Discord 👇

---

🛹 SkateHive 🛹 is the house of Web 3.0 skateboarders and our goal is to onboard skaters in web3.

We have developed dApps, NFT projects, our own token and more. 

**Our mission is to fill the new internet with smart contracts that benefit our culture**.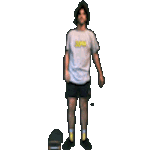 ---
---