A Dash of Sult N Papper 05/23/22 > Battle Axe ? BATL AXE? Hell yes….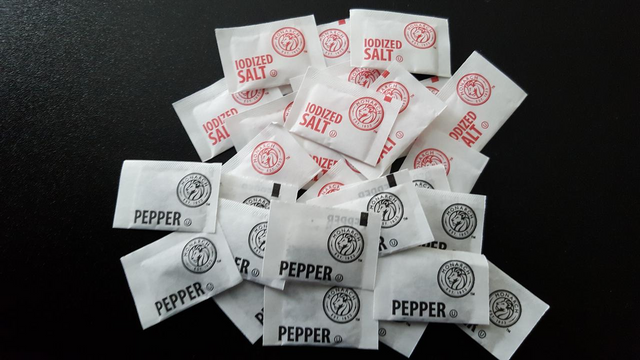 There are certain...
There are certain words that trigger the brain to automatically think of something and there are some old sayings that have pretty much slipped away over the years. When I hear the term "Battle Axe" I automatically think of some old man's bitching wife. "She's just an old battle axe, pay her no mind.", was what that neighbor who lived down the road would say. Have you ever heard the term "battle axe" before?
I'm imagining that...
I'm imagining that some video game would have that term in it but since I'm not a gamer I can't say for sure. Splinterlands? Dungeons & Dragons? Any at all?
Well, regardless of any video games have the term battle axe there is a competitive sport of axe throwing and not just for lumberjacks. Today some close friends and I got together at a local business that hosts axe throwing. It was my idea to do this since I had run across it when I was up in Fort Worth a few months ago on a business trip.
A business that distributes some of the products I represent was having an open house for their customers and vendors and they hired a mobile axe throwing company to come set up at the open house along with some other games they had to play.
The mobile axe throwing business just happened to be right next to my table display so I visited with the young man running the axe throwing throughout the evening. I wasn't going to fill out all his forms on some mobile app just to throw an axe at a target; I'm a hard pass on online forms. As things were winding down the young man came over and said, "Hey if you want to throw a few I'll let you pass on the forms."
"I don't need to throw a few, all I need is one shot… so I can send my youngest son a picture." The young man offered to show me how to throw an axe but I declined his offer, and went right to the throwing line. I didn't need his lessons, just wanted to see if I still "had it"; growing up there were plenty of trees that made good targets for throwing things at and I was pretty good at throwing what we called "hatchets".
I'm guessing that inflation has caused a "hatchet" to now be considered an "axe" so what that three foot long piece of hickory with the double bladed steel head on it is called I have no idea. To me it is still an axe but what the hell do I know?
One throw- ...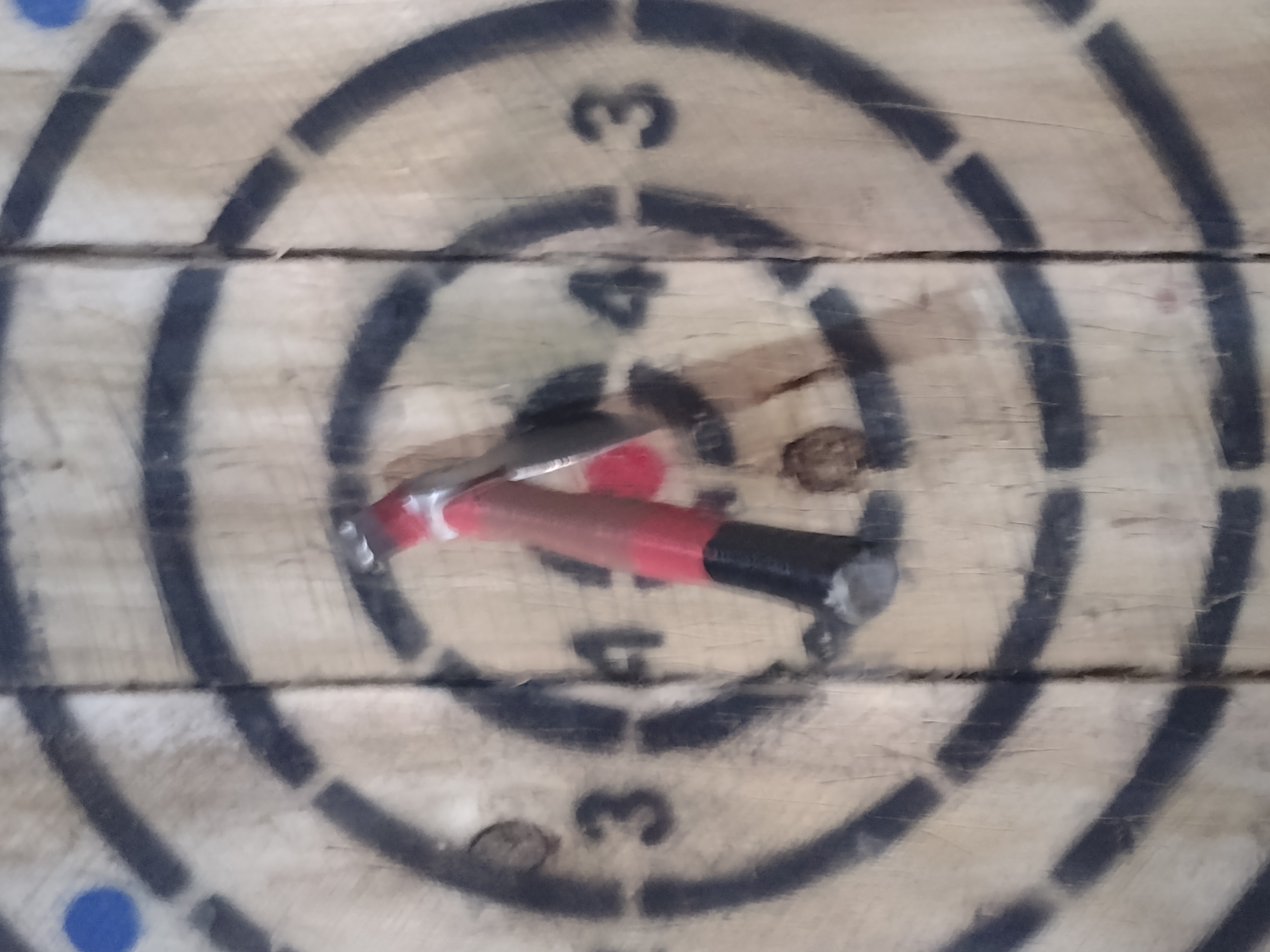 One throw – One Bulls Eye. I still "had it" ; I got that picture I wanted and texted it to my youngest son. My son was impressed to say the least; he had competed in a lumberjack contest one summer when he went up to Minnesota on a youth trip and did pretty damn well for himself by making it to the finals of that competition. He didn't fare that well in the log rolling contest but he said the water wasn't as cold as he expected it to be; to his credit he had never done log rolling before so we'll just leave it right there.
The young man...
The young man running that mobile axe business was pretty impressed as well with my throw and said, "You might have done this a time or two?" To which I replied, "Maybe, what makes you think that?" His reply was, "Form, you've got the form down pat."
He then proceeded to ask me if I was interested in joining their axe throwing league. I explained to him that I wasn't from the area and I was from Houston so he proceeded to tell me just how big this relatively new sport is; I had no idea that it is even on ESPN and the world championships are held in Fort Worth.
He recommended a ....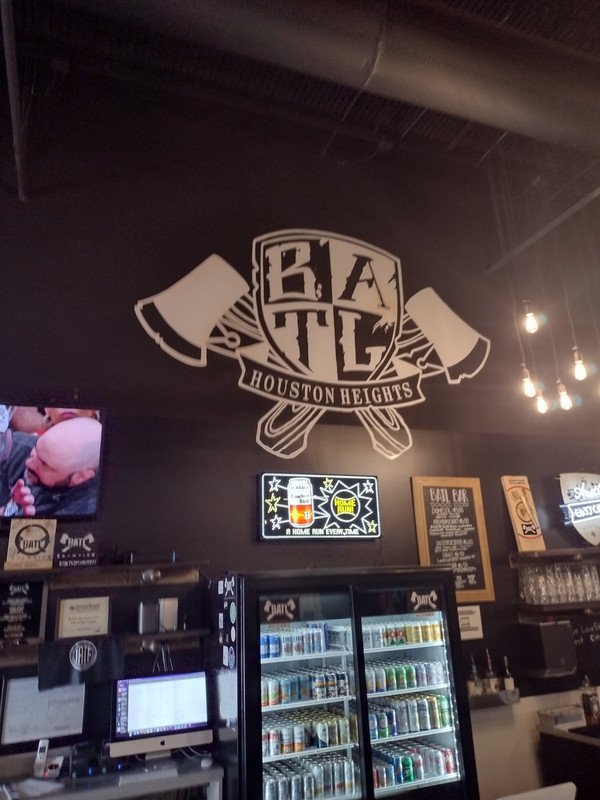 He recommended a couple places in Houston that he knows and so I gathered up a few friends and my youngest son to go check one out. We selected the BATL AXE located in the area known as "the Heights" because it came with high recommendations from some other folks we know. I have to tell you that those folks couldn't have been more correct on pointing us there.
The staff was...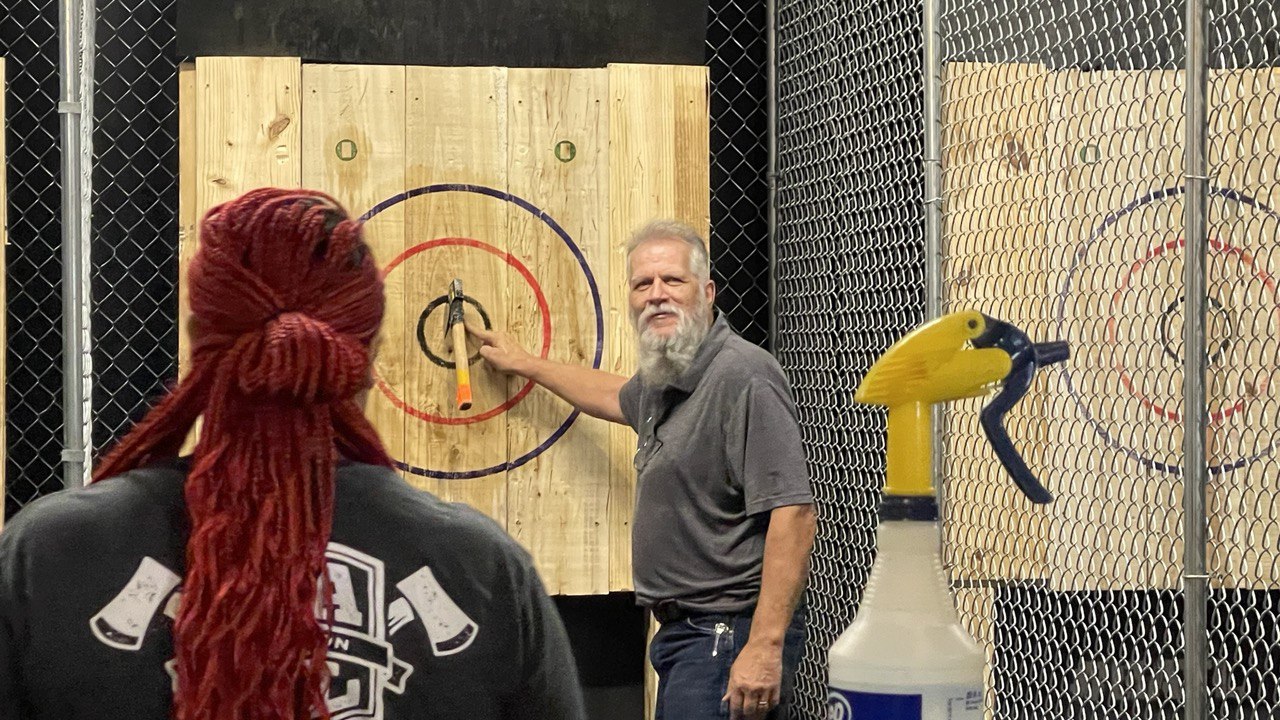 The staff was friendly and colorful (red hair and all) and couldn't have made us feel more right at home. Our attendant gave us some quick tips on how to throw, how to keep score and the different games and rules. Then she turned us loose to throw some practice throws. Here is a shot of me retrieving the axe after my first throw…. as you can see ; BULLS EYE !!!
The whole group...
The whole group ( 6 of us) caught on pretty quickly and then it was game on. When the dust settled I wasn't the overall best today but I didn't get shut out either I won the game known as "Black Jack" where you have to score 21 points right on the money… if you break out (over 21) you are set back to 11 to continue the game. I dug deep to win that game throwing a BULLS EYE on my last throw to seal the deal.
<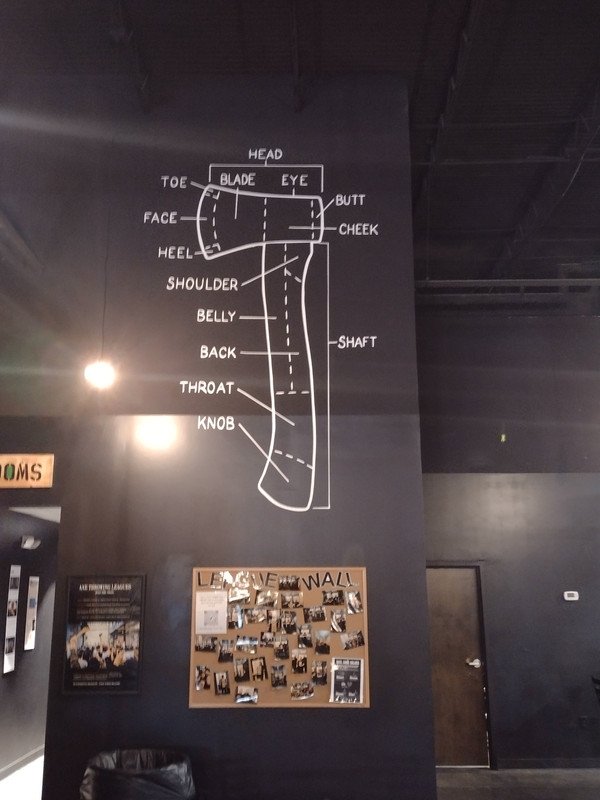 I highly recommend...
I highly recommend that if you are looking for something different to do check out axe throwing and give it try. The Sunday afternoon patrons at BATL AXE sort of surprised me as to the makeup. There were actually more women there throwing steel than there were men. So there might be more to the old term of "battle axe" then I realized.
The other thing I noticed was nobody appeared to be intoxicated even though they sell beer and alcohol so that was a plus in my book.
Those who appeared to be regulars in there were easy to spot as they had bags or carrying cases with multiple axes in those sitting by their tables and most had some BATL AX attire on. I was told that the league tournament was going to be starting a couple hours after we finished our session of throwing and some folks were coming in to "tune up" before the competition.
(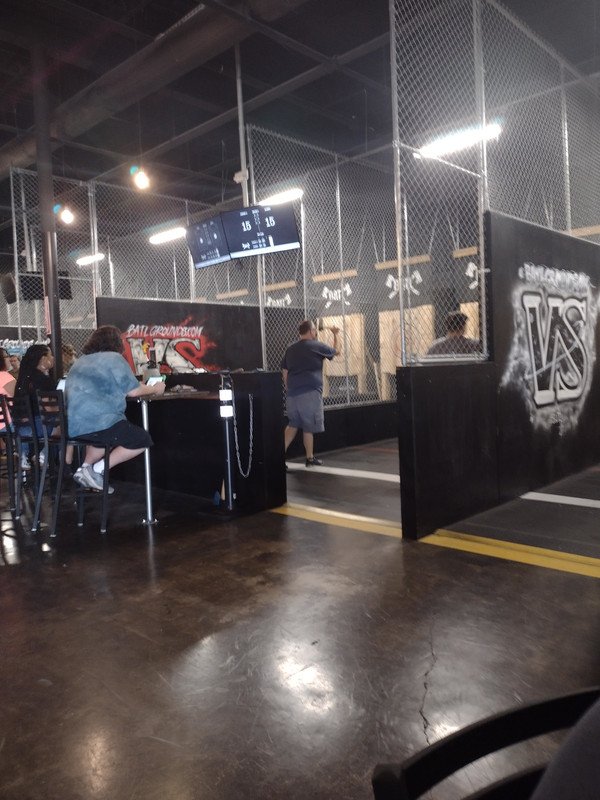 )]
If there was....
If there was one drawback to the place it was that it was painted black everywhere and black tables & chairs. Even though the place was well lighted where the throwing takes place the overall appearance inside was pretty dark.
I can see me in the future taking some clients to throw some steel either at a BATL AXE or similar type establishment. It's not something most people would even think about but any of you who have followed me before on Hive know I'm not like most people. When I was young I always colored outside the lines with my crayons and I still tend to be that way.
The tag line on my blog says, "Here to share the truth, no matter how much it hurts you." and if you don't try axe throwing at least one time you are missing out on a good time. Truth.
Until next time,
Sult
Photo Credits : All photos are property of @sultnpapper with the exception of the photo I'm in. Credit that photo to my friend Lisa H for taking it, Thanks Lisa!
Don't forget; if you want your very own ' Guzbuck Ya'll" t shirt or your own "Guzbuck..I'm good." coffee mug then check out the guzbuck_shop here.



---
---