--EDIT--CONTEST FULL---Last call ☎️ for a chance at 500 HIVE ----- EDIT---- CONTEST FULL :D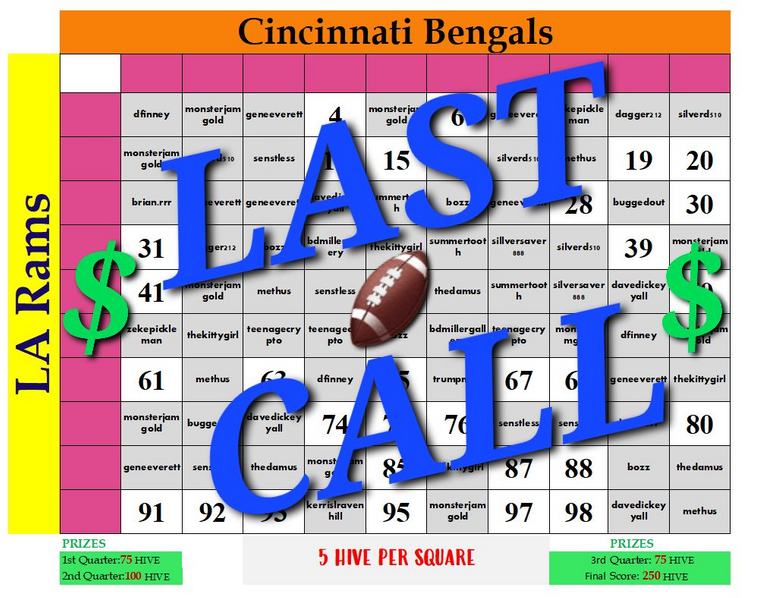 I'm running a Super Bowl squares pool for the big game this Sunday but I'm afraid we're not going to fill all the spots.
We currently have 70 of the 100 spots filled, so 350 HIVE is in the prize pool.
Thing is all 100 squares need to be filled for the board to work.
I mean, we could do something like rolling the prize for a quarter over if no one is on that square but what if the game ends on a vacant square? I'm also sure there are other ways to get creative and give out the 350 HIVE but it gets messy at that point and I'm really not interested in that.
Sooooo, as much as it pains me to not gamble on the super bowl I guess I will just send the HIVE back to all entrants if we can't fill the board in the next 36 hours :(
I do not want to do this though so if you are one of these fine folks that are already in maybe tell your friends and send them over.
PLAYERS
@silverd510
@dfinney
@senstless
@bdmillergallery
@monsterjamgold
@geneeverett
@zekepickleman
@davedickeyyall
@bozz
@methus
@thedamus
@kerrislravenhill
@trumpman
@thekittygirl
@buggedout
@brian.rrr
@dagger212
@silversaver888
@teenagecrypto
@summertooth
That's good list of kickass players and I'd hate to disappoint by canceling so shill this shit in your favorite discord channels and I am sure we can fill it!
Current board --FULL--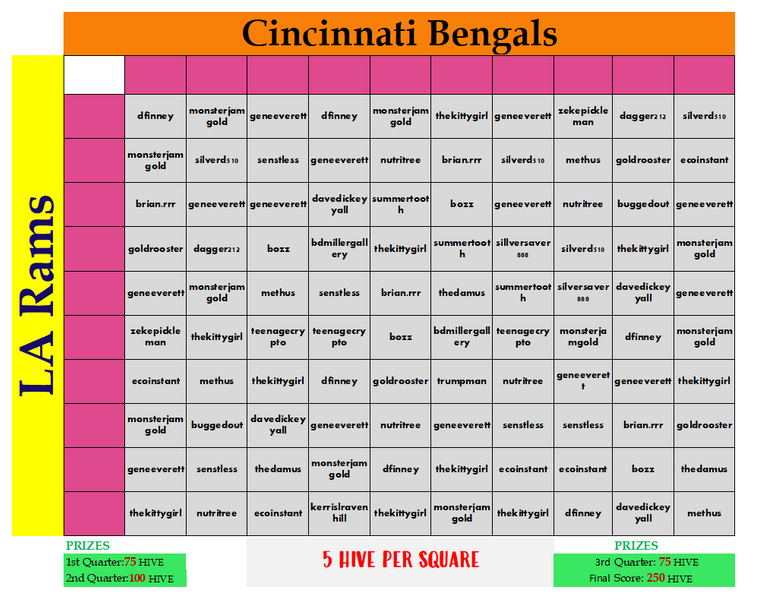 HOW TO PLAY
Squares cost 5 HIVE each, send to: summertooth
Buy as many as you like
Once board is full I will assign numbers 0-9, in random order to both the x-axis and the y-axis (red boxes) using random.org
At the end of every quarter, the person whose square corresponds with the intersection of the second digit of each team's score wins a prize (see below for example).
EXAMPLE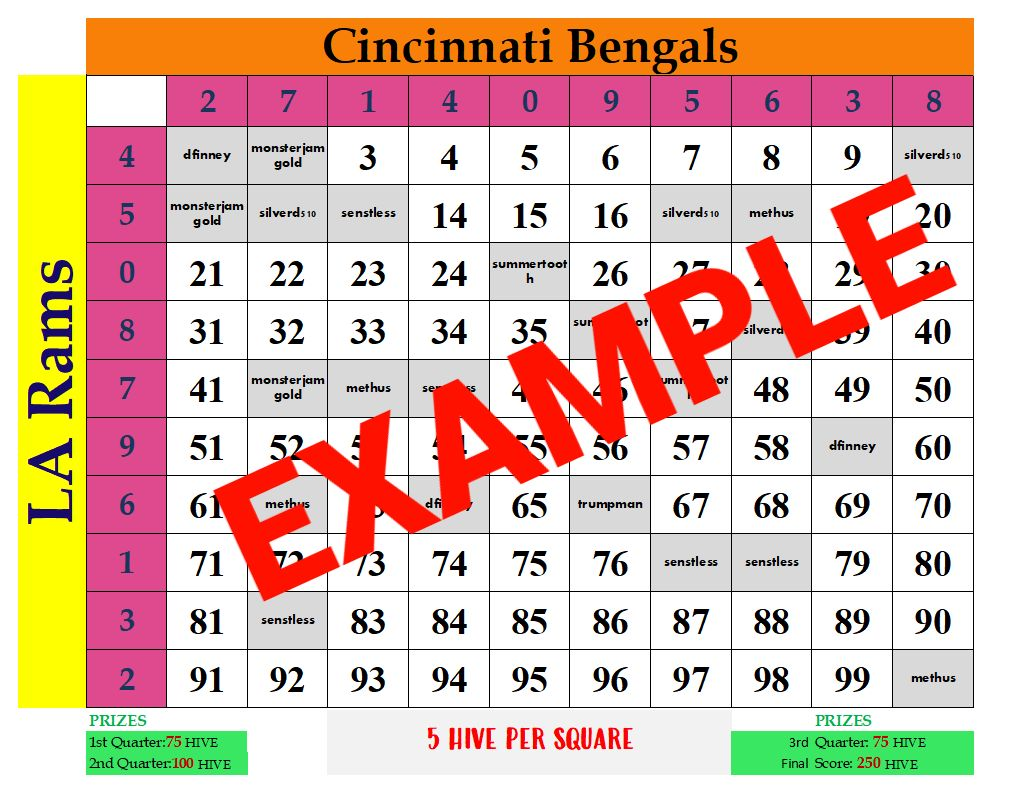 Using the above example board, let's say the score at the end of the 1st quarter was Rams 24 Bengals 18, then @silverd510 would win the 1st quarter prize. If the score was Rams 0 Bengals 0, @summertooth would win the 1st quarter prize. It then works the same for the second and third quarters and the final score.
As you may have gathered it is possible for the same square to win more than one quarter and I have seen it happen in the past.
PRIZES
1st quarter winner: 75 HIVE
2nd quarter winner: 100 HIVE
3rd quarter winner: 75 HIVE
Final score winner: 250 HIVE
HOW TO ENTER
Comment below with how many squares you want and the square numbers you prefer. If a square has a number it is available, if it has a name it is taken.
If you have questions just ask here or come on over to Discord.

---
---