Art Attack #125: A Soccer Sunset Surprise! ⚽🎂 [Part 2]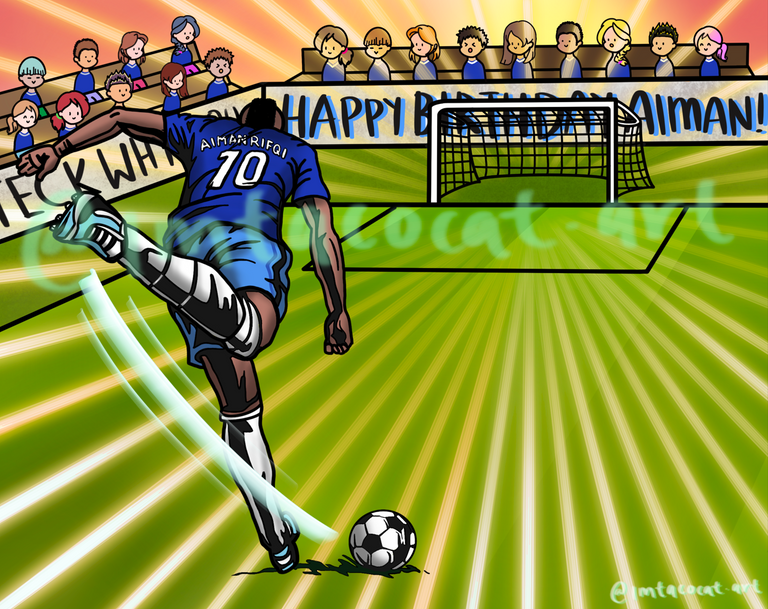 Hey Hive!
We're back again with another Art Attack! If you're new to the series, this is where I share my drawings and the process behind them. A behind-the-scenes look at my artwork, if you will. This is not to say that I'm very good at art, or that I'm a professional in any way. In fact this is the opposite, and serves as a reminder to how I first started, and lets me track my progress too!
So if you weren't aware, I've been streaming on Twitch for quite some time now and it's been fun trying out different games and making new friends! I was also fortunate to become a Twitch Affiliate only a month after I started streaming!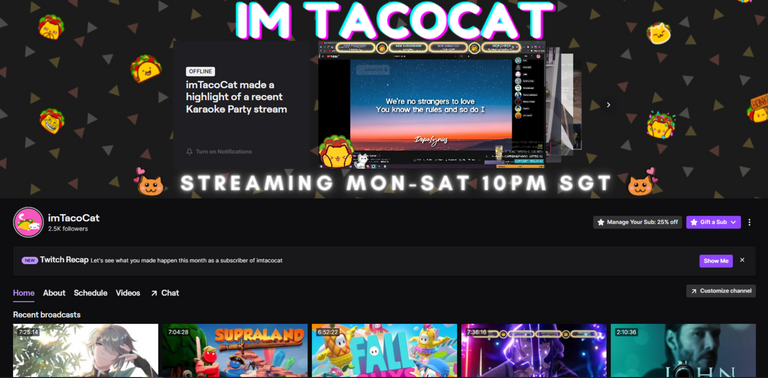 One perk of being an Affiliate is you get create custom rewards for your chat to redeem with channel points. Since I'm an artist I thought I'd reward my loyal viewers with some free artwork!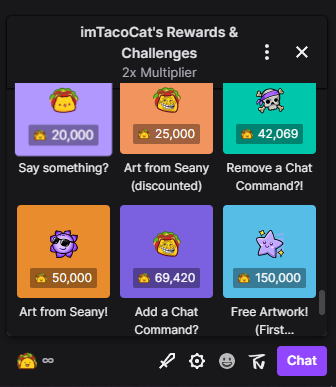 Of course, the free artwork doesn't come cheap, but surprisingly a lot of viewers have hoarded quite a lot of points and ever since I came up with this redeem I got flooded with requests that it kept me pretty busy for quite a while, which explains the recent streak of posts as well.
Anyway, if you missed the previous post, this is a continuation from the artwork I started sharing last week so take a look at that post for more context. But basically, one of the biggest contributors on my channel wanted me to draw a special art piece for his birthday and I offered to do it for free instead of him using channel points. Since he's given so much to the community I felt like I owed him a lot so this was the least I could do.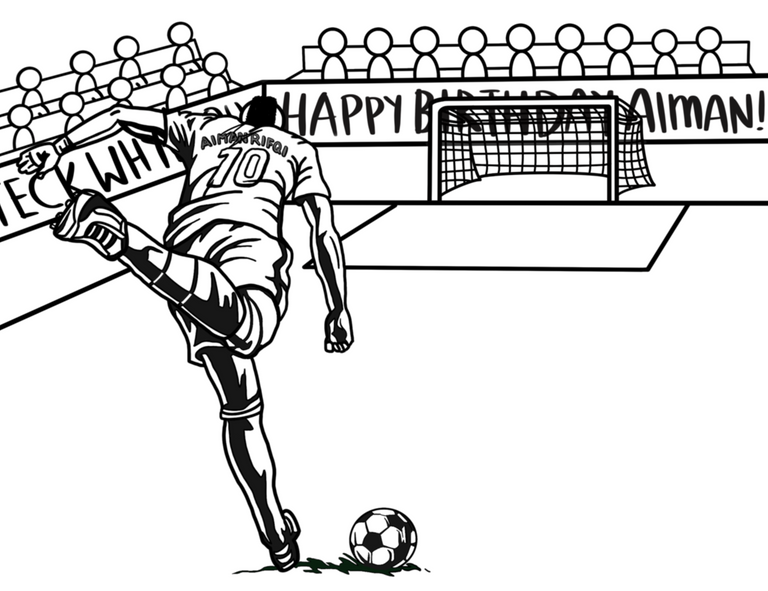 He's really into soccer and wanted me to something soccer-themed so the first thing I thought of was him shooting a goal. We last left off at the sketch and outline and once that was done it was pretty much smooth sailing from there. The perspective was definitely the biggest challenge so I was so relieved to have the outline done.
I drew some heads and faces on the audience since it looked too plain and lifeless to leave them as stick-men. Then I proceeded to colour Aiman himself! This one was pretty easy to do since he sent me a photo reference for his jersey.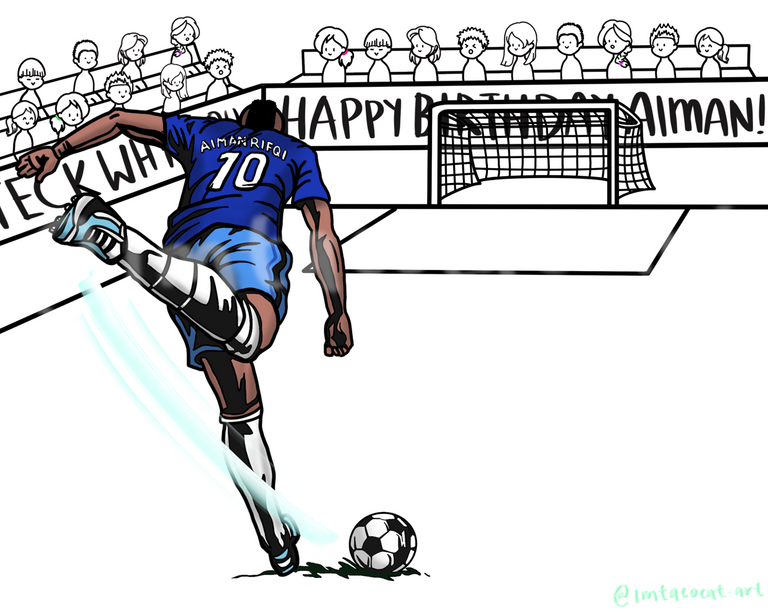 Then I coloured in the stands and people, giving them the same blue jersey to show that they're all in support of him of course. I also shaded the wall and tried to give it texture to make it look more concrete-like?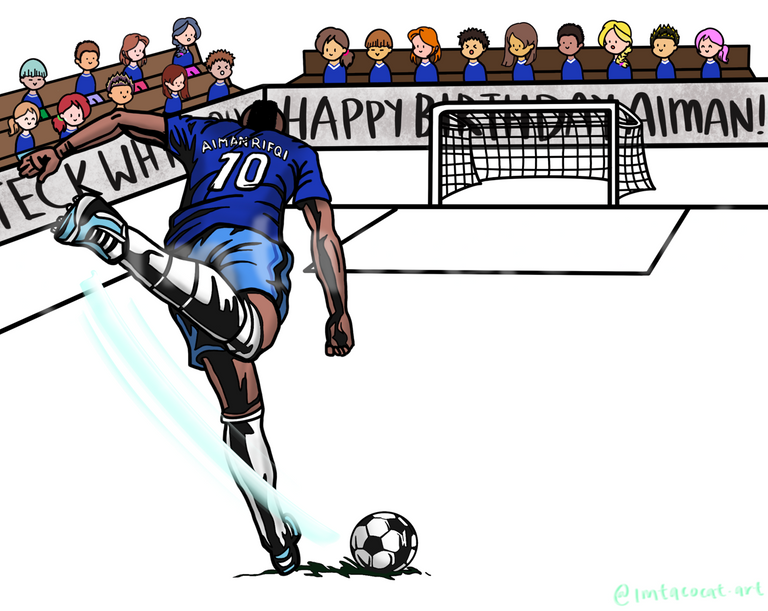 Of course I had to make the field green and I tried to maintain the same perspective the best I could. I also gave the field some texture on the outside to make it look more grassy and I added a nice sunset in the background to contrast the green of the field.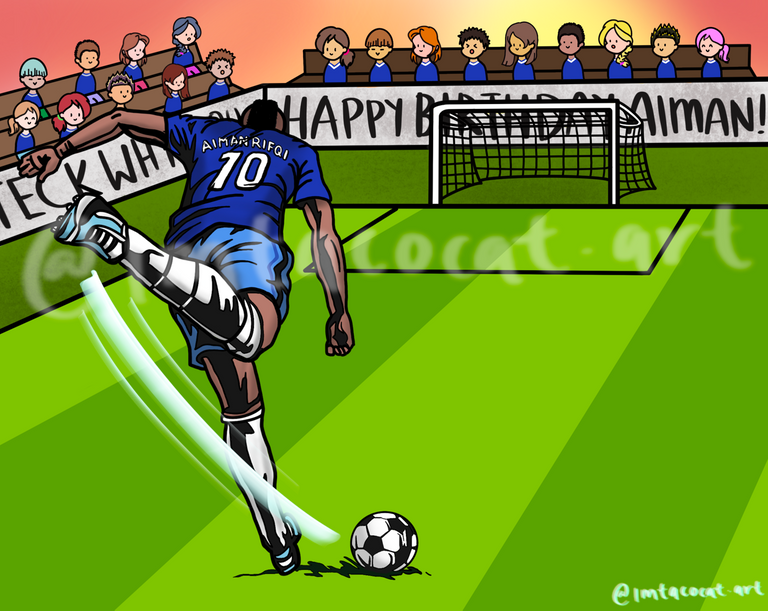 So in my research I also found out that there are quite a few different soccer animes and since Aiman is also an anime fan I thought it'd be cool to give his art that classic anime effect for when he shoots the ball, and this was what I came up with!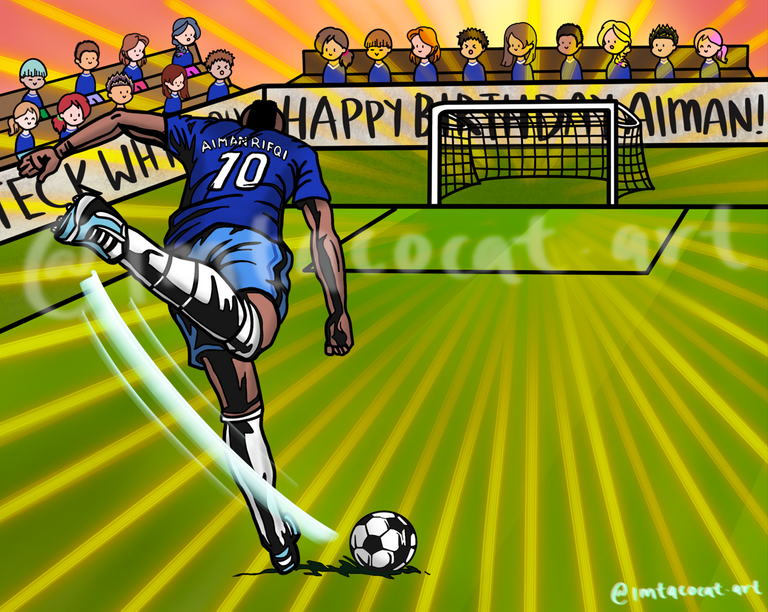 I think the lines helped to mask my perspective fails. But compared to the anime screenshots I was referencing it wasn't bright enough so I made it more white near the edges to give it even more depth and I think it turned out pretty cool!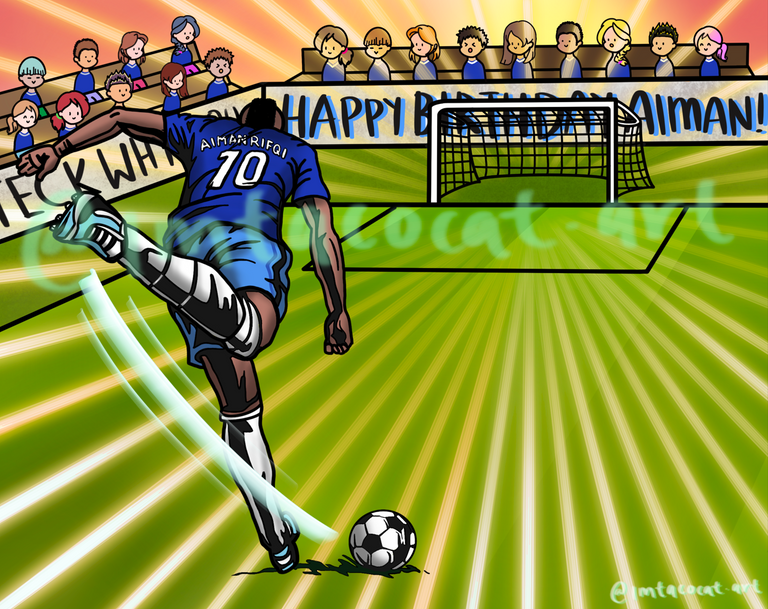 I coloured this on stream after playing a couple of art games with my chat (since we do that every Tuesday) and it was pretty fun and chill. Here's the VOD if you're interested!
And finally here's the full timelapse for this piece!
It took quite a while especially just getting the perspective right, and I think it still looks a little skewed especially on the side wall but I didn't know how else to fix it tbh. And when I showed it to him on-stream for his birthday he said he loved it so I'm glad.
And since he sang for my birthday, I thought I owe the biggest whale on my channel a song too. So while the timelapse was playing on-stream, I sang him a special song called Everything's Alright from the game, To The Moon. I played the game on stream as well and we voiced the characters together so the song and game is pretty special to us.
Aiman actually loved the art so much that he used it as his wallpaper on all his devices! I felt really honoured and flattered and I kinda wished I had used different dimensions since they weren't optimised for wallpapers. But I'm glad he still loved it nonetheless! I'm not sure if he still uses it as his wallpaper but at least he'll have something to remember me by if he stops coming by my streams.
But that's going to be it for today! Hope you enjoyed this piece and thanks so much for reading!

To find out more about me, check out my intro post here!
---
Check out my previous post in this series!
Art Attack #124: A Soccer Surprise Sketch! ⚽🎂 [Part 1]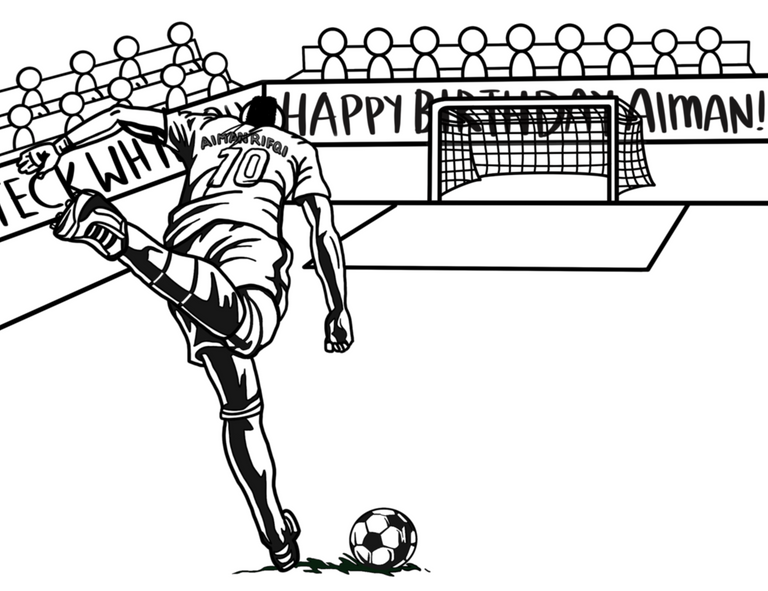 ---
---