England literally and figuratively hit in the nuts
At some point in life we've all had one of those days where you know the universe is out to get you. Joe Root certainly knows what it feels like. In fact, he's probably at a point now where he can't remember the last time that fortune smiled on him.
Coming out to warm-up on the 4th day of the 2nd Test, the England captain was receiving a few gentle throw downs at half volley length when one of the balls inexplicably bounced up and hit him in a place on the male anatomy that should only ever be treated nicely. Without protective gear on, a trip to the hospital was necessary to check that Mrs Root's best friend was in full working order leading to the England captain missing the first part of the day's play.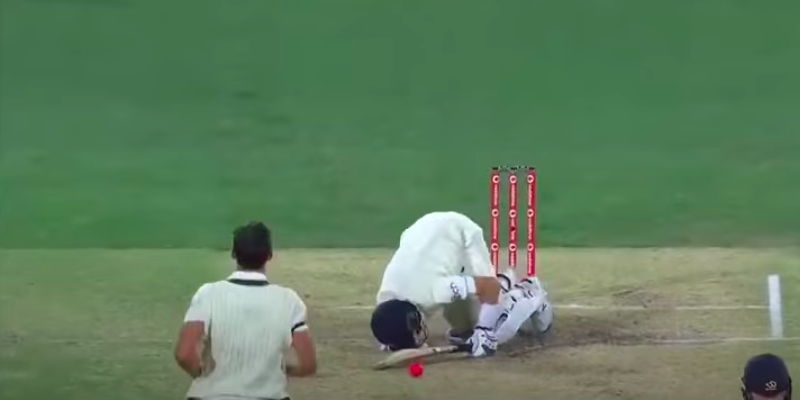 Root is doubled over by Starc still from BT Sport live coverage
Fast forward to the final 20mins of the same day's play and Root is now at the crease desperately trying to survive and give his team a chance of saving the Test on the final day. Mitchell Starc is roaring in, the pink ball bouncing and swinging under the lights and Root gets hit again in the unmentionables.
The sight of the England captain riving around on the floor in agony really sums up the tour so far from an England perspective. On one hand shambolic, slap stick comedy, on the other just fucking painful to watch!
One of my favourite quotes from the late great Richie Benaud on captaincy goes as follows


image credit
It would be easy to bemoan the fact that England and Root have had no luck so far in this series. They won a toss that they didn't want to win then lost a toss that they really needed to win. They've beaten the bat on countless occassions while the Australian bowlers seem to have an uncanny knack for finding the edge of their blades. They've put in some hardwork despite being totally unprepared for this series and yet haven't managed to reap any rewards.
Equally in sport at this level you make your own luck!
England toiled hard on the opening day of the 2nd Test on a very flat and hot looking Adelaide Oval and by keeping the Australian batsmen in check you always felt that they had a sniff. If they could just have that golden 30 or 40min period where things went their way and they claimed 2 or 3 wickets then it was game on. Unfortunately though when the chances came, England fluffed them - Labuschagne dropped in the twenties and then again late in the day!
After 2 Test Matches England have never found themselves ahead in the game. By in large they are in situations where they are desperately trying to hang on and even when they do get a bit of grip on Australia's coat tails you always have the feeling that calamity is never far away. We've seen that twice with good partnerships between Malan and Root in both Tests followed by batting collapses.
With both bat and ball when the moment comes for England to dominate they fail to take the opportunity!
Similarly with selection England have had their bad luck. Injuries to the likes of Archer and Stone who had long been pencilled in to provide the necessary firepower downunder have left the England bowling attack looking distinctly samey and rather toothless. A lack of opportunity to get any practice under their belts prior to the series means the team is very underprepared.
However, their decision making when selecting the final XI has been poor! I for one am not opposed to this horses for courses type selection policy that England have introduced. It's innovative and in many ways necessary given the limited resources England have to work with but you've still got to pick the right players for the right conditions.
The decision to leave out both Broad and Anderson on a green looking Gabba pitch was flawed. The decision to then leave out Jack Leach at Adelaide on a pitch that gave assistance to the spinners from day 1 was equally poor.
In fact, what England have very quickly reverted to is a tactic that works well for them in English conditions but has generally failed them overseas and that is to pick as many all-rounders as they can! That tactic is fine when you have 3 frontline seamers who look threatening with the Dukes ball at home but not so much when the same bowling attack lacks penetration elsewhere.
In the 2nd Test, England's 2 premier batsmen became their alternative bowling options. Root as a frontline spinner and Stokes as the enforcer. These are 2 players who should be there as your 5th and 6th bowling options not go to guys when you need a break through.


Woakes Test bowling record in England vs Australia image credit
Add to that the continued selection of Chris Woakes at number 8, a man whose bowling outside of England has always been considerably less effective and is there more because he can bat a bit and you start to see that England's selection isn't really that innovative at all. In fact, it simply suggests that they have no confidence in their spinners or there middle order to deliver.
Personally, I would have played Leach in the 2nd Test. I don't think that having batsmen attack your slow bowler is such a bad option. Just because the Australians gained the upper hand in 1 Test doesn't mean that they would in the next and it wouldn't be the first time that overconfident batsmen have gotten themselves in a muddle.


Average for spinners at the first 3 Test venues from left to right, The Gabba, Adelaide Oval and MCG all images shared under CC license
Indeed, it was noticable that Austrlia didn't look to attack Joe Root when he bowled on the opening day allowing him to go along at just over 3 an over without any great risk another example of where Australia have not only out fought but also out thought England in these 2 opening games.
Whatever selection decisions England make for the Boxing Day Test at the MCG are now likely to look like desperation and perhaps that is the case. Root has pubically criticised his seamers for not bowling full enough in the 2nd Test so will that lead to the likes of Anderson who was noticably unwilling to try and give the ball the chance to swing being dropped?
If there is discord between the bowlers and captain in regards tactics then coupled with England's fragile batting line-up there is a chance that things could get a lot worse yet! Another 5-0 thrashing is very much on the cards and in the process, the England captain and team as a whole are going to have to take a few more shots to the balls over the coming weeks.
---
---