IPL 2022 CSK vs MI Preview - No glorious homecoming for Mumbai

Key match stats CSK vs MI
Pitch Stats – Wankhede Stadium
Average first innings score: 173
Average first innings winning score: 188
Average powerplay score: 45
Win % batting 1st vs batting 2nd: 47% / 53%
Team form CSK vs MI
CSK – WLWLW
MI – LWWLL
Recent meetings: CSK won by 3 wickets
CSK vs MI Preview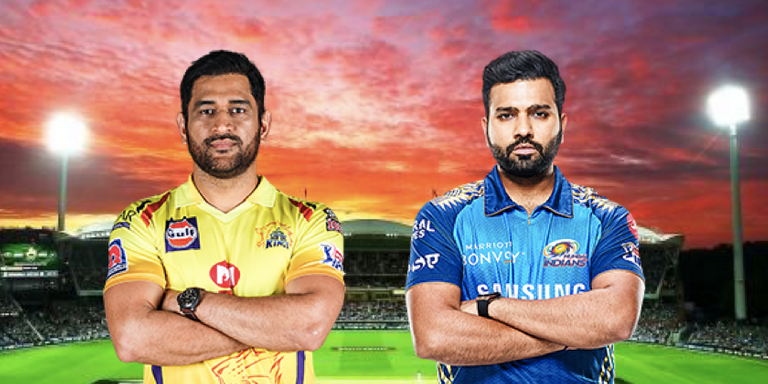 Looking down the fixture list pre-season, CSK vs MI is always going to be a match that grabs the attention. However, most IPL fans certainly wouldn't have expected a battle between the 2 most successful clubs in the league's history, not to mention it's reigning champions CSK, to also be a fixture between the bottom 2 sides as well.
Indeed, at this stage of the season you'd generally expect both these sides to be warming up for the playoffs where they generally go from good form to great.
Despite the fact that both sides have only pride left to play for (CSK could theoretically still qualify but it's not likely to happen) this should still be a great match, in front of Mumbai's home fans at the Wankhede, played between the 2 franchises with the largest support base across India.
In fact, you only have to look to the game earlier in the season between these 2 sides for the kind of drama that we can hope for tonight as a Dhoni special won it for CSK off the final ball and in the process consigned MI to their 7th straight defeat of the season.
Since then things have been looking marginally better for Mumbai albeit that they suffered yet another batting collapse against KKR in their last match to crash to defeat despite the heroics of Jasprit Bumrah who delivered the 5th best bowling figures in the history of the IPL with his 5 for 10.
I wonder if there has ever been a more humble and just all round nice fast bowler in the history of cricket than Jasprit Bumrah? I'm sure as a batsmen, facing his 90mph bouncers followed by searing yorkers he doesn't feel particularly "nice" but on the field he just gets back to his mark and delivers what's required and off the field he seems the consummate professional and team man. He must be a dream to captain!
Still, MI will need to get reinforcements around him for next season because even a man of his unique talents can't do it all himself in every match. The arrival of Jofra Archer in 2023 should help and is definitely something for MI fans to look forward to despite the dreadful season they've endured.
As for CSK, they come off the back of a commanding win against the Capitals last time out with their top order suddenly having found the kind of form that delivered them a title last year. Unfortunately it is too little, too late and even though Gaikwad and Conway are scoring runs for fun up front, CSK are suffering from a lack of consistency that has plagued many of the franchises this year.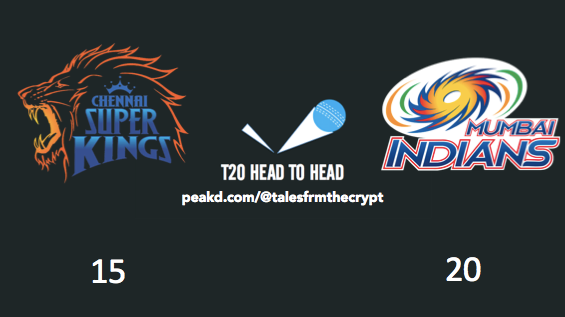 MI vs CSK head to head
MI are ahead in the overall head to head stakes in matches between these 2 but CSK have won the last 2 and will no doubt have ambitions to close the gap further.
If nothing else, this season has further underlined how close, competitive and unpredictable the IPL is and who is to say that in 12 months time these 2 teams won't be meeting in yet another final...
CSK vs MI head to head
MI bowling vs CSK batting
It might be going too far to describe this Wankhede pitch as a graveyard for CSK batsmen but it's certainly not a venue that they've historically enjoyed batting on with most of the CSK records at the Wankhede dropping below their career averages.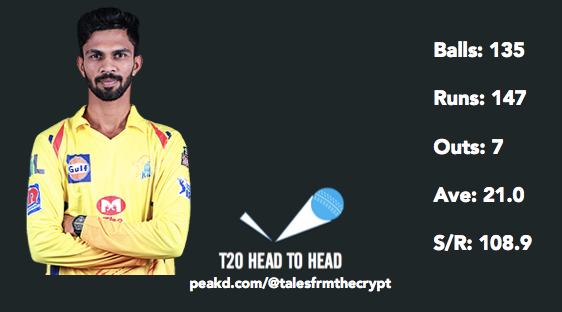 Gaikwad T20 career stats at the Wankhede
Breaking the Conway/Gaikwad opening partnership will be crucial for MI whose 13 powerplay wickets in IPL 2022 puts them equal last with RCB.
| Opposition | Opening partnership |
| --- | --- |
| SRH | 182 |
| RCB | 54 |
| DC | 110 |
Opening partnerships for CSK since Conway returned to the XI
In the past, MI have been able to call on bowlers who have a huge amount of experience and know how on this pitch but are now left with only Bumrah whose IPL record at the Wankhede sees him sat with 37 wickets behind only 2 former MI legends in Harbhajan Singh and Lasith Malinga in the all time wicket taking stakes at this venue.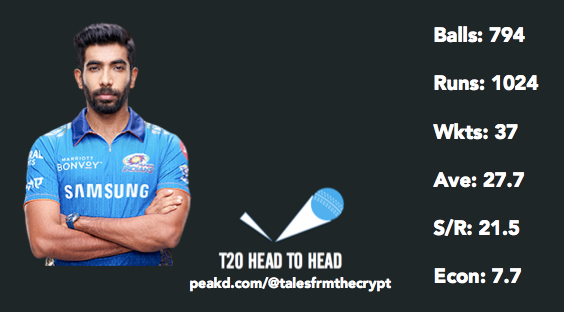 Bumrah career T20 stats at the Wankhede
CSK bowling vs MI batting
Both teams come into this one without a couple of star players in Ravi Jadeja and Suryakumar Yadav. Given Sky's form this year as part of a shaky looking MI batting line-up, he is surely the greater loss and you wonder had he have been available against KKR perhaps MI might have been able to chase that manageable total in their last match.
| Year | Matches played | Innings played |
| --- | --- | --- |
| 2022 | 11 | 5 |
| 2021 | 14 | 7 |
| 2020 | 15 | 1 |
| 2019 | 16 | 2 |
| 2018 | 14 | 3 |
Number of matches and innings Bumrah has batted in the last 5 IPL seasons
I think the stat that best underlines just how poor MI have been with the bat over the last couple of years is the number of times that Jasprit Bumrah has had to walk to the crease. Prior to the 2021 season, he'd only had to do so 13 times for MI in a career spanning 92 matches (less than once every 7 innings) but this number has almost doubled over last 25 games where he's been at the crease in almost 50% of their games. At this rate he'll be able to negotiate sponsorship deals for his bats!
Head to head wise, we get to see the 2 players in Kieron Pollard (592 career matches) vs DJ Bravo (531 career matches) who have played more T20 games than anyone else in the history of the format.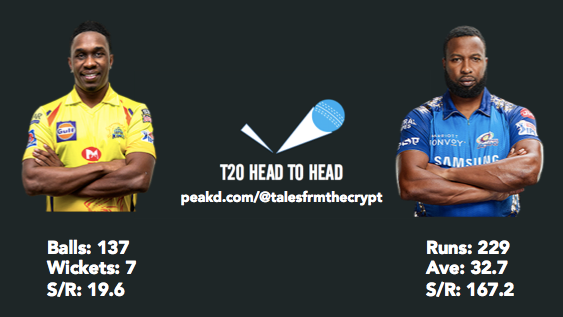 Bravo vs Pollard T20 head to head
Whether they will be playing many more for their respective IPL franchises remains to be seen. Bravo has continued to deliver wickets during the middle and death overs for CSK (he has 11 wickets at the death this year, equal most in IPL 2022) but it remains to be seen whether CSK feel that's enough going forward. Was he really injured when he missed a couple of games earlier this year or were CSK just looking at other options?
Meanwhile, I've already highlighted the batting woes of Kieron Pollard in previous posts. He has by far the worst strike rate of any batsmen in IPL 2022 to have faced 7 overs (42 balls) or more at the death and at times it's just been painful to watch him struggle for any kind of form this year.
| Batsman | Balls faced at the death | Strike rate |
| --- | --- | --- |
| KA Pollard | 79 | 126.6 |
| HH Pandya | 73 | 149.0 |
| RA Jadeja | 63 | 150.8 |
Lowest strike rate at the death in IPL 2022 (min 42 balls) - a few big names have struggled but Pollard is way off the pace contributing a run-rate of 7.6 during the final 5 overs

All stats used in this blog are from my own database which is freely accessible at T20 head to head. Images are my own with the exception of player profiles and background images which are used under a creative commons license or otherwise royalty free
---
---