IPL 2022 LSG vs KKR Preview - A Knight Riders defeat would dramatically increase the chances of a debut title for someone...
Key match stats LSG vs KKR
Pitch Stats – Maharashtra Stadium
Average first innings score: 173
Average first innings winning score: 180
Average powerplay score: 42
Win % batting 1st vs batting 2nd: 67% / 33%
Team form LSG vs KKR
LSG – WWWLL
KKR – WLLLL
Recent meetings: n/a
LSG vs KKR Preview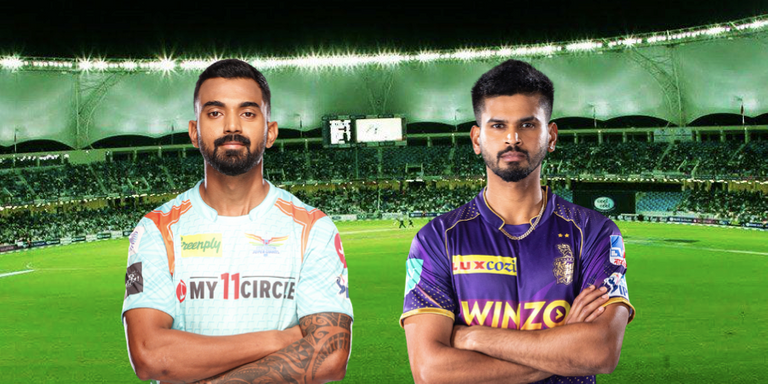 Whether it's nerves, complacency or simply the fact that the 10 squads involved in IPL 2022 are very evenly matched, it is turning into a bit of scramble to get into the playoffs now with a few of the sides who performed well in the first part of the season losing form at a crucial time.
The one exception to that so far are the Lucknow Super Giants who have managed to win their last 3 games and all of a sudden are presented with the opportunity to go top of the league here with a win over KKR.

What's been most impressive about those wins is that LSG have batted first in all 3 which will stand them in good stead for this match at the Maharashtra Stadium in Pune where getting first innings runs on the board has been the preferred method of victory this season.
Equally impressive is the squad depth that LSG have shown, particularly in their fast bowling stocks with the likes of Mohsin Khan and Jason Holder adding plenty of wickets to a side that could already call upon Avesh Khan and Dushmantha Chameera.
Mohsin in particular has added variety to an attack that has plenty of options with his left arm angle and extra bounce causing batsmen across the league plenty of problems. With the strike rate and average for pace bowlers being lower at this ground than any other used in IPL 2022 so far then Mohsin and his colleagues might fancy a few more wickets in this match.
| Venue | Strike Rate for fast bowling | Average for fast bowling |
| --- | --- | --- |
| Maharashtra | 19.0 | 25.3 |
| DY Patil | 19.8 | 26.9 |
| Wankhede | 20.9 | 29.2 |
| Brabourne | 21.8 | 32.1 |
Strike rate for pace bowlers by venue in IPL 2022
KKR meanwhile are hanging on by the tips of their fingers to the chasing pack thanks to their victory over Rajasthan. It's difficult to image that they'll be able to qualify for the playoffs though if they were to lose today with 8 wins looking likely to be necessary to claim a top 4 spot.
Defeat would also leave the 3 most successful teams in the history of the IPL adrift at the foot of the table and significantly increase the chances that this year a new name will be etched onto the trophy with Sunrisers and Rajasthan the only other teams to have been crowned champions in the past.
For KKR, a full post mortem will be necessary at some point but it's simply the fact that so many of their big names have failed to deliver that leaves them staring elimination squarely in the face. Ventkatesh Iyer, Varun Chakravarthy and Pat Cummins were all inked in as starters before the season began but now find themselves watching from the side lines as KKR continue to look for players to fill some sizeable holes in their playing XI.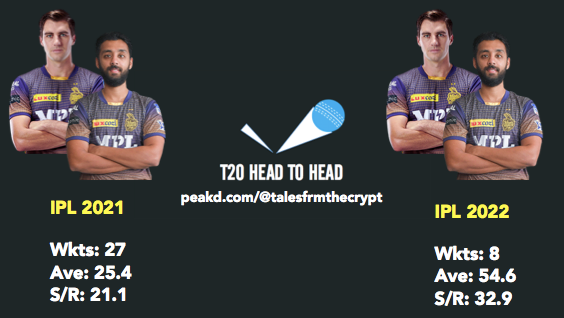 Cummins and Chakravarthy were key contributors to KKR's run to the final in IPL 2021 but have struggled this year
LSG vs KKR head to head
KKR bowling vs LSG batting
Even on a surface at the Wankhede that has provided some early movement for the seamers, KKR were keen to get their slower bowlers into the action early in their match against RR in an attempt to thwart the likes of Buttler during the powerplay and they might fancy their chances of pulling off something similar in today's match too.
KL Rahul is striking at exactly a run a ball in the powerplay against slow bowling so far this season, while Quinton de Kock clearly doesn't fancy the match-up against Sunil Narine.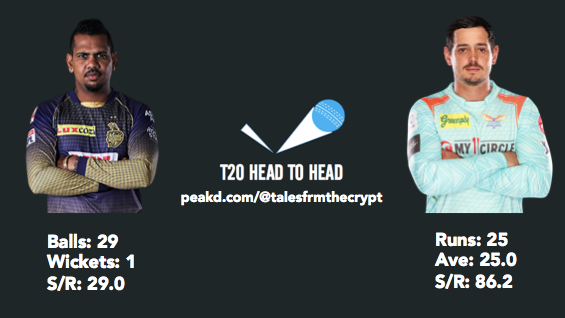 Narine vs de Kock T20 head to head
Limiting the LSG opening pair though is only half the battle, ideally KKR need to strike early and expose the softer underbelly of this Lucknow middle order which while jammed packed with all-round options is lacking that real credible batsman to right the ship should they suffer an early set-back.
This much can been seen from the stats below that clearly show, if you get both LSG openers out in the first half of the innings, your chances for victory are substantially increased!
| Opposition | Point at which KL Rahul and QdK both dismissed (over) | Result |
| --- | --- | --- |
| GT | 2.3 | Loss |
| CSK | 14.4 | Win |
| SRH | 18.1 | Win |
| DC | 15.6 | Win |
| RR | 15.3 | Loss |
| MI | 20.0 | Win |
| RCB | 7.6 | Loss |
| MI | 20.0 | Win |
| PBKS | 12.4 | Win |
| DC | 18.4 | Win |
LSG have won 7 out of 8 games in which at least one of the openers has batted into the 2nd half of the innings. They've lost on both occasions that sides have removed them before that point
Umesh Yadav seems the most likely option to do that early damage for KKR considering his form in the powerplay this season (9 wickets, most in IPL 2022). He also has a decent career average here in Pune and KKR will be hoping that he can perform for them again in this crucial fixture!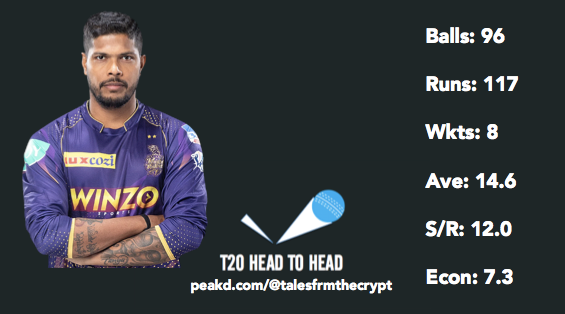 Umesh Yadav T20 career stats at the Maharashtra Stadium
LSG bowling vs KKR batting
It's getting increasingly difficult to predict who will play for KKR and exactly where they'll bat!
Despite the victory against Rajasthan last time out, KKR still managed to lose 2 wickets in the powerplay which has been par for them all season and were ultimately indebted to a brilliant innings for young Rinku Singh who looks like he might finally be given a chance to do more than just act as a substitute fielder.
The only KKR batsmen to show any signs of consistency this year is Shreyas Iyer but even then the Knight Riders skipper would have been hoping to deliver a couple more match winning knocks with just 2 half centuries to his name all season both of which have come in losing causes.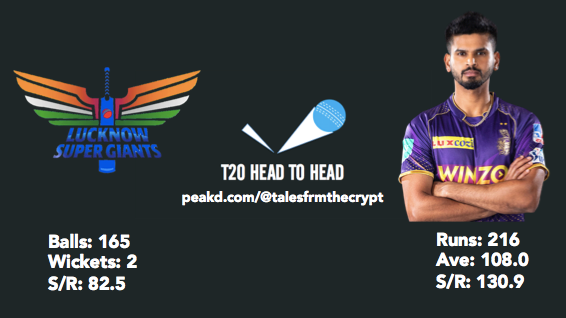 Shreyas Iyer combined T20 head to head stats against the current LSG squad
He does, however, have a pretty good record against the bowlers within this current Lucknow squad as the above graphic shows.
Keeping wickets in hand for the death overs is crucial at the Maharashtra. Powerplay scores have been lower here than at any other ground in IPL 2022 while only the Wankhede has seen sides accumulate more runs during the final 5 overs.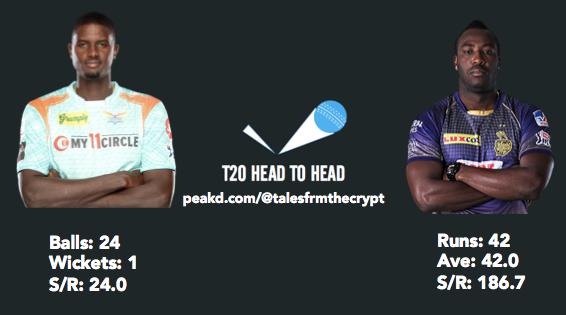 Jason Holder's match-up against fellow West Indian Dre Russell could be crucial at the death
KKR should know this from their previous visit here when a tricky looking pitch looked like it was going to lead to a close finish in their game against Mumbai Indians before Pat Cummins brutal half-century from 14 balls finished the game with 4 overs to spare. The Knight Riders have the resources to go big in the later stages but can their top order lay the platform?

All stats used in this blog are from my own database which is freely accessible at T20 head to head. Images are my own with the exception of player profiles and background images which are used under a creative commons license or otherwise royalty free
---
---