IPL 2022 MI vs KKR Preview - In form Mumbai look to continue late run against struggling Knight Riders
Key match stats MI vs KKR
Pitch Stats – DY Patil Stadium
Average first innings score: 168
Average first innings winning score: 185
Average powerplay score: 44
Win % batting 1st vs batting 2nd: 40% / 60%
Team form MI vs KKR
MI – WWLLL
KKR – LWLLL
Recent meetings: KKR won by 5 wickets
MI vs KKR Preview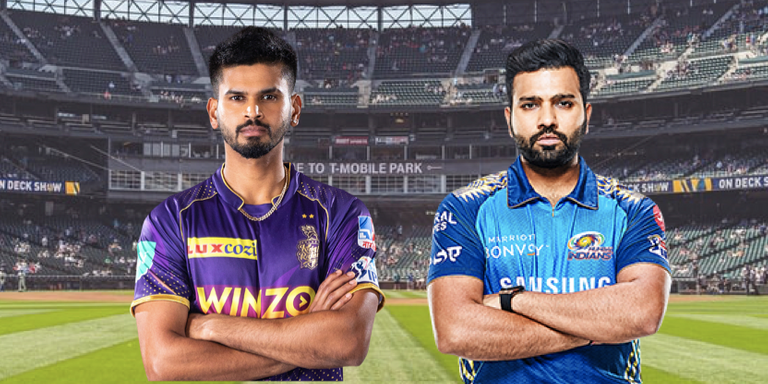 Mumbai Indians have finally found a bit of fight and form to at least put some points on the board this season.
In fact, had they have started the season as well as their opponents today KKR did then they'd be well in the fight now for a playoff place but while MI may be on the rise, the same can't be said for the Knight Riders who have come apart at the seams in recent matches particularly with bat in hand.
| Team | Average runs scored per match | Total 50+ scores by batsmen |
| --- | --- | --- |
| RR | 179.5 | 12 |
| LSG | 173.5 | 12 |
| CSK | 173.5 | 11 |
| GT | 171.8 | 10 |
| DC | 169.3 | 7 |
| PBKS | 166.5 | 8 |
| MI | 165.1 | 7 |
| RCB | 161.9 | 8 |
| SRH | 156.7 | 10 |
| KKR | 152.1 | 8 |
KKR have scored fewer runs per innings than any other team in IPL 2022
However, perhaps we shouldn't be too surprised about this stat given that even last season when KKR reached the final of IPL 2021, they did so by only scoring more runs in the round robin stage than today's opponents Mumbai Indians and bottom placed team Sunrisers.
Bowling has certainly been the Knight Riders stronger suit over the last couple of seasons but at venues which have generally favoured batsmen with pitches that have good pace and some relatively small boundaries, it was never likely to be enough to just hit par or even sub-par scores in IPL 2022 and expect to win enough games to break into the top 4.
It's safe to say that KKR will be doing some shopping for top order batsmen come the next auction while no doubt hoping that an end to bio-bubbles will allow them to play more games at venues that suit the strengths of the squad they've assembled.
As for MI, their win over GT showed what might have been! We know that they generally like to leave it late in tournaments to make their move but the last couple of seasons they've arrived at the party when only to find that the food has been cleared away and the guests returned home.

How do you solve a problem like MI's slow starts? Presumably it's purely psychological because when you look at all the relevant stats, MI didn't perform badly enough to lose 8 straight games and yet it never really felt like they believed they would win.
Beyond the psychological element. it's clear that the MI management is using these remaining matches to give a few players a chance to either stake a claim for more cricket in the coming seasons or indeed save their contracts.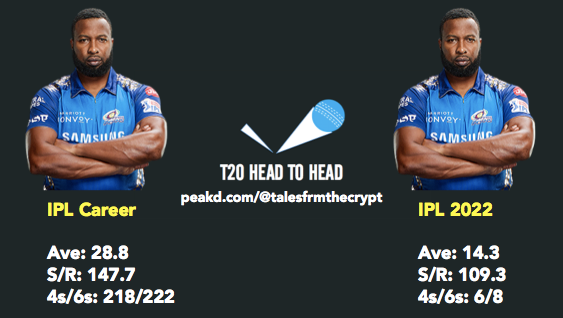 Pollard career IPL stats with MI who he joined for a then record fee in 2010 vs this season
One legend of the club who is presumably on very thin ice in that regard is Kieron Pollard who has had virtually no impact on IPL 2022 and looks like a walking wicket when he comes into bat.
With a large part of MI's problems this season coming down to how to balance their playing XI and with Tim David now starting to deliver the kind of late innings hitting that has previously been the domain of Pollard, then you wonder whether his long stint as an MI player is about to come to an end.
MI vs KKR head to head
KKR bowling vs MI batting
KKR missed their most effective pace bowler of IPL 2022 in the defeat against Lucknow last time out and we wait to see whether Umesh Yadav is fit to return from the calf-injury that ruled him out.
In his place, KKR do have Tim Southee who when selected this season has performed a number of roles for his side with great effect. We all know that he has the ability to swing the new ball but he's also been used in the middle and death overs and helped both limit scoring and take wickets in those phases too.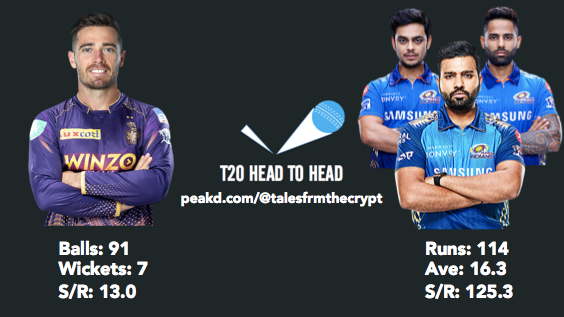 Southee combined head to head stats vs the MI top 3
In this match, he also has good match-ups against the entire top 3 of the MI batting line-up in Rohit Sharma (dimissed 4 times from 76 balls), Ishan Kishan (dimissed once from 1 ball) and Sky (dimissed twice from 14 balls).
In fact, Southee comes with an even greater threat on this DY Patil pitch where he has taken 7 wickets in 12 overs this season at an average of 11, strike rate of 10 and economy of just 6 and a half an over.
One of KKR's other key wicket taking options in IPL 2022 is Andre Russell who has taken 12 wickets this season and is striking once every 9 balls! One player on the opposition side that he's yet to dismiss despite having tried for a long time, is captain Rohit Sharma who looked in good knick in his side's victory over league leaders Gujarat Titans. Can he finally break his long drought and score an IPL 50 in this game?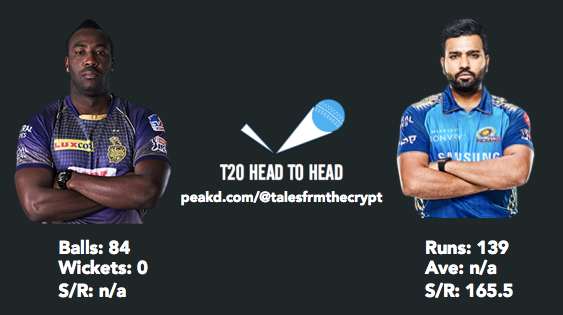 Russell vs Rohit Sharma T20 head to head
MI bowling vs KKR batting
One of the big debates for MI this season has been when to bowl Bumrah but with the fragility of this KKR top order you'd surely do well to get the ball out of his hand as he looks to add some wickets to what has been a fairly lean season up until now.
Shreyas Iyer has been the only player to show any kind of stickability in the KKR top order this season but his dismissal to short bowling against LSG won't have gone unnoticed by fast bowlers across the league and I think he can expect something similar from Bumrah and co. in this fixture. Shreyas though has played MI's champion bowler well in previous encounters as the below head to head stats show.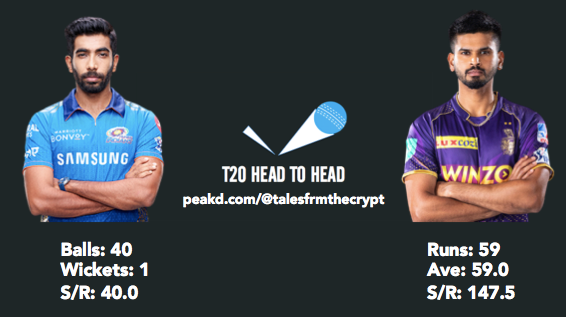 Bumrah vs Shreyas Iyer T20 head to head
Of course, the DY Patil pitch hasn't generally offered the kind of pace to allow quick bowlers to trouble batsmen in that way so a key factor for MI will once again be the bowling of their fairly inexperienced spin attack.
Kumar Kartikeya bowled a spell of 1 for 19 on his IPL debut at this ground but he'll come under pressure in this match from a variety of players with very good records against left-arm spin including Nitish Rana as shown below.
Nitesh Rana T20 career stats vs slow left-arm bowling
The favourable match-up for Kartikeya will almost certainly be against another young Indian cricketer just making his way in the IPL in Rinku Singh who strikes at just 89 against slow left-arm bowling.

All stats used in this blog are from my own database which is freely accessible at T20 head to head. Images are my own with the exception of player profiles and background images which are used under a creative commons license or otherwise royalty free
---
---