IPL 2022 RCB vs KKR Preview - Can RCB bounce back from PBKS defeat against the impressive Knight Riders?
Key match stats RCB vs KKR
Pitch Stats – DY Patil Stadium
Average first innings score: 150
Average first innings winning score: 164
Average powerplay score: 43
All-time win % batting 1st vs batting 2nd: 39% / 61%
Team form RCB vs KKR
RCB – L
KKR – W
Recent meetings: IPL 2021, KKR won by 4 wickets, KKR won by 9 wickets, RCB won by 38 runs
RCB vs KKR Preview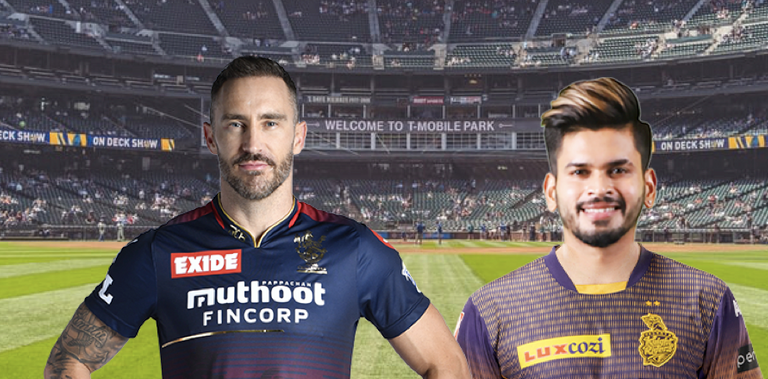 Things were looking rosey for RCB for much of their opening match against PBKS until a dropped catch and some ragged bowling allowed Odean Smith and co. to power PBKS over the line.
By contrast, KKR dominated their game against CSK pretty much from ball one. They'll be somewhat concerned that Dhoni was able to get after them at the death and that had Chennai had a better start then they might have been able to capitalise on Umesh Yadav and Shivam Mavi not being the ideal combination for the back end of the innings. Equally if they can keep delivering wickets up front then KKR know they have the quality in the spin department to really put the squeeze on sides in those middle overs which is exactly how it went in their opening match.
There is no doubt that coming off the back of a mega auction and with most sides fielding not just much changed XI's but also having new captains that franchises would love some early season form just to help everyone bed in.
Back to back defeats for RCB would hardly be terminal especially while they await the arrival of a couple of big name players but it might just raise a few questions about whether things might have been different had Kohli have been captain. Whether that is true or not is irrelevant, it's the fact that the former skipper's shadow looms so large over the club that might destabilise the new regime.
By contrast, Shreyas Iyer looked his usual cool calm and collective self when delivering the first of what KKR fans will hope is many victories to come. Again, it's still early days in this year's IPL but in a league as tight as this one then every point if not run counts and if KKR can take victories against 2 of the sides that they met in last year's playoffs then they'll feel mighty good about their chances of making it to that stage again in 2022.
RCB vs KKR head to head
KKR bowling vs RCB batting
All the pitches to date have had at least a bit of grass on them which is no doubt a result of it being fairly early in the season but also a move by the groundsmen to leave it there in the hopes that pitches will hold together for the duration of the tournament with some venues hosting 20 matches over the next 8 weeks.
The DY Patil pitch however saw the least amount of lateral movement especially in comparison to what we've witnessed at the Wankhede where KKR won their opening match and so it will be interesting to see how effective the likes of Umesh Yadav (his one and only outing here saw him return figures of 0 for 36) are on this pitch and whether the Knight Riders look to rebalance their side to include some more bowling resources.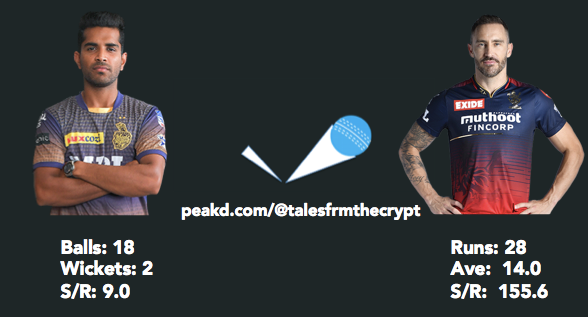 RCB were cautious early on in their innings against PBKS but Faf's record against Shivam Mavi suggests he's happy to take this KKR bowling attack on even if it has lead to his demise on a couple of occasions.
If RCB can get through those early overs as they did against PBKS then it will become a battle between their top order and the Sunil Narine + Varun Chakravarty combo that has worked so well for over the past 12 months.
For other franchises who have a single star spinner it's tempting for sides to simply play them out for 6 or 7 an over without allowing them to do too much damage but with KKR it's difficult to justify such an approach for 8 overs of an innings. Someone is either going need to take them on or go after the seamers from the off.
| Batsman | Bowler | Average | Strike Rate |
| --- | --- | --- | --- |
| Kohli | Narine | 45.33 | 99.27 |
| Du Plessis | Narine | 21.50 | 70.49 |
| Kohli | CV Varun | 20.00 | 83.33 |
| Du Plessis | CV Varun | n/a | 141.38 |
Kohli and Du Plessis career records vs KKR spinners
If the table above is anything to go by then it would appear that Du Plessis is more likely to target Varun Chakravarty than anyone else.
Of course the big miss in this regard for RCB is Glenn Maxwell who is well known for attacking slower bowlers. In his absence and if RCB decided that they really wanted to take the attack to KKR's spin twins then they could opt to promote a player like David Willey up the order to have a bit of a dash and unsettle the opposition's plans.
RCB bowling vs KKR batting
It'd be fair to say that the likes of Harshal Patel and Mohammed Siraj didn't have their finest day against PBKS on Sunday. In fact, Harshal Patel recorded the joint most wides bowled in an IPL innings (6) in trying to evade the swinging bats of the PBKS middle order!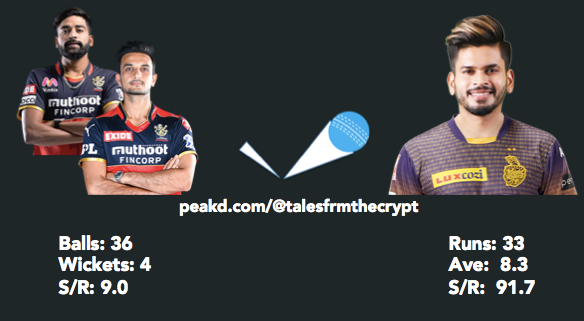 Siraj and Patel have both dismissed KKR skipper Shreyas Iyer twice before
Both will be hoping for better returns in this match and their respective head to head records against a couple of KKR's key batsman are positive.
There was also not a huge amount of swing on offer at the DY Patil Stadium so RCB may need to rethink the inclusion of David Willey who while offering a decent option in the powerplay doesn't have the necessary skill set for later in the innings.
On the flip side, will KKR need to rethink the inclusion of Ajinke Rahane if the pitch doesn't look like it will do much early on?
At the Wankhede, his technique at the top of the order helped KKR negotiate any early movement but if it's a flatter track do they need someone who is a little more dynamic?
Of course Aaron Finch is not yet available so it might be that KKR have to stick with Rahane at least for now and he'll be hopeful that he does better than the 7 ball duck that he achieved at this venue back in 2008, his first and only IPL appearance at the DY Patil to date.
At the back end of the innings, we wait to see the battle between Andre Russell and Harshal Patel. Russell was surplus to requirements in the first game but I'm sure if this is a higher scoring affair then KKR will be keen to get him in and how the RCB bowlers limit his power could be key to the outcome of this match.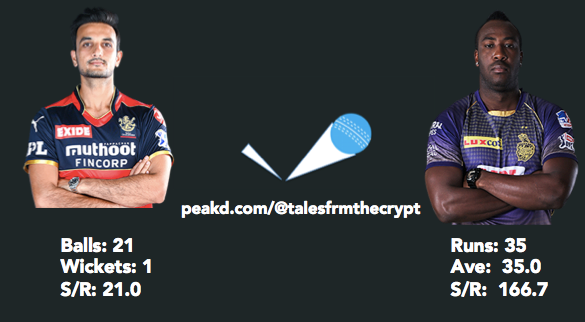 All stats used in this blog are from my own database. Images are my own with the exception of player profiles and background images from the below sources and used under a creative commons license or otherwise royalty free
https://www.iplt20.com/
https://pixabay.com/images/search/cricket%20stadium/
https://creativecommons.org/licenses/by-sa/2.0/deed.en
---
---