IPL 2022 - RR vs DC - Rajasthan with an opportunity to put clear daylight between themselves and 5th placed Capitals
Key match stats RR vs DC
Pitch Stats – DY Patil Stadium
Average first innings score: 170
Average first innings winning score: 185
Average powerplay score: 42
Win % batting 1st vs batting 2nd: 47% / 53%
Team form RR vs DC
RR – WLLWW
DC – LWLWL
Recent meetings: RR won by 15 runs
RR vs DC Preview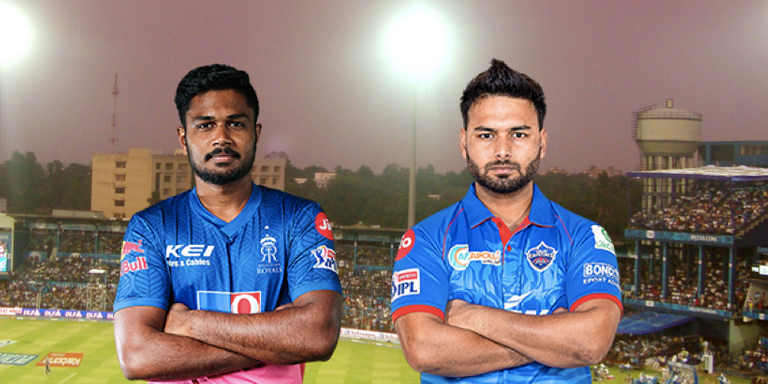 Rajasthan returned to winning ways in their game against Punjab Kings at the Wankhede and reestablished their playoff credentials.
That win came as a rare opportunity for the Royals to chase in an IPL 2022 game being as it was just the 2nd time this season that they've batted 2nd and the 1st time that they've secured victory in such a manner.
For the Capitals, this season continues to see their progress take one step forward followed by one back. They were comfortably out played by lowly CSK in what was the biggest defeat of any side this season (in terms of runs) and the 17th heaviest defeat in the history of the IPL full stop.
In fact, Delhi feature rather prominently on that list of biggest defeats which is perhaps not surprising given their struggles in the early years of the tournament but this was their heaviest loss since rebranding to the Capitals a move that as we've shown in recent posts coincided with them establishing themselves as one of the most consistent teams in the league.
| Margin of defeat | Opposition | Year |
| --- | --- | --- |
| 146 runs | Mumbai Indians | 2017 |
| 105 runs | Rajasthan Royals | 2008 |
| 98 runs | Mumbai Indians | 2010 |
| 93 runs | CSK | 2014 |
| 91 runs | CSK | 2022 |
Delhi's 5 heaviest defeats in terms of runs. In fact, 6 out of the 20 biggest defeats by runs in IPL history now belong to the franchise
I wouldn't usually pay much attention to the fairly redundant fair play award that the IPL holds every season but this year it is notable how far down the table DC are in relation to everyone else.
Of course in the last game between these 2 teams there was an incident in the final over when DC coaching staff entered the field of play to argue a no-ball call but in between that the Capitals conduct during games has also come into question with visible decent being shown by their players at a number of umpiring decisions.
Whether this is just a DC team trying to get itself going in what's been a very stop start season or whether it signals deeper levels of frustration with the way things are panning out for them this year remains to be seen.

Whatever, the case, this is a must win game for the Capitals. Mathematically they can lose and go through but I am going to stick to the prediction that 8 wins will be necessary to claim 4th. DC follow this match with fixtures against PBKS and MI so a late surge for the playoffs is by no means beyond the realms of possibility.
For Rajasthan, a victory would almost certainly nudge their net run rate up enough for them to retake 2nd spot while pretty much guaranteeing them at least a playoff spot. However, I'm sure they'll have their eyes fixed on the bigger prize of a top 2 finish with the Royals following this game with a crunch fixture against Lucknow Super Giants on Sunday that could well decide who goes through to the qualifier and who takes their chances in the eliminator.
RR vs DC head to head
DC bowling vs RR batting
The DY Patil is not a venue where either side has performed particularly well with just a solitary victory (Rajasthan's win over MI way back in match 9 of IPL 2022) the only success both have recorded in 5 visits to this stadium between them.
For DC, some of their key bowlers have taken some flack on this wicket and you wonder if they may need to revisit their options for this game.
| Bowler | Economy | Wickets |
| --- | --- | --- |
| A Nortje | 11.3 | 3 |
| Kuldeep Yadav | 11.1 | 2 |
| M Marsh | 10.1 | 1 |
| S Thakur | 10.1 | 1 |
| KK Ahmed | 7.0 | 2 |
| AR Patel | 6.8 | 0 |
| Mustafizur Rahman | 6.5 | 0 |
| Lalit Yadav | 5.3 | 0 |
DC bowling attack career T20 stats at the DY Patil
By in large, the DY Patil has favoured finger spinners and seamers who can take pace off the ball and when you look at the records of the DC attack here that seems to ring true. Could they look to bring either Lalit Yadav or Mustafizur Rahman back in for this game to provide more control?
In fact, DC opted to bowl Lalit Yadav in the powerplay against Rajasthan the last time these teams met and he did a good job of restricting Jos Buttler while the field restrictions were up (he bowled 4 balls in the PP vs Buttler and conceded just 3 runs). It's also been a popular option for all sides to try and limit the scoring of the Englishman early on.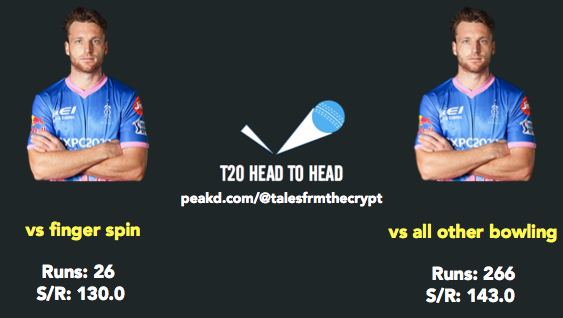 Buttler IPL 2022 powerplay stats vs finger spin and all other types of bowling
Of course limiting sides in the powerplay hasn't been a problem for DC all season regardless of who they choose to bowl. Instead it's been penetration in those early overs that has been lacking with the Capitals having the joint lowest number of wickets taken during the powerplay (13) alongside RCB ad bottom placed MI.
Kahleel Ahmed has claimed 4 of those wickets in the powerplay and you'd imagine his battle against the Rajasthan top order could be crucial.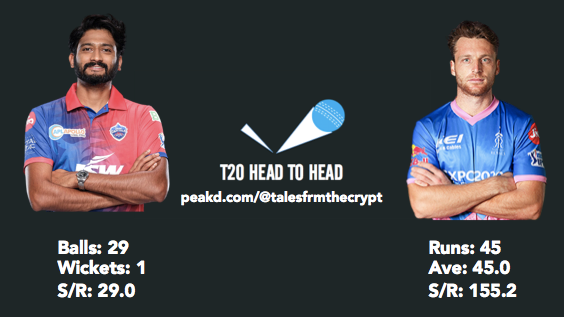 Ahmed vs Buttler T20 head to head
From a Rajasthan perspective, we wait to see whether they will continue with the out of sorts Devdutt Padikkal in an unfamiliar middle order role. In my opinion, the Royals should have brought Jaiswal back in a couple of matches ago and his inclusion as a more aggressive batsmen should help Buttler build an innings while not compromising the need for runs in the first 6 overs.
RR bowling vs DC batting
Without wanting to labour the point (you can view all player statistics by venue here), the Rajasthan quicks have suffered much the same fate as those of DC on this DY Patil wicket (see above) and that has resulted in Sanju Samson looking towards a 6th bowling option that has been a weakness of the Royals all season. In fact of the 37 balls bowled by a genuine 6th bowler (Parag, Mitchell and Jaiswal) almost half of them (18) have been necessary in the 3 matches RR have played here in Navi Mumbai.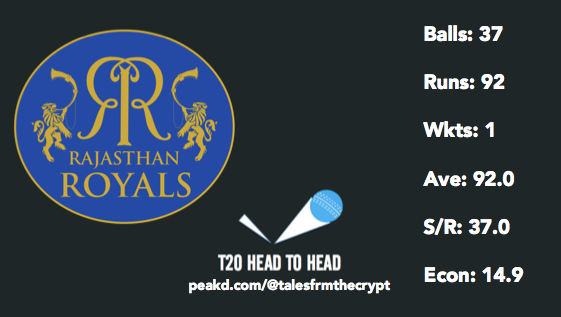 Bowling stats for Rajasthan's 6th bowling options throughout IPL 2022
Given that the one element of DC's play that has been consistent all season is the number of runs they are scoring in the powerplay, then it does suggest that if they can put early pressure on this Rajasthan attack that they could yet force Samson into bringing on one of those options again and past history suggests that there are some easy runs on offer if that's the case.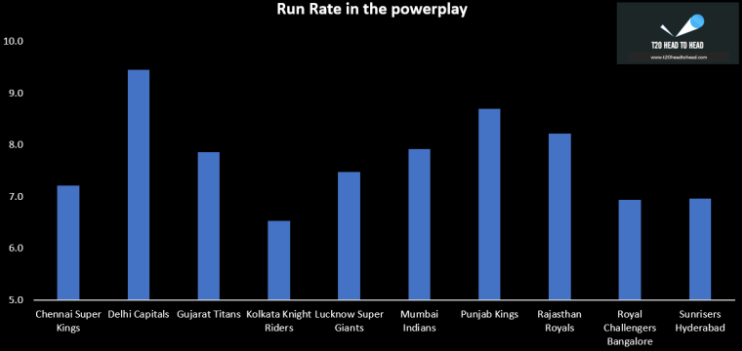 Run rate in the powerplay by team during IPL 2022
The big battle up front will undoubtedly be between 2 old pros of the game in Ravi Ashwin and David Warner. Ashwin's record in all cricket vs left-handers is excellent and so it's perhaps no surprise that he's dismissed Warner 5 times in previous T20 encounters. That being said, Warner's overall record in T20 cricket vs right arm finger spin is exceptional (ave 54, S/R 131) so no doubt there is a mutual respect between the pair.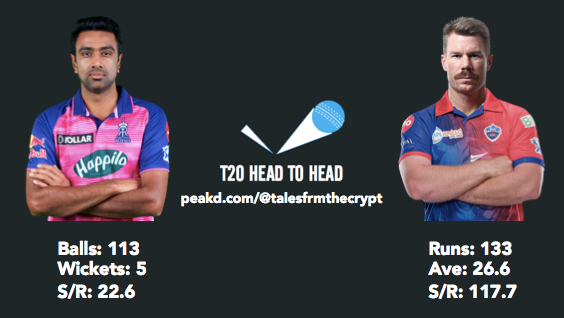 Ashwin vs Warner T20 head to head
When you consider that Warner arrived late to the IPL this year and yet has still managed to make 4 out of the DC squad's scores of 50+ in this year's tournament with 2 of the other struck by Prithvi Shaw who has not featured in the last 2 games then you begin to realise just how crucial his wicket is to the chances of the Capitals today.

All stats used in this blog are from my own database which is freely accessible at T20 head to head. Images are my own with the exception of player profiles and background images which are used under a creative commons license or otherwise royalty free
---
---