IPL 2022 RR vs KKR Preview - A chance for both sides to regain momentum
Key match stats RR vs KKR
Pitch Stats – Brabourne Stadium
Average first innings score: 185
Average first innings winning score: 195
Average powerplay score: 52
All-time win % batting 1st vs batting 2nd: 50% / 50%
Team form RR vs KKR
RR – LWLWW
KKR – LLWWL
Recent meetings: KKR won by 85 runs, RR won by 6 wickets
RR vs KKR Preview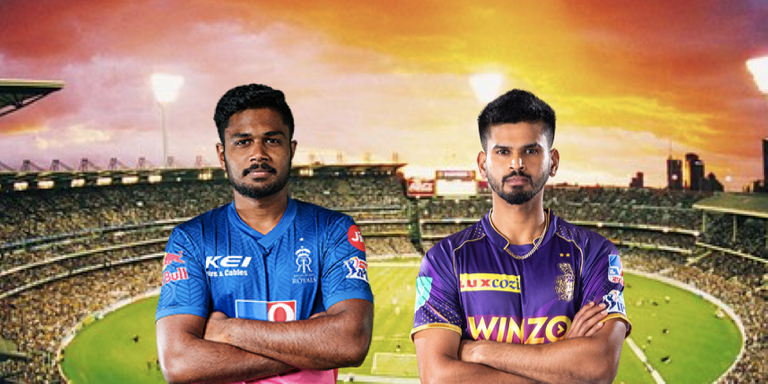 As we reach the 30 game mark in IPL 2022, it's that time of the season where enough cricket has been played to allow us to assess the performance of each side and know what their relative strengths and weaknesses are.
In the last preview of a Rajasthan game, I commented on the issues that the Royals have with their 5th bowling option and that problem was put under even greater scrutiny with the absence of Trent Boult during their defeat against Gujarat Titans.
The Royals were actually in a pretty good position in the early stages of that match thanks in large to some sloppy cricket from GT but they lacked the bowlers to really hammer home their advantage and the league leaders were ultimately able to rebuild and post a winning score.
Boult's injury was described as a "freaky niggle" by double R captain Sanju Samson and the fact that he was sat on the side lines rather than in the treatment room does suggest he won't be absent for long which is great news for the Royals who know a win would get their playoff push back on track.
The same can be said of Kolkata Knight Riders who after a good start have lost 2 on the bounce and whose top order are struggling to make any kind of impact on games at the moment.
| Opposition | Over | Score |
| --- | --- | --- |
| CSK | 11.4 | 87 |
| RCB | 5.5 | 44 |
| PBKS | 6.4 | 51 |
| MI | 9.5 | 67 |
| DC | 11.4 | 107 |
| SRH | 4.3 | 31 |
KKR score and point of the innings when 3rd wicket fell
Certainly the strength of their bowling attack and late order means they'll always have a chance but particularly on a pitch like the Brabourne Stadium, runs on the board are a must and KKR's effort of 175 last time out at the same venue was at least 15 runs shy of a par score.
Aaron Finch came into the side for that game with Sam Billings unwell and it will be interesting to see if they stick with the more aggressive Aussie at the top of the order or revert to Rahane with Billings coming into the middle order.
One of the big disappointments for KKR this season is the form of Venkatesh Iyer at the top of the order. He averaged over 40 last year, striking at just shy of 130, with 4 half centuries from 10 innings. So far this season he's averaging just 20, at a strike rate of a run a ball with one decidedly scratchy 50 against Mumbai to his name.
The conditions that he's finding in this season's IPL are very different from those at the back end of IPL 2021. There's been a conscious effort by the curators to maintain pace in the pitches and that means top order batsmen without much of a technique to rely (Venkatesh plays with his feet nailed to the crease) are struggling. Do KKR persist with him as an opener or do they need to look at alternatives?
RR vs KKR head to head
KKR bowling vs RR batting
Jos Buttler has been in sparkling form so far this IPL and it took a magnificent delivery from Lockie Ferguson to prevent him leading the charge against GT in the last match.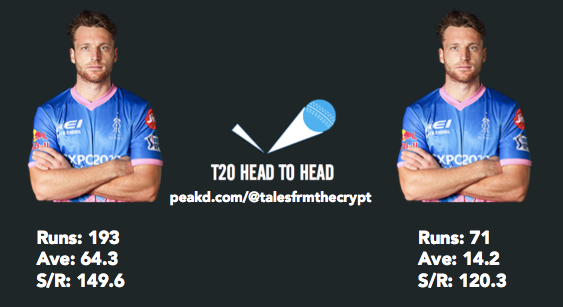 On the left, Buttler's career T20 stats vs KKR's primary seam options (Yadav, Southee, Cummins, Shivam Mavi and Russell) on the right, his career stats vs KKR's 2 spinners (Narine and Chakravarthy)
Again one of the key considerations will be how quickly do KKR bring spin in against him? Varun Chakravarthy can be an effective operator in the powerplay and has already dismissed Buttler twice in T20 cricket from just the 8 balls he's bowled at him. At the same time, Chakravarthy has come in for some tap these last couple of games with the Brabourne pitches offering little to no spin something that will also be a concern for Rajasthan and their dual spinners.
Shivam Mavi has played just a couple of games so far this season but given the lack of potency their attack has shown these last couple of games, might KKR consider recalling him? If nothing else he has freakishly good stats against Rajasthan captain Sanju Samson who himself is struggling to find top form this season.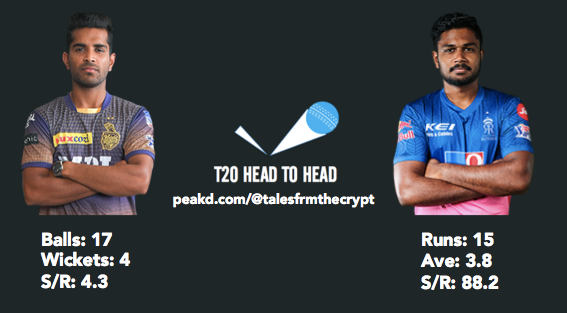 Shivam Mavi vs Sanju Samson T20 head to head
KKR have plenty of options with the new ball and through the middle overs but their weakness remains at the death. Presently they are conceding an average 11.7 runs an over in the final 5 but that stat is somewhat warped by Sunil Narine's economy of 5.2 in that phase of the game. He normally bowls the 16th over but if you take him out of the equation then KKR are being hit at 12.8 an over at the death.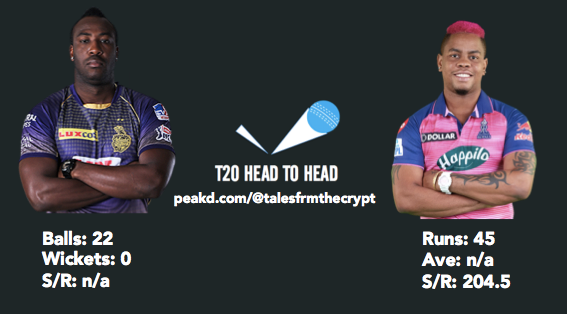 Russell vs Hetmyer T20 head to head
Andre Russell is one of KKR's go to guys at the end of an innings and Shimron Hetmyer will hope to get the kind of platform to launch an attack against him once again.
RR bowling vs KKR batting
In many ways the bowling attacks of these 2 teams are quite similar. Good wicket taking options in the powerplay, dual spin attack for the middle overs but not quite the specialists at the death.
If Rajasthan can put pressure on this faltering KKR top-order then those deficiencies are less likely to be an issue. If they can't and KKR lay a foundation then this is a pitch where 200+ looks very possible.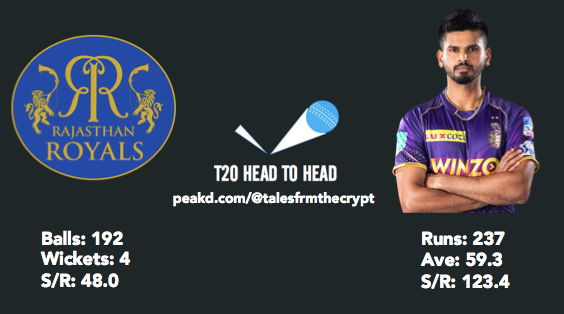 Shreyas Iyer combined T20 record vs current RR squad
Shreyas Iyer has looked in very good form so far this season without really making a major impact on matches. His record against this current Royals squad is very strong and he'll need to lead from the front if KKR are to get their season back on track.
The use of Yuzvendra Chahal's overs could also be key. Against a couple of KKR's middle order options in Nitesh Rana (dismissed 4 times) and Sam Billings (dismissed 3 times), Chahal has an excellent record. However vs Andre Russell he often travels the distance.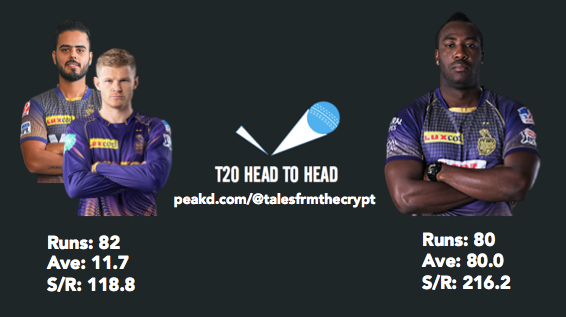 On the left, Chahal combined T20 record vs Billings and Rana, on the right, Chahal vs Russell T20 head to head
Given Russell's overall form so far in IPL 2022, might KKR be tempted to bring him in a little earlier than usual to try and exploit that match-up?
All stats used in this blog are from my own database. Images are my own with the exception of player profiles and background images which are used under a creative commons license or otherwise royalty free
---
---