IPL 2022 SRH vs DC Preview - Mid-table log jam means every run is crucial
Key match stats SRH vs DC
Pitch Stats – Brabourne Stadium
Average first innings score: 174
Average first innings winning score: 203
Average powerplay score: 53
Win % batting 1st vs batting 2nd: 36% / 64%
Team form SRH vs DC
SRH – LLWWW
DC – LWLWL
Recent meetings: IPL 2021 - DC won by 8 wickets, DC won by Super Over
SRH vs DC Preview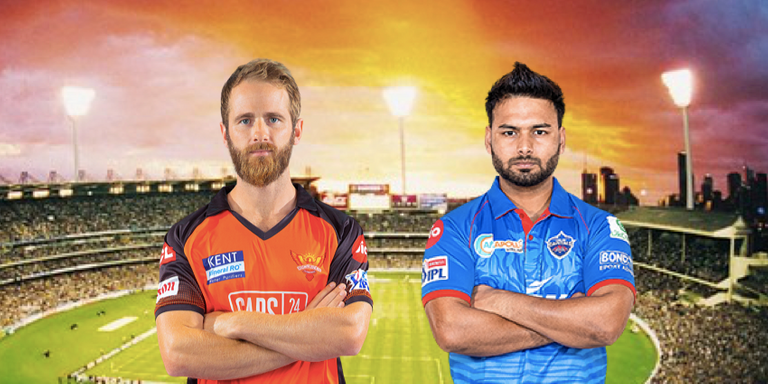 I'm writing this preview for Sunrisers vs the Capitals ahead of the big match between RCB and CSK this afternoon which could cause even greater congestion in the league table if it goes the way of the defending champions.
With 4 games left, 9 teams are still in with a realistic chance of qualifying for the playoffs with every single point if not run crucial to the outcome of the final league standings.
Sunrisers looked to be cruising towards one of those spots with 5 wins on the trot but that streak has been book ended by a pair of double defeats that now sees them looking nervously over their shoulders.
Meanwhile for DC, they just can't seem to get any momentum going in their season. On paper, they look like the complete package with the lack of a genuine pace bowler in their ranks due to the loss of Anrich Nortje the only real chink in their armour and yet they've failed to put together 2 wins in a row all season. That stat will have to change and change quickly if they are to reach the playoffs for a 4th season in succession!

The good news for them is that they are returning to a venue that has seen them win 3 out 3 this year with dominant performances over Punjab Kings, KKR, and Mumbai Indians at the Brabourne during April.
However, SRH have similarly enjoyed their time at the Brabourne with their pace attack finding appreciable swing to rip through the RCB top order on their last appearance here and a comfortable run chase against KKR prior to that.
The fact that SRH haven't been able to extract the kind of early movement that they did against RCB over their last couple of games has left their attack looking a little toothless at times. Umran Malik would of course disagree but the youngster is still in the infancy of his career and was given a lesson in pure timing and class by Gaikwad in his last encounter.
| Venue | Wickets taken by wrist spinners | % of total wickets |
| --- | --- | --- |
| Brabourne | 34 | 28.1% |
| DY Patil | 23 | 13.8% |
| Maharashtra | 22 | 15.8% |
| Wankhede | 17 | 16.2% |
Wrist spin has been effective at the Brabourne this season in comparison to the 3 other venues used for IPL 2022
The other factor that could prove costly for SRH is their lack of a wrist spinner. No other venue has seen wrist spin take more wickets or a higher percentage of total wickets than here at the Brabourne and so the availability of Kuldeep Yadav could tip the scales in favour of DC for what are otherwise 2 balanced attacks.
SRH vs DC T20 head to head
DC bowling vs SRH batting
In some of my pre-season analysis of the squads for IPL 2022, I suggested that to have any chance of making the playoffs, SRH would have to play at if not beyond what the numbers suggest they could achieve.
Abhishek Sharma pre-2022 stats vs this year
In Abishek Sharma, they have a player who since being promoted to open has done just that this season as his stats for this year vs previous IPL seasons show.
As hinted at above, SRH will need a good start in this match given the performance of Kuldeep Yadav and several other wrist spinners this tournament at the Brabourne Stadium (Chahal took 5 for 40 here against KKR the best bowling figures in T20 matches at the Brabourne).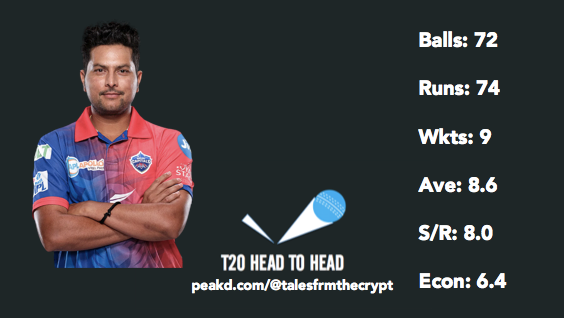 Kuldeep Yadav career T20 stats at the Brabourne Stadium
It's difficult to provide any stats on individual match-ups that Kuldeep might benefit from simply because most of this Sunrisers team haven't faced him in the past and that alone is an advantage to the left-arm Chinaman bowler whose action and angle of attack are unique.
In fact just 3 of the Sunrisers' top order have played against Kuldeep before with Kane Williamson averaging 26 vs Yadav and just 16 across his T20 career against all left-arm wrist spin. Meanwhile, Rahul Tripathi has unsurprisingly taken the aggressive route with a strike rate of 242 against Kuldeep (14 balls faced, 1 dismissal) although as pointed out before, Tripathi's record against left-arm spin in general is pretty lousy so we'll see how those stats might pan out across a larger sample size. Finally Nicolas Pooran has faced just 3 balls against Kuldeep and been dismissed once.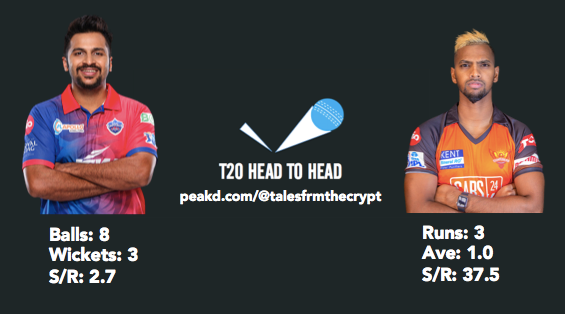 Thakur vs Pooran T20 head to head
Pooran found decent form in the run chase against CSK but couldn't quite get the support from the other end to pull off victory. In this game he'll be up against Shardul Thakur who just can't stop getting him out in T20 cricket!
SRH bowling vs DC batting
Will SRH continue with Marco Jansen in their side? On his last visit to the Brabourne he took 3 for 25 but since then has bowled 8 wicketless overs for 101 runs or to put in another way an economy of 12.6.
If the ball doesn't swing again then it'll certainly be a stiff challenge for the young South African against this ultra aggressive Capitals opening pair.
DC's run-rate in the powerplay is far superior to any other side in IPL 2022
One certainty is that Bhuvi will take the new ball and he will once again be crucial in limiting the opposition while the field restrictions are in place. He also has a favourable match-up against Shaw and Warner although for the later, the pair will have faced each other many times in the nets as former teammates.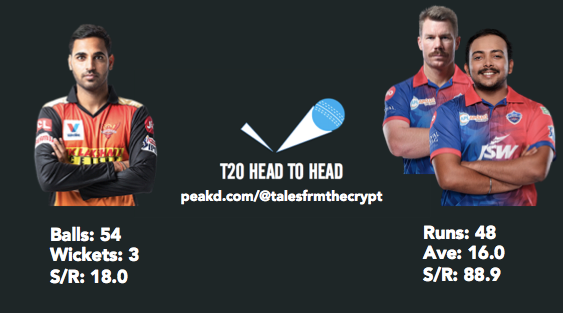 Bhuvi combined T20 head to head vs Shaw and Warner
In fact, as far as David Warner is concerned he could well have an axe to grind in this game as he takes on the side that sacked him midway through last season and then released him back into the auction. Going on numbers alone, you could argue that Warner is the greatest batsmen ever to grace the IPL.
He now sits fourth on the all time run scoring list (he overtook Suresh Raina earlier this year) and a score of 53 or more in this match would take him ahead of Rohit Sharma into 3rd place having played 59 fewer innings than the Mumbai captain.
He remains the only player to have scored more than 4000 IPL runs and maintained a career average of over 40 (KL Rahul will likely join him before the end of the season) and he has scored more half-centuries than any other player in the history of the IPL. Were SRH right to release him?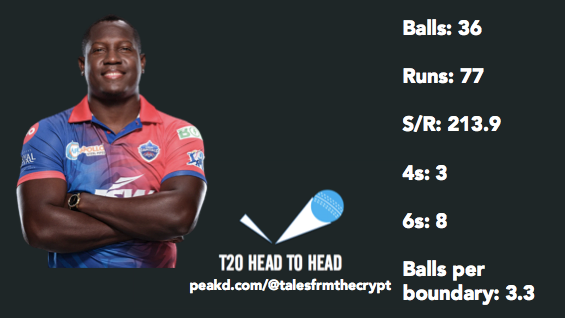 Powell death overs batting stats IPL 2022
Rovman Powell seems to have found a suitable role in this DC line-up following a tricky start to life in the IPL. His strike rate of 213 at the death puts him up there alongside the biggest hitters in the IPL this year and his battle against Natarajan who has now claimed 10 wickets during the same phase of the game this season could be crucial.

All stats used in this blog are from my own database. Images are my own with the exception of player profiles and background images which are used under a creative commons license or otherwise royalty free
---
---