IPL 2022 SRH vs LSG Preview - The men in orange look to bounce back
Key match stats SRH vs LSG
Pitch Stats – DY Patil Stadium
Average first innings score: 149
Average first innings winning score: 164
Average powerplay score: 43
All-time win % batting 1st vs batting 2nd: 37% / 63%
Team form SRH vs LSG
SRH – L
LSG – LW
Recent meetings: n/a
SRH vs LSG Preview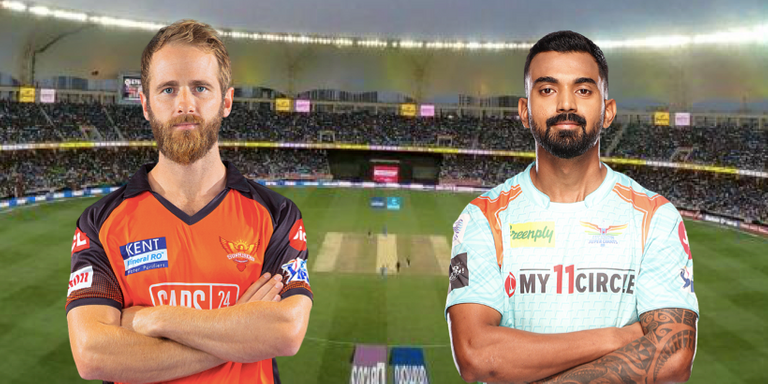 My pre-season analysis of the 10 squads competing in the IPL (you'll find them on my profile) suggested that it could be another difficult year for the Sunrisers and their capitulation against Rajasthan in their opening game did nothing to suggest otherwise.
That being said, SRH were at times their own worst enemy and who knows how things could have turned out had Buvi not overstepped in that first over and given Jos Buttler a life. IPL games are regularly decided by small margins and with this SRH side lacking both experience and confidence they need to ensure that they don't fall foul of anymore mistakes here if they want to get a first win on the board.
Continuing on the theme of small margins, Lucknow Super Giants were on the other side of some good luck in their inaugural win in the IPL. CSK dropping both Quinton de Kock and KL Rahul and then gifting them a big 19th over by bowling Shivam Dube went a long way to securing the victory.
However, taking full advantage when a team slips up is what the best sides do and LSG did just that in getting them a win that sets them up nicely for Monday's game against SRH.
We've been treated to some excellent pitches so far in the IPL with some early movement for the seamers off-set by good pace and bounce allowing for batsmen to hit through the line of the ball with confidence.
However, as the matches wrack up at the 4 venues being used during the round robin stage, it did look like the surface at the DY Patil Stadium used in Sunday's game between RR and MI was a little 2 paced. Certainly not a bad surface by any definition but perhaps not the road it was during the first week.
SRH vs LSG head to head
LSG bowling vs SRH batting
Venue wise, the relative inexperience of this SRH squad can be summed up by the fact that only Buvi has played an IPL fixture at the DY Patil Stadium in the past .
At the top of the order so much rests on the shoulders of captain Kane Williamson that once he was out cheaply in their chase against RR it really did feel that any slim hopes of a win evaporated and worse yet his side were ultimately restricted to the joint lowest powerplay score in IPL history.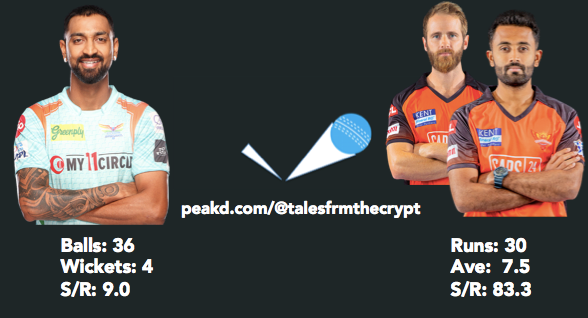 Pandya T20 record vs Williamson and Tripathi
There are a few key match-ups that LSG will look to exploit in this game. For example, if they can get the 2 right-handers in the SRH top order in then they'll almost certainly go immediately to Krunal Pandya who has dismissed both Williamson and Tripathi twice in previous games.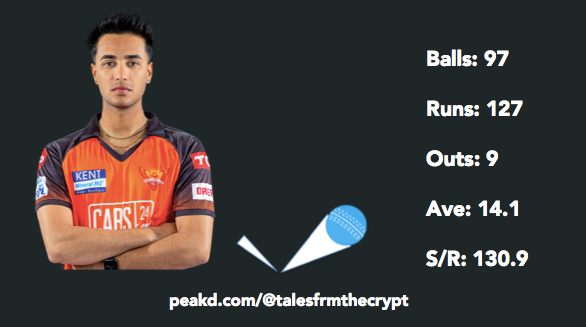 Abishek Sharma head to head vs right-arm fast medium bowling
Meanwhile Abishek Sharma has been promoted to the top of the order presumably to attempt to maintain that left / right combination but his record against right arm fast medium bowling is such that LSG and most sides around the league will feel confident of getting an early break through against him.
Similarly, Nicolas Pooran has a truly awful head to head record against Sri Lankan Chameera as demonstrated in the infographic below meaning that all in all LSG will feel confident of putting a struggling SRH top order under early pressure in this match.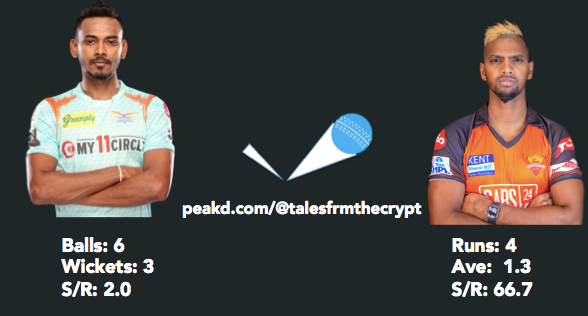 Pooran vs Chameera T20 head to head
The good news for LSG is that Ravi Bishnoi recovered quickly from being hit around by Rahul Tewatia in the opening game defeat and even a rampant CSK batting line-up couldn't get the young wrist spinner away.
LSG batting vs SRH bowling
SRH will be keen to try and exploit their own favourable match-ups but of course they'll need to break through LSG's star opening pair of Quinton de Kock and KL Rahul first. Buvi is definitely the man who'll be charged with doing just that but to date both de Kock and KL Rahul have at the very least blunted his impact restricting him to just one dismal each over their long T20 careers.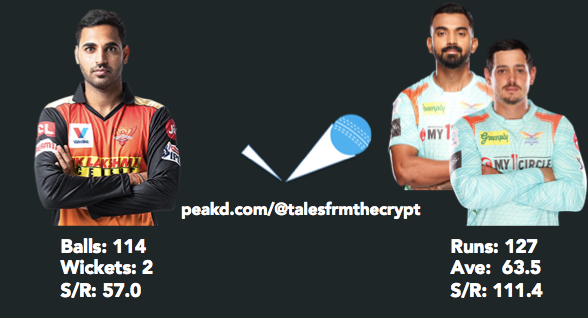 Buvi T20 head to head vs de Kock and KL Rahul
In fact, it's Buvi's record against the other LSG top order batsmen including Manish Pandey and Evin Lewis that is substantially better so if they can get one early wicket they'll be confident of putting LSG under pressure.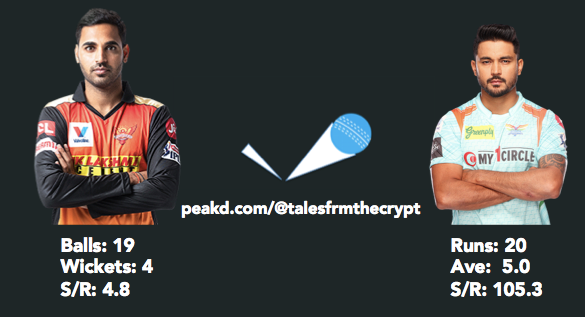 Buvi vs Pandey head to head
Without a real star wrist spinner to turn it both ways, SRH will be hoping to get their various finger spin options into positive situations. Washington Sundar would ideally be bowling to Quinton de Dock (career S/R vs Washington of 91.9) and Evin Lewis (dismissed twice by Washington in 31 balls) but actually his record against the LSG top order full-stop is fairly good.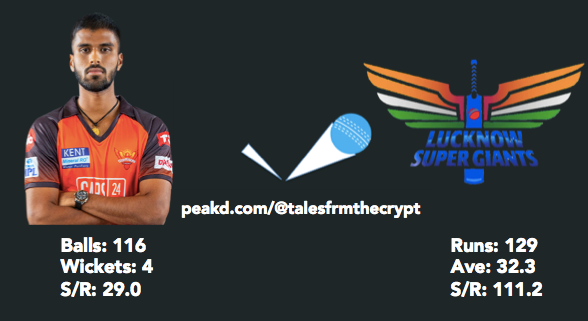 Washington Sundar head to head vs LSG top 4 batsmen (KL Rahul, de Kock, Lewis and Pandey)
As we've noted before this SRH bowling attack has a lot of steady performers but the real x-factor is provided by young Umran Malik. It'll be a challenge for him against some high class players of fast bowling and just like in his previous match he might go for a few runs but it does look like the SRH management is happy to sacrifice that for his wicket taking abilities as both Devdutt Paddikal and Jos Buttler discovered last week.
All stats used in this blog are from my own database. Images are my own with the exception of player profiles and background images from the below sources and used under a creative commons license or otherwise royalty free
https://www.iplt20.com/
https://pixabay.com/images/search/cricket%20stadium/
https://creativecommons.org/licenses/by-sa/2.0/deed.en
---
---