IPL 2022 SRH vs RR Preview - This year's dark horses go head to head
Key match stats SRH vs RR
Pitch Stats – Maharashtra Stadium
Average first innings score: 169
Average first innings winning score: 186
Average powerplay score: 48
All-time win % batting 1st vs batting 2nd: 33% / 66%
Team form SRH vs RR
SRH – n/a
RR – n/a
Recent meetings: SRH won by 7 wickets, RR won by 55 runs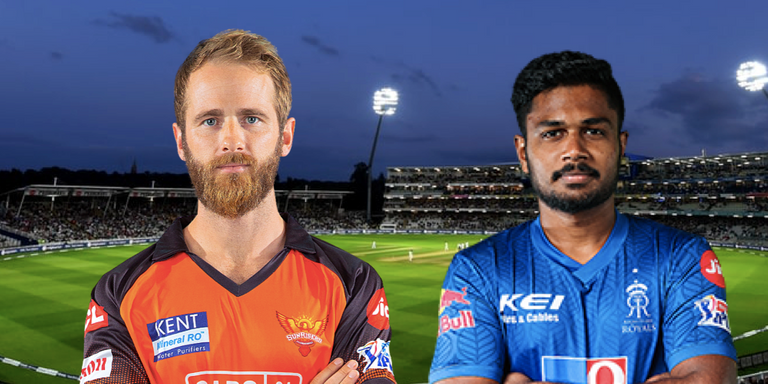 SRH vs RR Preview
The final game in the opening round of IPL 2022, pits 2 of the tournaments unfancied sides in Sunrisers Hyderabad and Rajasthan Royals against one another. To be honest, the tag of dark horses won't bother either franchise that much, they've been written off before and they've still managed to defy the odds to have great success in the IPL.
That being said, Sunrisers are coming off the back of a terrible IPL 2021 where everything that could possibly go wrong did go wrong. Unsurprisingly, it lead to a clear out of many of the big names that had been at the core of their playing XI for several years including of course former captain David Warner and star spinner Rashid Khan.
During the auction, Sunrisers stayed true to many of their young rising stars while opting to add some lesser known international players into the mix. In my pre-season analysis of the relative strengths and weaknesses of each franchise, Sunrisers consistently came towards, if not at, the bottom of the pile so this is a group of players that will need to gel very quickly and begin to perform beyond expectation levels if they are to mount a serious challenge for a play-off spot.
Rajasthan Royals meanwhile look to have had a far more successful auction. It'd be fair to say that their season last year was disrupted by losing the likes of Jofra Archer and Ben Stokes but there were also some glaring holes in the make-up of the side that needed to and generally have been filled.
They look to have assembled a side with a good balance to it both in regards to the type and experience of player on show. Young stars like Jaiswal and Parag will be joined by Devdutt Padikkal and Pradish Krishna while they've also got the experience of Ravi Ashwin, Trent Boult and Yuzvendra Chahal to come in alongside captain Sanju Samson and Jos Buttler.
For too long, Rajasthan Royals have been dependant on those last 2 names to win them matches on their own but this year you sense that they have enough around their star batsmen to really make an impact and at the very least be in the hunt for a play-off place right up until the end of the season.
The game between SRH and RR will be the first to be held this season at the Maharashtra Stadium which while not having been used in the IPL for the last few years does have a reasonable amount of historical data to draw upon. So far the first 3 matches in IPL have produced wins for the sides batting second, although you might argue one or both of Mumbai and Bangalore should have bucked that trend on Sunday.
If previous results at Maharashtra are anything to go by then this too is a venue where you want to bowl first given that 2/3 of the IPL games played here have ended with a victory for the side chasing!
SRH vs RR head to head
RR bowling vs SRH batting
One player that I think SRH have done well to bring to the franchise is Rahul Tripathi who has plenty of experience at this level. Despite being around for a while he's never been able to tie down a regular spot or role in any of the franchises that he's been at before but perhaps he can finally find a place at one here. While he might not be a star name, he is certainly a competent and selfless batsman and his record at the Maharashtra Stadium is also strong averaging 36.6 with a S/R of 141.9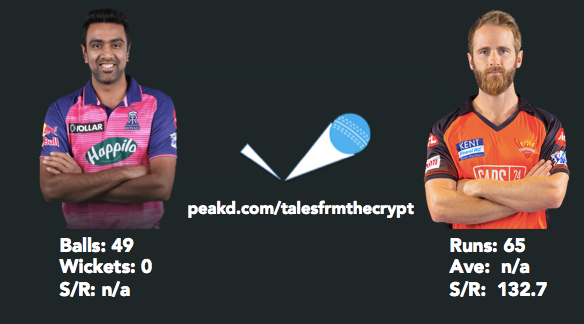 Ashwin vs Williamson head to head
Of course, the other key man in SRH's top order is very much the captain Kane Williamson who will be hoping that he'll be able to maintain his form and fitness across the course of the season. His record against slow bowling in this form of cricket is very strong in general but he also good head to head stats vs both Chahal (average 37.3) and Ravi Ashwin who is yet to dismiss him in T20 cricket.
In fact, Ashwin has a fairly miserable record at this stadium and he could be a bowler that SRH choose to target in order to ensure that Rajasthan have to rely more on their back options to get through the overs.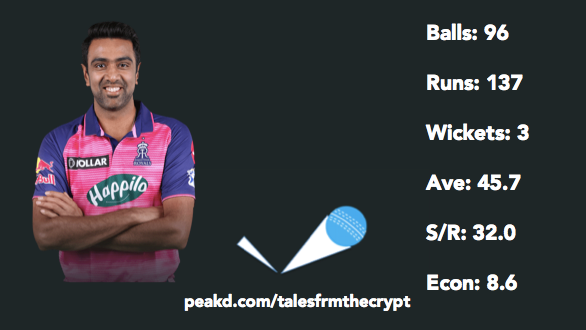 Ashwin has been largely ineffective on this pitch in the past
Another SRH batsman with a strong record against spin is Nicolas Pooran (he has a strike rate of 182.5 vs Chahal) but while he likes to go after the slower bowling, his vulnerably against pace has been exposed in the past by a couple of the quicks on Rajasthan's roster. Whether either McCoy or Saini (both have dismissed him 3 times in T20s) play will depend on how the Royals choose to balance their side but regardless of who starts, expect Pooran to be greeted with some hostile bowling when he comes to the crease.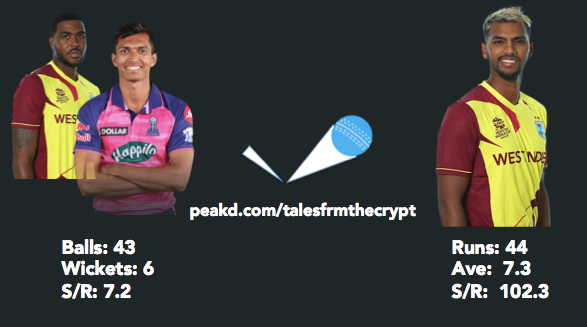 Pooran's combined head to head records vs McCoy and Saini
RR batting vs SRH bowling
For Rajasthan, Jos Buttler does have some form at this venue with an average of 43.5 and strike rate of 164.2 from his 3 previous innings at the Maharashtra Stadium.
His ongoing battle against Buvi could go a long way to helping decide this match with the Indian seamer so far having the better of their previous encounters as seen from the head to head stats below. In fact, Buvi also has a pretty good record against another one of Rajasthan's overseas stars in the form of Shimron Hetmyer who he's limited to just 23 runs from 27 balls faced (strike rate 85.2).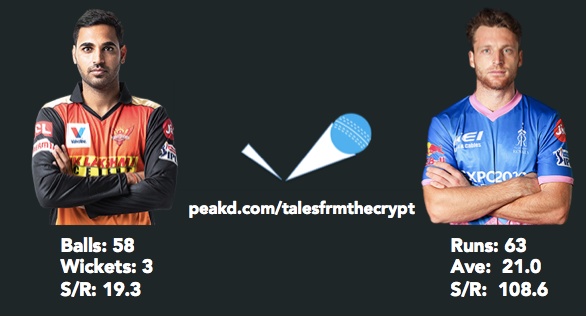 Buvi vs Buttler head to head
While Buvi and a few others in orange are very good defensive bowlers, you do worry whether their attack lacks a cutting edge and a bit of x-factor about it. A lot of hope is going to be pinned on young pace bowler Umran Malik after some impressive spells late on in the 2021 tournament otherwise SRH might be looking to Rajasthan old boy Shreyas Gopal to keep the wickets flowing throughout the middle overs. Gopal did enjoy his one previous outing at this venue as the stats below show.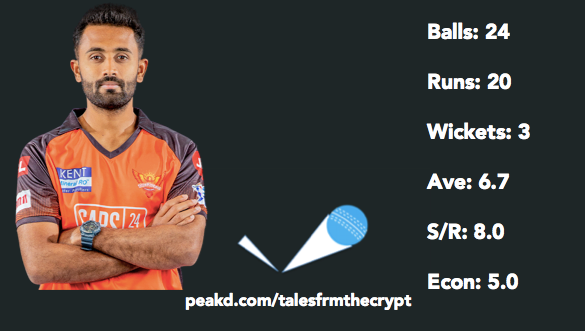 Shreyas Gopal's record at this venue
All stats used in this blog are from my own database. Images are my own with the exception of player profiles and background images from the below sources and used under a creative commons license or otherwise royalty free
https://www.iplt20.com/
https://pixabay.com/images/search/cricket%20stadium/
https://creativecommons.org/licenses/by-sa/2.0/deed.en
---
---