IPL 2023 CSK vs SRH Preview - Free scoring Chennai looking to return to the top of the pile
Key match stats
Pitch Stats – MA Chidambaram Stadium
Average first innings score: 163
Average first innings winning score: 174
Average powerplay score: 47
Win % batting 1st vs batting 2nd: 59% / 38%
Team form CSK vs SRH
CSK: WLWWL
SRH: LWWLL
Recent meetings: IPL 2022 - CSK won by 13 runs, SRH won by 8 wickets
Preview CSK vs SRH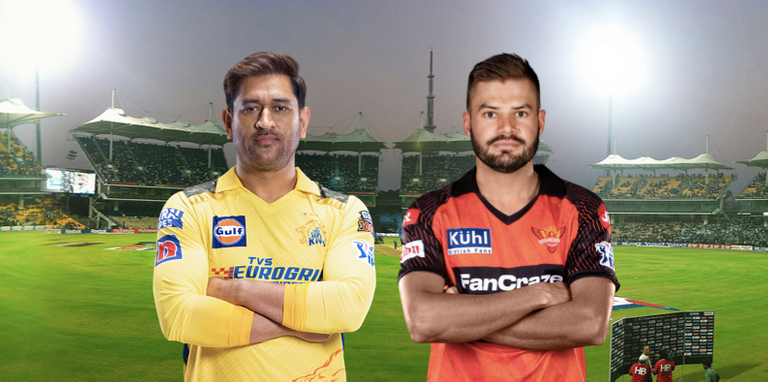 Sunrisers are back on the road with a trip down to Chennai following another abject performance at home. It never really felt like they were in control of their most recent match against a Mumbai team that is short of most of its first choice bowling attack, a problem similar to their hosts today in CSK.
By contrast, Chennai come into the game fresh off their huge total in Bangalore in front of an amazing crowd and knowing that a win in this game would take them level on points at the top of the table.
They too suffered a defeat at home in their previous match although that came against a far more organized and coherent Royals side and so despite their ongoing injury crisis CSK will feel confident that they can return to winning ways in Chepauk.
In fact, I'd imagine that the CSK team while still buzzing from that win against RCB, will remember the stinging criticism that MS Dhoni dished out to the batsmen following that match against Rajasthan. There is enough experience in the Super Kings squad to suggest that they can continue the form they showed with the bat in their last match and be a contender this season.
Cast your mind back to this time last year and CSK were all but out of the reckoning with most facets of their game failing. This year, it's very much been the top order batsmen who have come to the fore as their powerplay batting stats show below.
| Batsman | Powerplay runs | Powerplay Strike Rate |
| --- | --- | --- |
| Rahane | 100 | 222.2 |
| Gaikwad | 89 | 145.9 |
| Conway | 63 | 110.5 |
CSK top order IPL 2023 powerplay batting stats
In Gaikwad, Rahane and Conway they have top order batsmen who are able to consistently get the team off to a flying start and enough depth in their batting thereafter to really push home their advantage.
Pre-season, you would have gotten pretty long odds on Ajinke Rahane having the best powerplay strike rate in the IPL at this stage of the campaign but he is proving a revelation for the men in yellow this season and a welcome bonus when you consider the key players in their squad who continue to struggle for fitness.
By contrast, Sunrisers batting performances have been patchy. Tripathi and Brook have both played match winning innings and then delivered very little in between while the remaining batsmen have contributing nothing beyond the odd cameo.
In terms of the bowling, it was interesting to see that SRH only went in with 5 options for their most recent defeat against MI whose batsmen picked their moments and match-ups to ultimately post an above average score which the Sunrisers were never in control of during their chase.
I can't imagine that against such a strong batting line-up as CSK and on a pitch where the first innings score so far this season is 190+ that the Sunrisers will make the same mistake again!
| Statistic IPL 2023 | Spin at MA Chidambaram Stadium | Pace at MA Chidambaram Stadium |
| --- | --- | --- |
| Economy rate | 7.8 | 9.7 |
| Strike rate | 14.8 | 25.1 |
| Average | 19.3 | 40.7 |
MA Chidambaram Stadium IPL 2023 pitch statistics
The pitch at the MA Chidambaram Stadium has so far looked very good for batting while conversely pace bowling has been smashed around with relative ease. Spinners have had more success in limiting scoring on this wicket which has been the case historically in Chepauk so I'd imagine we'll see 2 teams with plenty of slow bowling options going into this match.
CSK vs SRH head to head
SRH bowling vs CSK batting
The MA Chidambaram has not been a venue where Sunrisers bowlers have historically had much penetration. Bhuvi has been coming to this ground since 2012 and in those 8 matches has taken only 6 wickets at a an average of close to 40. He has also never dismissed either of CSK's openers in T20 cricket before but he does have an excellent records against his former international colleague Ajinke Rahane.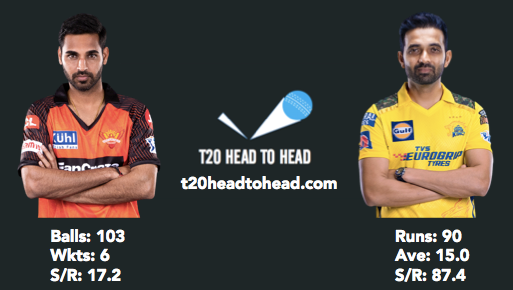 Bhuvi vs Rahane T20 head to head
Umran Malik was left out of the Sunrisers XI for the game against Mumbai presumably because conditions favoured having the extra spinner. It might well be that the pitch is similar for this game but without Malik in their side, SRH lack that x-factor in the middle overs who could possibly have gotten them a much needed wicket.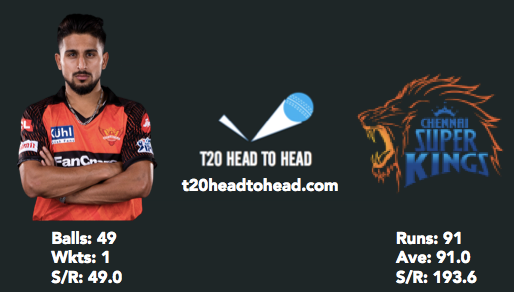 Umran Malik T20 head to head vs current CSK squad
However, the quick bowler was played with relative ease by the CSK batsmen last season who took him for 77 runs from 7 wicketless overs. The only CSK batsmen that Umran Malik has dismissed in previous T20 meetings is Ajinke Rahane while he was playing for KKR last year.
| Statistic | vs CSK right-handers | vs CSK left-handers |
| --- | --- | --- |
| Wickets | 6 | 3 |
| Economy | 8.1 | 9.3 |
| Strike rate | 7.2 | 17.0 |
Natarajan T20 head to head vs CSK left-handed and right-handed batsmen
Natarajan had a disappointing game against Mumbai but it's noticeable that his head to head vs CSK's right-handed batsmen is significantly better than against their left-handers. CSK have the depth in their batting and plenty of left-handers to ensure that they can keep the match-up in their favour and look to exploit those death overs that Natarajan will bowl.
CSK bowling vs SRH batting
The only Sunrisers batsmen who has tasted success playing in Chennai is Rahul Tripathi and given the nature of the surfaces here, they'll need him to help them get off to a fast start before the pitch begins to slow and the spinners come increasingly into the game. Tripathi scored 53 from 29 balls here against KKR at the very start of the 2021 IPL season.
Tripathi IPL batting record at the MA Chidambaram Stadium
In an earlier blog, I mentioned that it looked like SRH might have found a solution to firstly their lack of left-handers and secondly their poor play against spin.
| Batsman | Average vs left-arm spin | Strike Rate vs left-arm spin |
| --- | --- | --- |
| Agarwal | 26.1 | 122.8 |
| Abhishek Sharma | 19.3 | 126.1 |
| Markram | 18.9 | 132.8 |
| Tripathi | 18.2 | 117.4 |
| Brook | 33.5 | 131.4 |
SRH likely top 5 batsmen T20 career stats vs slow-left arm bowling
That theory looks likely to be tested to the full in this game with CSK lining up with 3 frontline spinners including the left-arm of Ravi Jadeja who might prove difficult to score against for a few of the Sunrisers batsmen.
---
All stats used in this blog are from my own databases which are freely accessible below
IPL head to head player stats
IPL player stats by venue
IPL stadium statistics.
Images are my own with the exception of player profiles and highlights within GIFs which are not intended to infringe copyright- read full disclaimer. Background images are used under a creative commons license or otherwise royalty free.
---
---