IPL 2023 GT vs CSK Preview - The Qualifier

Key match stats
Pitch Stats – MA Chidambaram Stadium
Average first innings score: 168
Average first innings winning score: 186
Average powerplay score: 55
Win % batting 1st vs batting 2nd: 43% / 57%
Team form GT vs CSK
GT: WWLWW
CSK: WLWWN
Recent meetings: GT won by 5 wickets
Preview GT vs CSK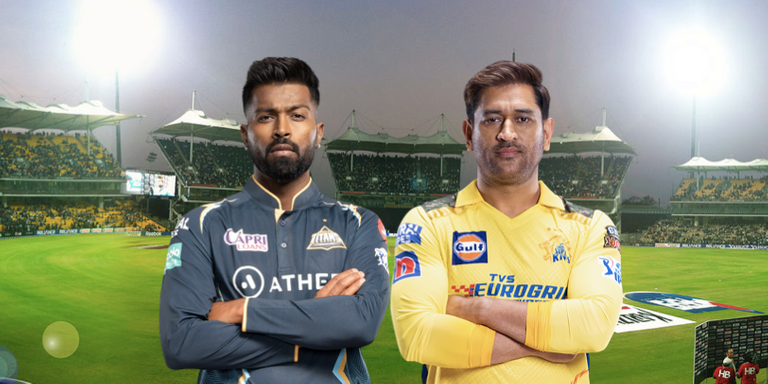 It's the 2021 champions and one of the most successful franchises of all-time against the 2022 champions and a new force within the IPL, for a place in this year's final.
This match also sees us travel full circle with the opening fixture of IPL 2023 being contested by these 2 sides. GT won that game as they have done the 3 times that these 2 franchises have met in the IPL so far.
| Season | 1st innings | 2nd innings | Result |
| --- | --- | --- | --- |
| 2022 | CSK 169/5 | GT 170/7 | GT by 3 wkts (1 ball remaining) |
| 2022 | CSK 133/5 | GT 137/3 | GT by 7 wkts (5 balls remaining) |
| 2023 | CSK 178/7 | GT 182/5 | GT by 5 wkts (4 balls remaining) |
Previous results GT vs CSK
On all 3 occasions, CSK have batted first and every time the Titans have chased down their score in the last over. Of course, we know that this GT side loves to bat 2nd. They've won 6 out of 8 games chasing this season having won 8 out 9 in IPL 2022.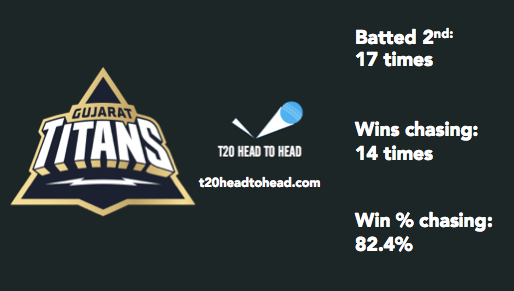 GT performance when batting 2nd in the IPL
So does this mean that if CSK get the chance that they should put GT into bat first? Well not necessarily. While the sides have met 3 times before over the last 14 months, none of those fixtures have taken place here in Chepauk and if the Titans are the specialists at chasing, then CSK are very much the specialist at defending a score on their home ground as the stats below show.
| Overall win% | Batting 1st win % | Batting 2nd win % |
| --- | --- | --- |
| 69.8% | 73.5% | 64.0% |
CSK IPL record at the MA Chidambaram Stadium
Still it will be interesting to see what kind of wicket is prepared for both this game and the eliminator match on Wednesday.
The stats above only tell part of the story of the way the pitches have played here in IPL 2023. In the first half of the tournament we saw an average first innings score here of in excess of 180 with 4 totals of 200 or above. In the last few games however, that average score has dropped to 150 and it looks much more like the pitches we are used to seeing here at the MA Chidambaram Stadium which more often than not will see sides posting 160-170 winning the game.
GT vs CSK head to head
CSK bowling vs GT batting
Given their injury problems this season, CSK have done well to put together a functioning pace attack which now looks capable of taking wickets throughout the innings.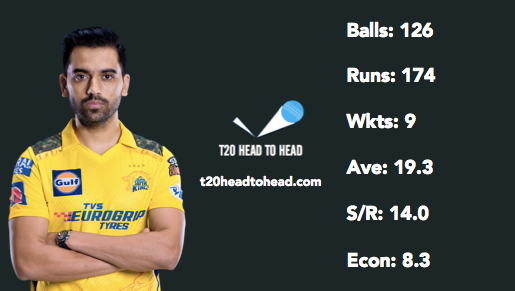 Deepak Chahar powerplay bowling stats IPL 2023
The return to form and fitness of Deepak Chahar has come at a crucial time for the Super Kings. His 9 powerplay wickets have come at a strike rate of exactly 14 which is the best record in IPL 2023 of any bowler who has bowled 10 or more overs in that phase of the game.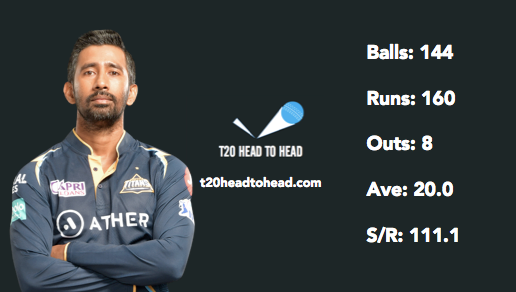 Saha IPL record at the MA Chidambaram Stadium
I noted during a preview around the midway point of the season, that Wriddhiman Saha looked like a bit of a weak link for this GT team. He responded with a couple of good scores but in his last 3 innings has made a total of just 14 runs. When you consider that the other 3 openers in this fixture have all passed the 500 run mark for the tournament then his 287 runs in IPL does pale in comparison and his record at this ground doesn't suggest that he'll find it any easier today.
In fact, the MA Chidambaram Stadium hasn't been a happy hunting ground for any of Gujrat's batsmen in the past as the figures below show.
| Batsmen | Ave at the MA Chidambaram Stadium | S/R at the MA Chidambaram Stadium |
| --- | --- | --- |
| Gill | 19.5 | 134.5 |
| Pandya | 18.6 | 125.7 |
| Shankar | 15.2 | 118.8 |
| Miller | 26.3 | 143.6 |
Gujrat Titans IPL batting records at the MA Chidambaram Stadium
GT have 6 of their top 7 very much set in stone and it could be that they opt to bring back Sai Sudharsan in this match as the 7th man in order to give them an option to combat Ravi Jadeja in the middle overs. Shubman Gill's acumen against spin is undoubted but a few of GT's other right handers would be in trouble if left to deal with 4 overs of Jadeja themselves.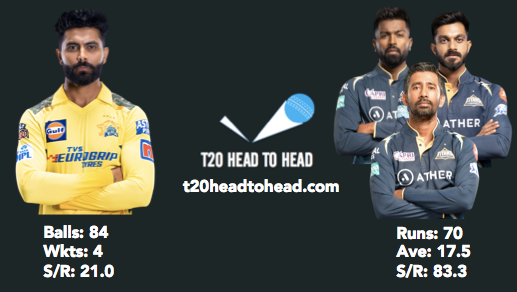 Jadeja combined T20 head to head vs Pandya, Shankar and Saha
Sai Sudharsan is of course Chennai born and bred and so knows the conditions here at the Chepauk better than most. He's averaging 87 vs spin in IPL 2023 and scoring at a decent strike rate of 126 vs slow bowling this year. I'd be very surprised if he doesn't come back into the 11 (potentially as the impact sub) for this match.
GT bowling vs CSK batting
It should be a great battle between the CSK openers and Mohammed Shami and the winner of that contest could go a long way to deciding the outcome of this match.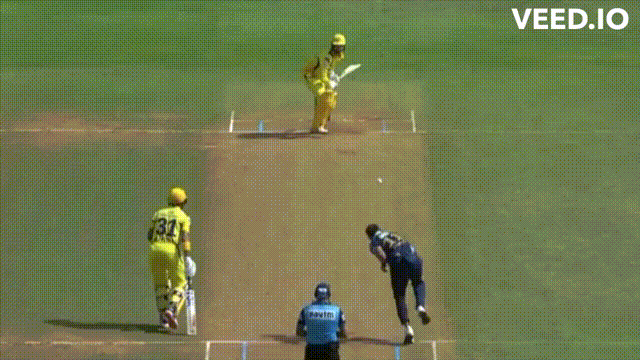 Shami all dismissals vs Conway in the IPL
Shami knocked over Devon Conway early on when these 2 sides met in the opening game of the tournament and also got the Kiwi out when CSK played GT last year. By contrast, his opening partner, Gaikwad has never been dismissed by Shami albeit that he strikes at just 70 from the 57 balls he's faced in his career.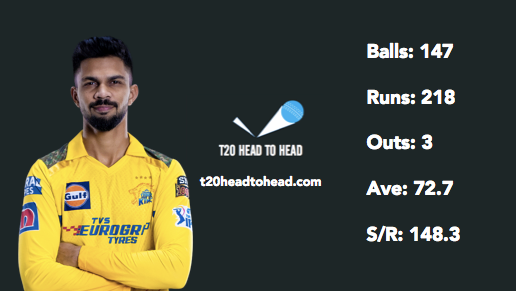 Gaikwad vs Gujarat Titans
Gaikwad though does enjoy playing the Gujarat Titans with a half century every time these 2 sides have met in the IPL. In fact, the stylish right-hander has scored 45.4% of CSK's total runs against this opposition so if the Titans can get him early in this match then they'll fancy their chances against a CSK middle order that they've dominated in the past.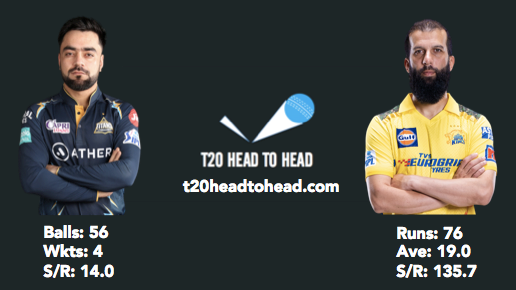 Rashid Khan vs Moeen Ali T20 head to head
Many teams have looked to bring in 3 spinners during this tournament but GT have been the exception, generally playing with 2 slow bowlers and occasionally just 1.
The Afghan pair of Rashid Khan and Noor Ahmed have established themselves as first choice but might GT be tempted to bring in another spin option if this pitch does show signs of being on the slow side?
Only the Arun Jaitely in Delhi and BRSABV Ekana Cricket Stadium in Lucknow have offered better economy rates for spin in IPL 2023 than the MA Chidambaram Stadium (spin economy 7.6). It's noticeable that the only time that GT have played with 3 spinners was in Lucknow when they called up Jayant Yadav. With CSK's plethora of left-handed batsmen, the right-arm finger spinner could be a good option once again.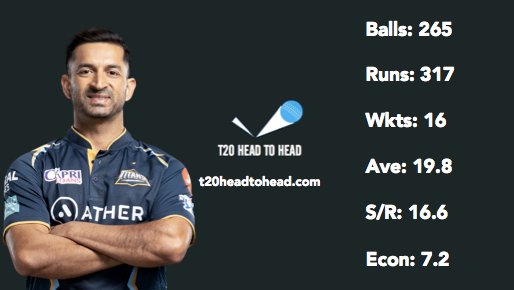 Mohit Sharma IPL bowling stats at the MA Chidambaram Stadium
This will be the first time that Mohit Sharma has returned to the MA Chidambaram Stadium since leaving CSK. His record here is excellent and his death over bowling has been crucial for the Titans this year. In fact, the only bowler to have bowled more than 10 overs at the death and maintain a better economy rate than Mohit can be found in the opposition side, in the form of Pathirana.
There are so many great head to heads in this contest throughout what have been the best 2 squads of the season to date. This has the making of a classic match and one not to be missed!
---
All stats used in this blog are from my own databases which are freely accessible below
IPL head to head player stats
IPL player stats by venue
IPL stadium statistics.
Images are my own with the exception of player profiles and highlights within GIFs which are not intended to infringe copyright- read full disclaimer. Background images are used under a creative commons license or otherwise royalty free.
---
---